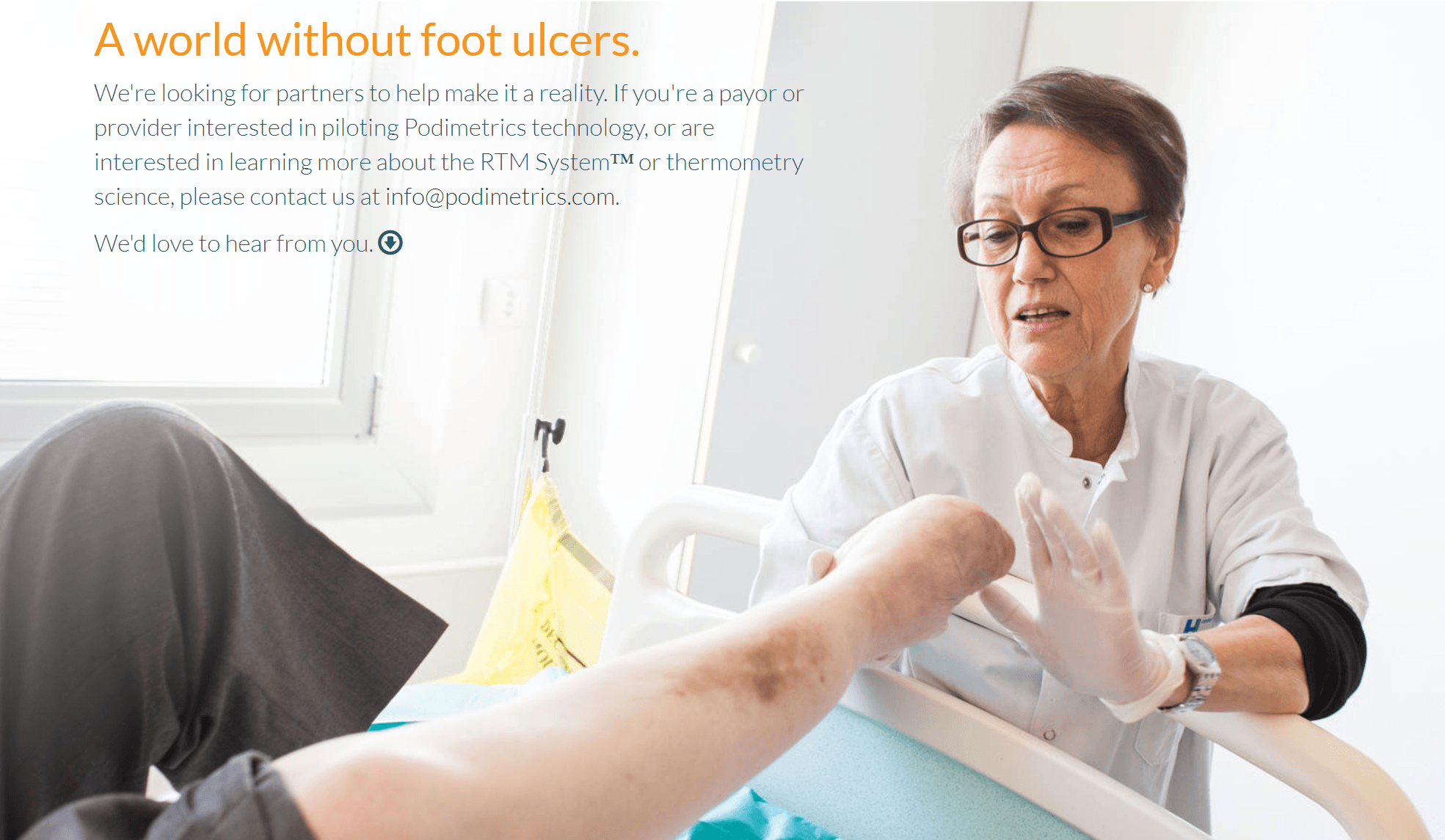 – VA recently announced they will be offering a care management solution designed to detect and prevent one of the costliest and most complicated diabetes-related issues, diabetic foot ulcers, to a wider group of veterans in need. 
– The solution, Podimetrics' SmartMat, is currently in 15 VAs and starting Dec. 1, more VAs will begin offering the easy-to-use mat to its patients.
– Last year alone, the VA treated nearly 75,000 cases of DFU and spends more than $3 billion per year on the issue, despite it being largely preventable.
On December 1st, the U.S. Department of Veterans Affairs (VA) will begin regional implementation of the Podimetrics Mat, a new medical device that has the potential to prevent limb loss in Veterans with diabetes. Podimetrics' FDA-cleared solution remotely catches early signs often five weeks before they would present clinically and triages any concerns to help prevent devastating problems.
The technology, now in use at 15 VA medical centers, uses thermographic monitoring of a patient's feet to identify early onset of diabetic foot ulcers (DFUs), which can lead to limb loss if not detected early. Known as thermal imaging, the non-invasive test involves no radiation and uses a special camera to measure skin temperature. This allows clinicians to develop plans for preventing added deterioration of a patient's health.
Impact of Diabetic Foot Ulcers for Patients
Diabetic foot ulcers are a major complication of diabetes and are one of the most devastating and costliest diabetes complications -they can lead to debilitating amputations that cost on average $100k. In the year after healing from an ulcer, as many as 40% of patients will reulcerate. In fact, one in every three dollars spent on diabetes is linked to foot ulcers, necessitating prevention in technologies. Foot temperature monitoring is recommended by the International Working Group on the Diabetic Foot and the American College of Foot and Ankle Surgeons for preventing DFUs and other inflammatory foot diseases.
How Podimetrics Works
With Podimetrics, patients simply place their feet on a cellular-connected SmartMat for just 20 seconds a day. The data is then seamlessly and automatically sent to the Podimetrics care team, which triages any concerning findings to help patients receive appropriate, preventive treatments under the direction of their clinician.
VA's use of the Podimetrics Mat builds on a 2017 VA-led study at the Phoenix VA and the VA Greater Los Angeles Healthcare Systems. The study showed the in-home foot-temperature monitoring device was able to detect 97% of DFUs as early as five weeks before the onset of symptoms, with 86% of participants using the mat an average of three days per week. With more medical centers offering use of the mat, VA has continued to observe similar outcomes. One VA facility found 84% of Veterans are using the mat almost daily, allowing preventative clinical interventions to take place.
Poidimetrics Mat Availability
The mat will be available to all Veterans across the country through their local Prevention of Amputations for Veterans Everywhere clinic providers. In addition, VA's Veterans Health Administration Innovation Ecosystem is implementing a pilot program of the mats at VA facilities in the southeast, where some of the highest DFU rates exist.
Through the effort, VA will be able to further evaluate best practices and optimize care models, ultimately improving the effectiveness of the technology in the VA healthcare system. Last year, VA treated more than 75,000 DFU cases across the country.