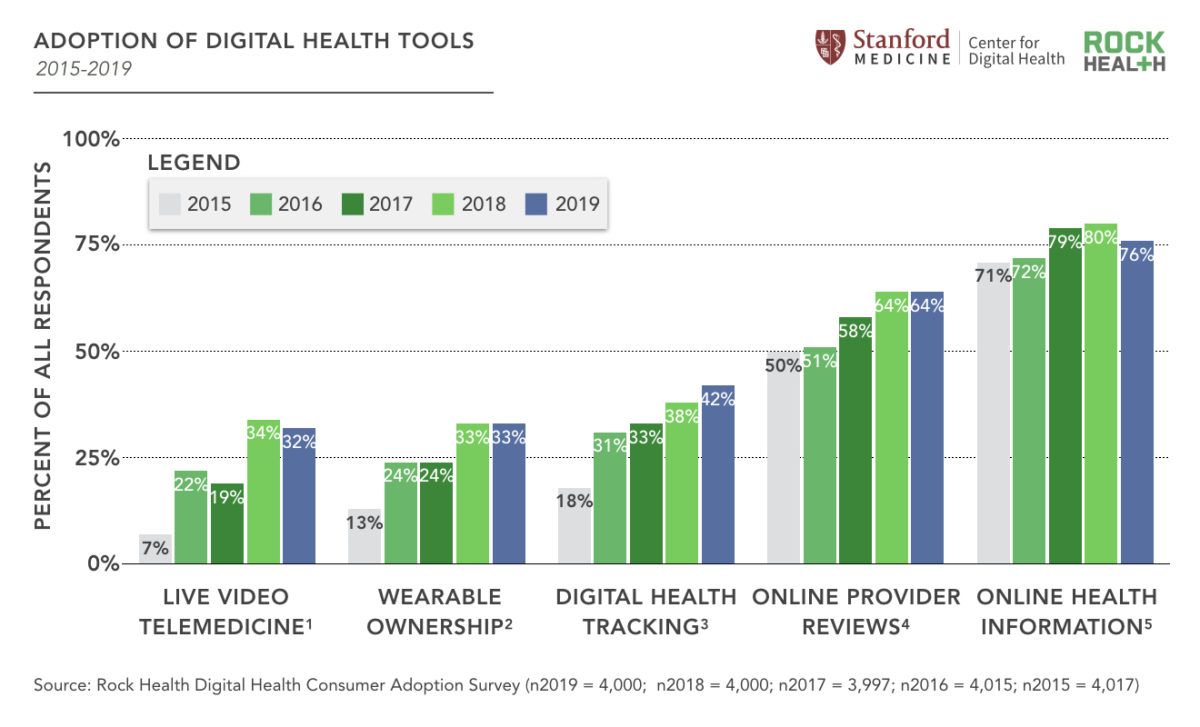 – Rock Health and the Stanford Center for Digital Health release their findings from the 2019 Consumer Adoption Survey.
– In 2019, overall consumer adoption of digital health leveled off in 2019 near the 2018 high water mark.
– Findings reveal consumer-clinician dialogue and transparency around data collection and sharing will be central to the growth of digital technology in healthcare.
Digital health consumer adoption has leveled off in what appears to a slight moderation of digital health usage from the record high in 2018, according to recent findings from Rock Health and the Stanford Center for Digital Health. However, digital health consumer adoption varies sharply among subgroups of the broader population.
The latest report, Digital Health Consumer Adoption Report 2019, examines the broad digital health adoption trends among consumers, highlighting findings most likely to drive sustained shifts within healthcare. In addition, the report identifies and explore differences across population segments to paint a more nuanced, complex picture of consumer behavior in healthcare.
Digital services and solutions are an increasingly common component of the healthcare experience for Americans. Over the past five years that Rock Health has surveyed US adults ages 18 and over, adoption of digital health tools like telemedicine, wearables, and health apps has consistently climbed upwards. These findings have important implications for consumers, startup entrepreneurs, clinicians, and innovators within established, large-scale enterprise healthcare and technology companies
Based on Rock Health and the Stanford Center for Digital Health's analysis, there are three themes that will be central to driving future digital health consumer adoption:
1. Patient-generated health data creates opportunity and potential challenges.
Consumers are eager to share their health data; however, the transfer and use of information aren't seamless. Clinicians report barriers to efficient access, visualization, and clinical integration of patient-generated health data. Consumer adoption of data-gathering devices and consumer propensity to share data both point toward a future that includes more digitally-enabled full-stack healthcare solutions.
2. Online health information is reshaping the relationship between patients and physicians.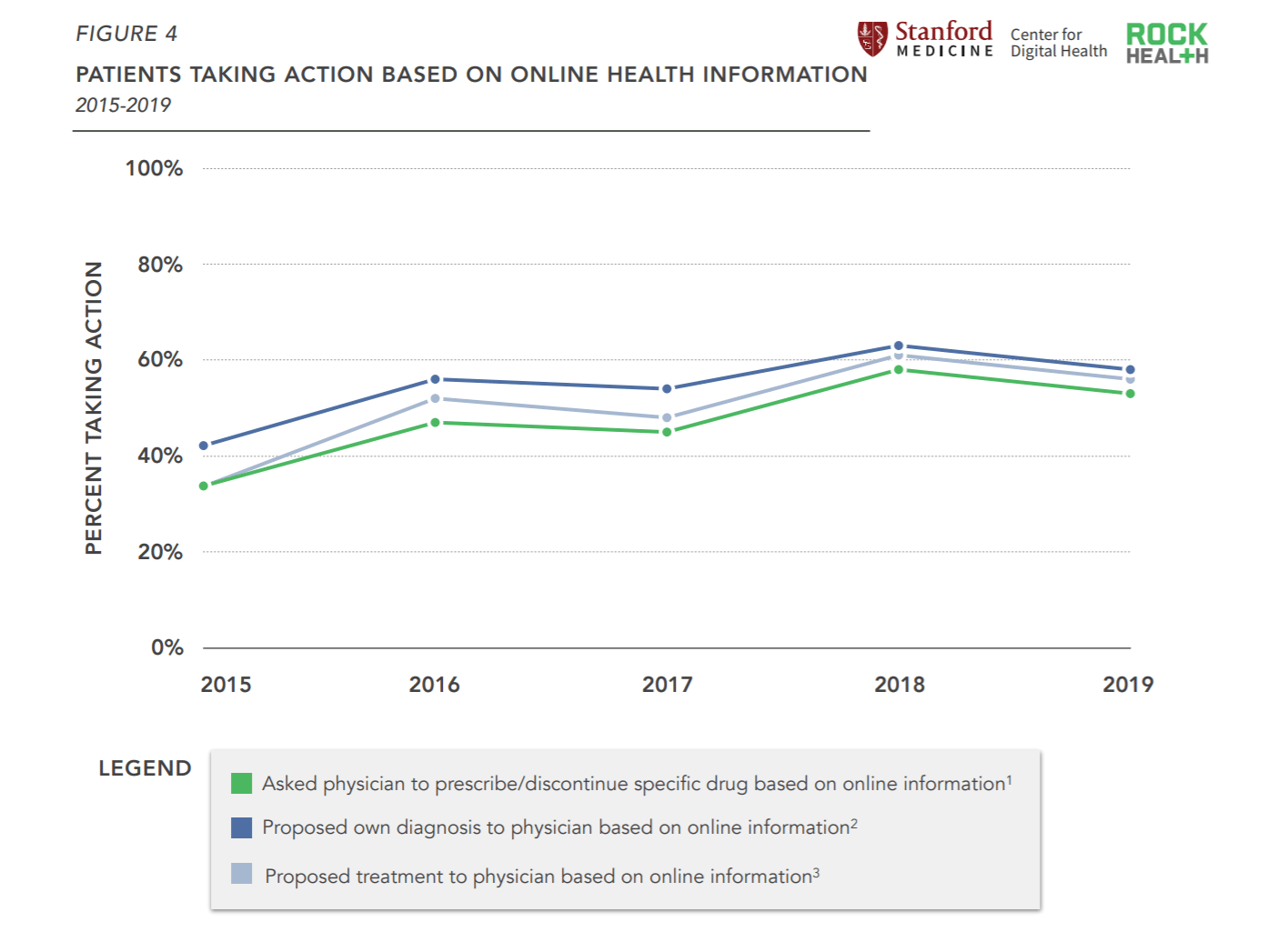 Consumers are searching online for community support, information about their health, and information about healthcare providers. In 2019, a majority of respondents who searched for health information online took action based on what they learned online—58% proposed a diagnosis to a physician, 56% proposed a treatment plan to a physician and 53% asked a physician to prescribe or discontinue a specific drug.
Providers feel empowered- they're increasingly using information found online to inform their provider choices and what they share in the exam room. These resources are changing the way they make care decisions, putting pressure on traditional, more paternalistic doctor-patient relationships.
3. US consumers' willingness to share their health data depends on whom they are sharing it with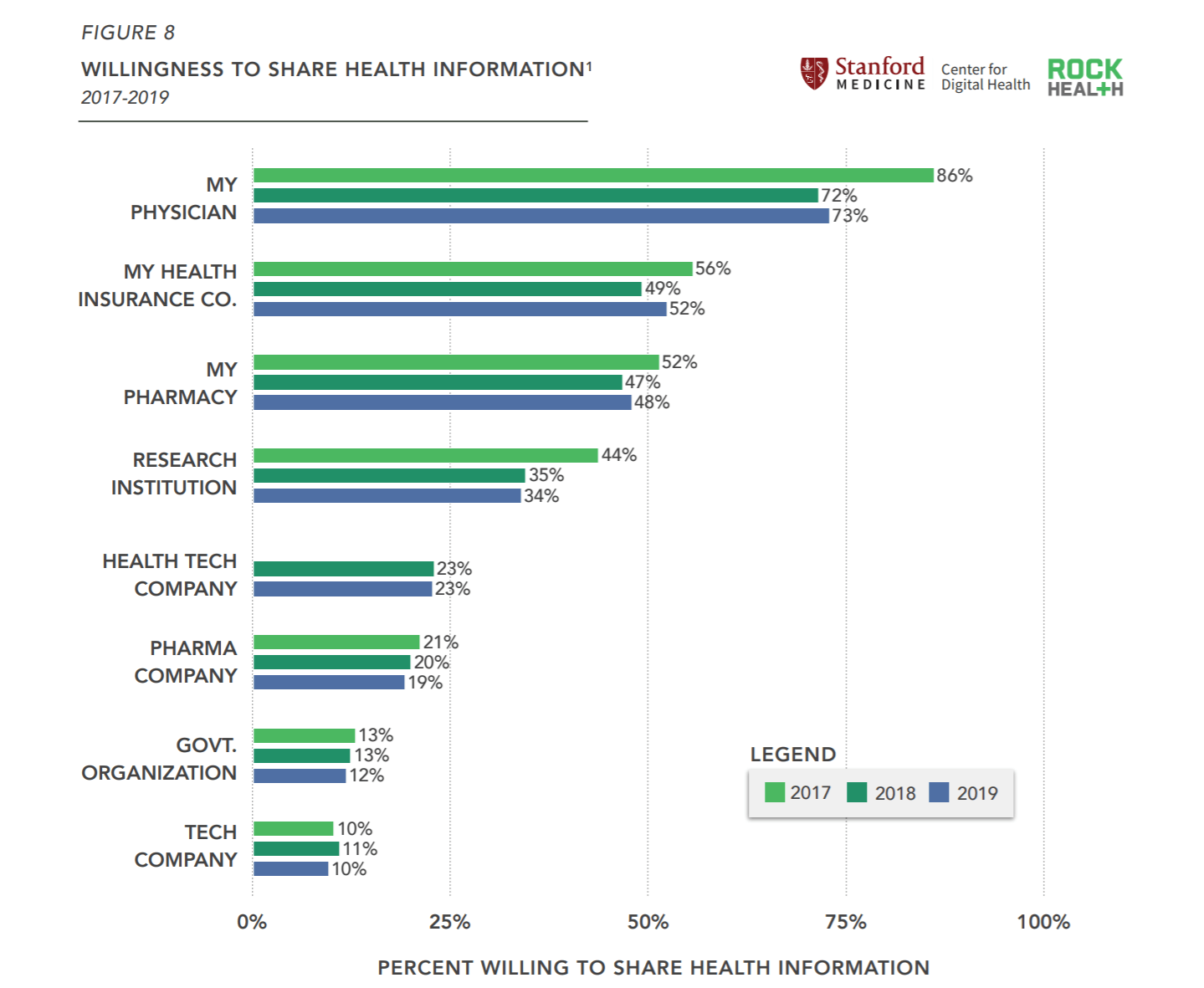 When asked for their preferences, consumers are least willing to share health data with the big tech companies whose business models and technical capabilities are reliant on it. Health tech companies fare slightly better, as 23% of respondents are willing to share data with them. Consumer sentiment points to unresolved tension between innovation such as technological advancements in AI-driven diagnostics, precision medicine, and drug discovery and data privacy.
 For more information, download the full report here. 
Report Background/Methodology
Rock Health and the Stanford Center for Digital Health collaborated on this research. A survey of 4,000 US adults was conducted by Toluna USA, Inc. between July 26, 2019 and August 9, 2019 (margin of error 2%). Respondents used their personal desktop, laptop, smartphone, or tablet to complete the survey. Survey respondents were selected from Toluna's network of members, who receive "points" that can be redeemed for rewards such as gift cards for participating in surveys (Toluna does not disclose the value of each "point"). Toluna targeted respondents based on member profiles to obtain a sample representative of US Census demographics (gender, age, geographic region, race, and income).
The median interview duration was 12 minutes and 32 seconds, the average interview duration was 20 minutes and 58 seconds, and the response rate was 22%. The survey includes questions about respondents' health profile, adoption of digital health tools, sentiment about digital health technology, and demographics. This report also relies on previously-collected data from Rock Health Consumer Adoption Surveys deployed annually from 2015 to 2018 using similar methodology as the 2019 survey. For clarity, survey respondents are referred to simply as "respondents" or "consumers" throughout this report.
Rock Health and the Stanford Center for Digital Health analyzed this de-identified survey dataset to identify patterns, trends, and insights in consumer adoption of digital health solutions.