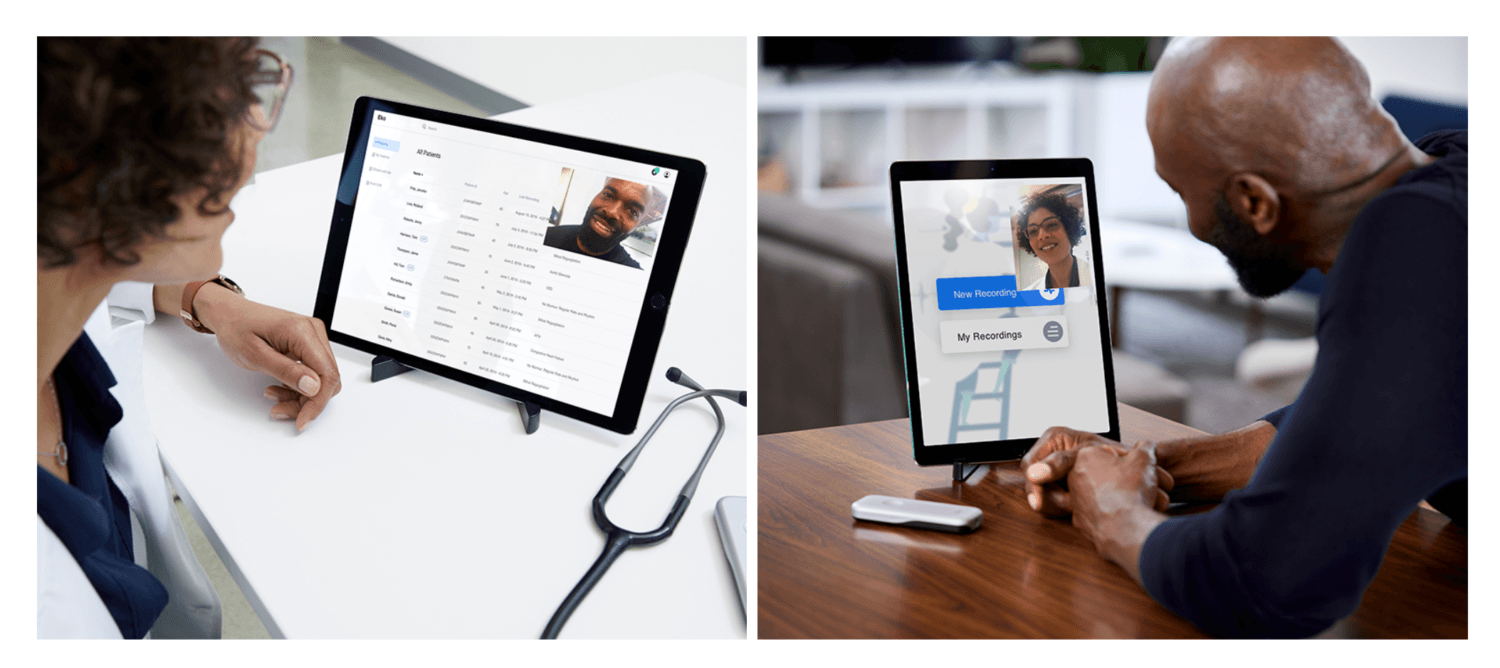 – AI-driven digital health startup Eko raises $20M led by ARTIS Ventures with participation from 3M and Mayo Clinic.
– Funding will be used to accelerate research and development (R&D) and commercialization of Eko's machine learning platform for cardiac screening/analysis.
– Eko's cardiac monitor combines digital stethoscope and ECG technology both for in-clinic and at-home monitoring, which enables patients to seamlessly and consistently send cardiac data to their physicians.
Eko, a Silicon Valley-based digital health company building machine learning tools to fight heart disease, today announced it has raised $20 million in Series B funding led by ARTIS Ventures. The Series B round also includes participation from new and returning investors DigiTx Partners, NTT Venture Capital (NTTVC), 3M Ventures, Mayo Clinic, Seraph Group, and XTX Ventures.
80% of Common Cardiac Events are Misdiagnosed
Statistics from the American Heart Association show that cardiovascular disease is the leading global cause of death, accounting for more than 17.6 million deaths per year in 2016, a number that is expected to grow to more than 23.6 million by 2030. On average, internal medicine and family practice physician residents misdiagnose 80 percent of common cardiac events, according to a study published in the Journal of the American Medical Association. Cardiologists, on the other hand, can effectively diagnose 90 percent of cardiac events using a stethoscope.
Stethoscopes demand a highly trained musical ear that can separate subtle abnormalities from normal sounds with cardiologist-level precision. While more objective cardiac screening tools, such as echocardiograms, are available in specialty clinics, the low cost and speed of the stethoscope exam make it the standard for heart disease screening. Machine learning can combine the data from tens of thousands of heart sound patterns and provide that accuracy to physicians anywhere.
AI-Driven Cardiac Monitoring/Analysis
Founded in 2013, Eko has developed the first cardiac monitor to combine digital stethoscope and ECG technology both for in-clinic and at-home monitoring, which enables patients to seamlessly and consistently send cardiac data to their physicians. Its platform is used by tens of thousands of clinicians treating millions of patients at over 3,000 hospitals and providers around the world.
Eko FDA-cleared devices and algorithms include:
– Eko Core: the only stethoscope on the market to wirelessly stream heart sounds to a HIPAA-compliant smartphone app and the first to integrate heart sounds directly into the patient's electronic health record (EHR), paving the way for clinicians to better address a cardiovascular disease crisis that affects 1 in 4 people worldwide. The Eko Core is now available to millions of U.S. clinicians who rely on stethoscopes as a fundamental component of the physical exam.
– Eko DUO: combines EKG and electronic stethoscope technology into a portable, handheld device for unprecedented insight into cardiac function. The device allows clinicians to review rhythms and heart sounds quickly from the accompanying mobile application for advanced bedside analysis or groundbreaking remote care.
– Eko's murmur screening algorithm: when coupled with the company's FDA-cleared Eko Core and Eko DUO devices, will enable any and all clinicians to more accurately screen for heart murmurs.
AI Algorithm for Heart Murmur Detection
Eko's neural network AI algorithm was trained on thousands of heart sound recordings. The algorithm was then tested on an independent dataset of pediatric heart sounds and compared to gold-standard echocardiogram imagery. Five pediatric cardiologists also listened to the heart sound recordings and independently made a determination whether a recording contained a murmur. This advancement will help narrow the clinical skill gap between the 27,000 cardiologists in the U.S. – the experts at murmur detection – and the 3.8 million other clinicians who are less experienced in the identification of heart murmurs through a stethoscope.
Recent Partnerships & Traction
Eko is collaborating with medical device and pharmaceutical companies to create combinations of therapies and data to help personalize cardiac care. Eko will also grow its focus on clinical research, investing more in its collaborations with the Mayo Clinic, Northwestern Medicine, and UCSF. Expanding Eko's collaborative studies will enable the company to build algorithms with more robust datasets targeted to specific conditions, including atrial fibrillation and valvular heart disease, as well as congestive heart failure and structural heart disease. Recent collaborations include:
– Mayo Clinic is collaborating with Eko to develop and commercialize a machine learning-based algorithm that screens patients for the presence of a low ejection fraction – a weak heart pump. Once identified, evidence-based treatments are available that prolong life and reduce the risk of symptoms
– Northwestern Medicine is partnering with Eko on a study to improve valvular heart disease screening using machine learning, with plans to further expand this study in the coming year
– Sutter Health is currently using Eko's enterprise software in Northern California to connect cardiologists in Sacramento with patients who visit rural clinics for ongoing cardiology services
Why It Matters
"With the staggering number of people affected by heart disease, it's clear that advancements in cardiac screening and monitoring have never been more urgent. Artificial intelligence is arguably one of the most powerful advancements in modern medicine, enabling clinicians to predict with more accuracy, diagnose with more confidence, and in the end, give their patients the best care possible," said Connor Landgraf, CEO of Eko. "We will use this funding to drive more research, and continue development of data-driven technology to help physicians detect and monitor patients with heart disease that may otherwise be missed