Fitbit, today announced the launch of Fitbit Premium, a paid subscription service in the Fitbit app that uses your unique data to deliver a personalized experience with actionable guidance and coaching. Premium leverages insights from 10+ years of Fitbit data as well as academic and medical expertise to help you move more, sleep better and eat well with customized programs, advanced sleep features, personal insights, thousands of workouts, new challenges, health reports and more – all in one place.
Why Fitbit Premium?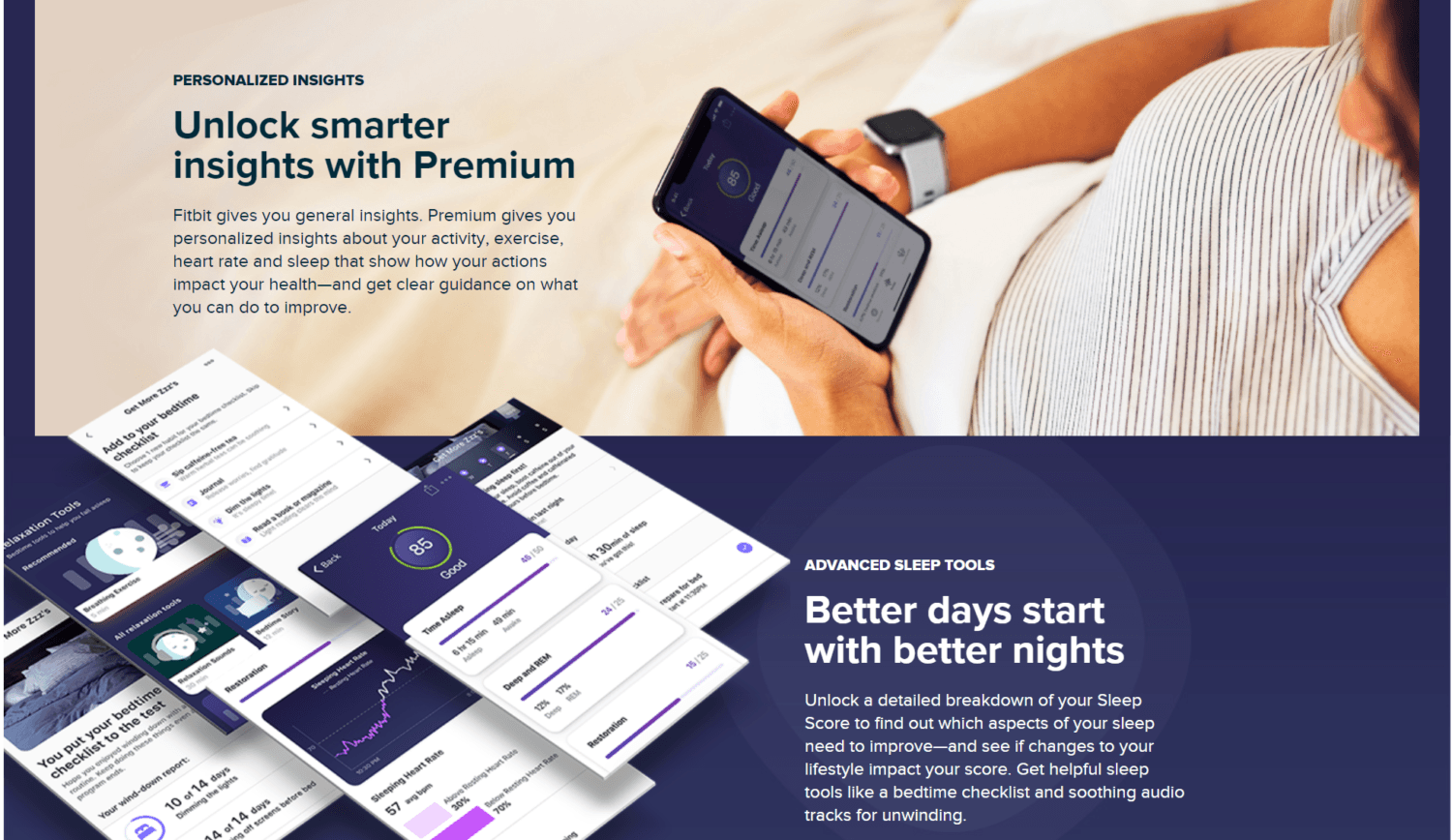 The digital health and wellness market is crowded, with an estimated 14 million U.S. adults currently subscribed to a service and paying an average of $174 annually for different apps. Based on this data, there remains a void in the market for a single app that can provide quality health and fitness tools, personalized guidance and coaching all in one place.
Premium does just that and provides a holistic view of your health that current offerings lack, at an affordable price. Designed for those looking for extra motivation and support who may not know where to start, Premium offers the tailored support you need to help you make lasting behavior changes that lead to better health.
Fitbit Advisory Panel Collaboration
In addition to leveraging insights from 10+ years of activity, exercise and sleep data, behavior change techniques and insights, Fitbit also collaborated with academic and medical experts from Fitbit's Advisory Panel, which include clinical and exercise psychologists, nutritionists, sleep scientists and more to give you access to a range of tools tailored to you, based on your fitness level, goals, historical data, preferences and schedule.
Fitbit Premium's 9 Guided Health & Fitness Programs
At launch, Premium features nine guided health and fitness programs that help you get more sleep, wake up energized, increase your activity, manage nutrition and create lasting healthy habits, including: Intro to Healthy Habits, Get More Zzz's, Habits for Restful Sleep, Get Active, Beginner Running, Run Training, Understand Calories, Kick Your Sugar Habit and Kick Your Salt Habit.4 Programs include actionable coaching, daily tips and tricks, structured workout plans, relaxation tools, recipe suggestions and educational content. Fitbit will launch additional activity, sleep and nutrition programs by the end of the year, so regardless of your health journey or fitness level, you will have options to help you reach your goals.
Pricing and Availability
Fitbit Premium will start rolling out in September 2019 at $9.99 per month or $79.99 per year (USD). Fitbit will be exploring promotional pricing and product bundle offers, and will continue to expand upon and refine Premium based on customer feedback.
Premium will be available in English in 17 countries via the Fitbit app this fall, expanding to additional languages in 2020, including Dutch, French, German, Italian, Japanese, Korean and Spanish. All Fitbit users will be eligible for a one-week free trial, and Fitbit Versa2™ Special Edition owners will receive a 90-day free trial.14 The one-to-one coaching pilot, which will include a Premium membership, is expected to become available in the U.S. later this year for an additional cost.
Premium will also be available to Fitbit Health Solutions enterprise customers through Fitbit Care, both as an a-la-carte offering and included within the Health Coaching offering as a digital intervention to support wellness and prevention and management of chronic conditions like diabetes and hypertension.
Launch of Fitbit Versa 2 & Aria Air
Today, Fitbit also announced the newest addition to its popular Versa family of smartwatches with the introduction of Fitbit Versa 2TM, an elevated full-featured health and fitness smartwatch, as well as Fitbit Aria AirTM, an affordable Bluetooth smart scale.
"Many people don't realize the impact sleep can have on their health. Poor sleep can lead to an increased risk of various chronic diseases, including heart disease and diabetes. That's why Fitbit has focused on sleep for over 10 years and worked to help millions of users better understand their sleep and how it correlates to things like activity, weight and heart health," said Dr. Conor Heneghan, lead sleep research scientist at Fitbit.7 "We've amassed one of the largest databases of sleep data with over 10.5 billion nights of sleep collected, and we are using insights from this data to inform new free and Premium sleep features that provide a more personalized and in-depth view of your sleep and how to improve it."