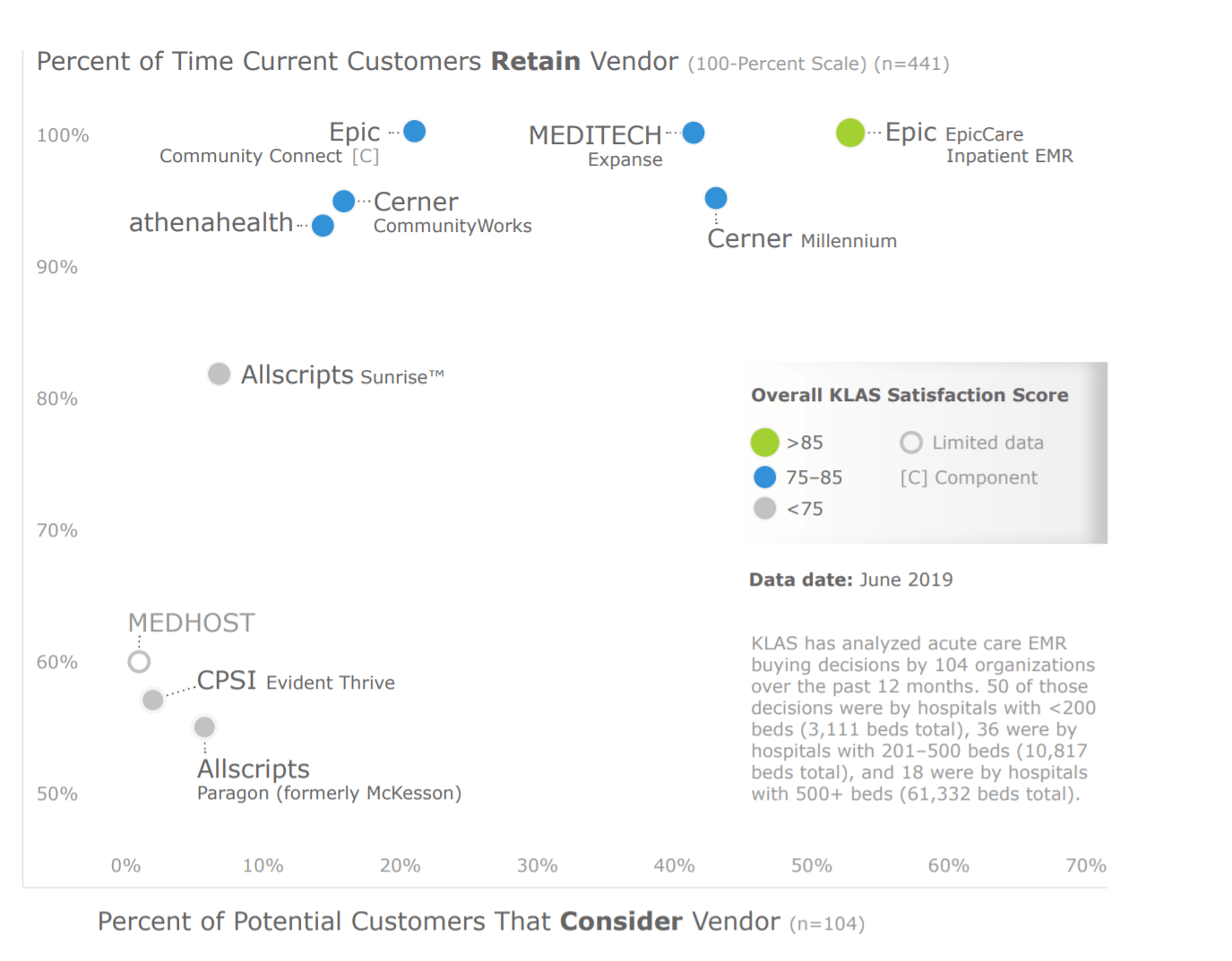 Cerner and MEDITECH Expanse still lags behind Epic EpicCare Inpatient EMR in customer satisfaction, according to a new KLAS report. The KLAS report, Acute Care EMR: Buyers Unwilling to Settle, reveals acute care EMR buyers know what is possible from an EMR and are now unwilling to settle for less.
Acute Care EMR Market Based on Number of Hospital Beds
Cerner, Epic, and MEDITECH are most likely to be considered for large hospitals (500+ beds) and midsize hospitals (201–500 beds). The competition for hospitals with fewer than 200 beds is much more crowded, with MEDITECH Expanse, athenahealth, Allscripts (both Sunrise and Paragon), CPSI, eClinicalWorks, and MEDHOST battling alongside Cerner CommunityWorks and Epic Community Connect.
Seamless Patient Record Integration Across Acute Care & Ambulatory
A seamless patient record across the healthcare organization has become a mandatory expectation. KLAS finds that having integrated acute care and ambulatory records are the most-often-cited reason for a hospital of any size to look at a new EMR system. EMR systems without proven integration are rarely considered and even more rarely selected. In addition, the lack of an integrated record is also the most common reason a vendor is replaced and the second-most common reason why a vendor is not selected.
Increasing Pressure from Physicians Driving EMR Buying Decisions
Over the past few years, KLAS has reported there is increasing pressure from physicians looking for an integrated view of clinical data across all care settings influencing buying decisions for healthcare organizations. In fact, pressure from physicians and other clinical users who have used Epic at other locations or know of its capabilities is pushing vendor selection in ever-increasing measure and was cited as the second-most-cited reason for Epic purchase decisions.
Outdated Technologies Holding Hospitals Back
KLAS found that replacing their existing EMR system the most prevalent at hospitals running on outdated technologies. Older, outdated systems not only have trouble integrating acute care and ambulatory records but they also increasingly difficult to integrate with new technologies (e.g. population health management (PHM) solutions). The healthcare industry's transition to value-based care is driving legacy EMRs to become obsolete leading to a poor EMR experience, missed expectations, and overall dissatisfaction. Healthcare organizations cited older versions of MEDITECH, Allscripts Paragon, CPSI, and MEDHOST platforms as outdated technologies.
[irp posts="48453″ name="KLAS: Allscripts Continues Trend of Sunrise & Paragon Losses in 2018″]
A-List Vendors vs. Vendors That Didn't Make The A-List
KLAS named Epic EpicCare Inpatient EMR and Meditech Expanse as A-list vendors based on demonstrating a track record of high market energy (purchasing considerations), high overall customer satisfaction (overall performance score of 85 out of 100 or higher), and high customer retention (no more than 10% of customers planning to replace the product).
KLAS cited the following reasons why other EMR vendors did not make the A-list:
– Cerner: revenue cycle issues, Soarian product being discontinued, too complex, and difficult to fully implement.
– Allscripts Paragon: outdated technology, lack of acute care and ambulatory integration, and several organizations are leaving replacing the Sunrise platform with Epic.
– Athenahealth: product not mature enough to consider, gaps in ED and laboratory functionality and new sales are currently on hold due to their rent acquisition by Veritas Capital.
– CPSI: Has more replacements than new implementations, 40% of customers cited CPSI is not part of their long-term plans, and only 47% of existing customers would buy again.
[irp posts="40127″ name="New KLAS Report Finds Clock Is Ticking for Allscripts to Improve Paragon"]
MEDITECH Gaining Traction Outside of Legacy Base
Healthcare organizations are starting to see MEDITECH Expanse as an integration EMR system that is more affordable than both Cerner and Epic, especially for current MEDITECH customers. However, legacy MEDITECH clients may consider replacing their legacy MEDITECH system with Epic or Cerner instead of migrating to the Expanse platform. KLAS cited in 2018, most hospitals leaving MEDITECH selected Epic, followed by Cerner.