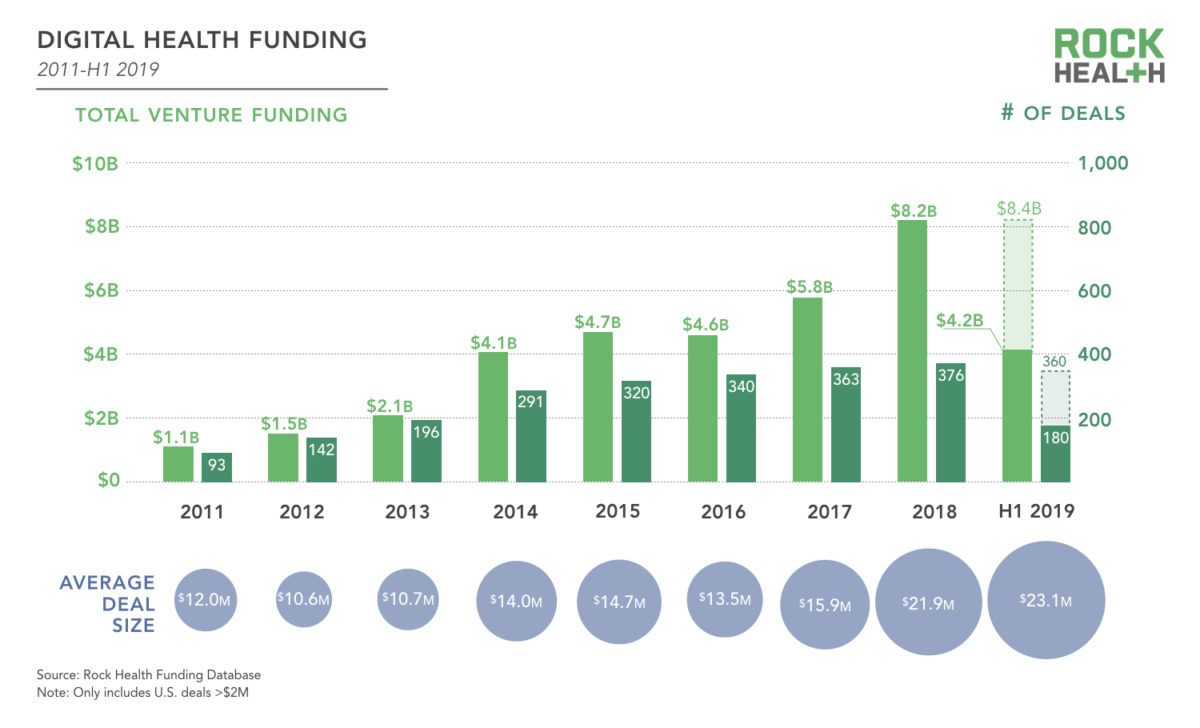 Digital health funding reached a new record of $4.2 billion across 180 deals in the first half of 2019, according to Rock Health, a full-service venture fund dedicated to digital health. The digital health sector is on track for an $8.4B year in 2019—and may even break 2018's annual funding total. The report also validates the continued trend of the large $100M+ mega deals, attributing to 30% of venture funding in H1 2019. The 2019 Midyear Digital Health Market Update reflects a maturing digital health venture investment environment that remains robust and relatively free of froth with signs of a near-term harvest in the IPO market.
2019: The Year of the Digital Health IPO
Livongo, Health Catalyst, Change Healthcare, Phreesia, and Peloton all announced their initial public offering (IPO), marketing them as the first digital health IPOs since 2016. Four of these companies—Livongo, Health Catalyst, Phreesia, and Peloton—raised an average of $425M from private investors totaling $1.7B. M&A Activity continues to dominate the digital health market with a total of 43 acquisitions to date in the first six months of 2019. At this rate, Rock Health projects a total of 86 acquisitions to close out 2019, representing roughly 25% fewer than in recent years.
The report produced by Sean Day with help from Bill Evans, Danielle McGuinness, Megan Zweig, and Natalie Yu sources data from Capital IQ, SEC company websites, Crunchbase, NVCA, press releases, and the Rock Health funding database.
Other key findings from the Rock Health H1 2019 Digital Health Market Update report includes:
– Investors continue to fund startups with B2B business models—87% of funded digital health companies in H1 2019 sell to enterprise—the employers, payers, providers, and others that hold purse strings in US healthcare.
– Long enterprise sales cycles in healthcare aren't killing early-stage innovation: a higher percentage of pure B2B digital health startups that raised a seed round across 2011-2015 have since raised a subsequent round of funding compared to pure D2C seed-funded companies in the same time period.
– The median size of a Series A digital health deal in 2019 thus far is $10M—up 11% from the $9M median in 2018 and 2X the median Series A in 2011. Series B deals have experienced similar growth—the median $17M in 2019 is 2.1x the median Series B in 2011.
– The average time between funding rounds hovers around 20 months for companies that raised a Seed, Series A, or B in 2014-2016.
– Investors minted three new digital health unicorns in the first half of 2019 (Zipline, Gympass, Hims).
– There have been more repeat investors than new investors in digital health every year since 2016.
– As of July 1, 2019, $36.3B has been invested in 1,274 digital health startups between 2011 and the end of Q2 2019.