Even though 2014 was supposed to be the "year of the wearable" according to Forbes, five years later we are now seeing the wearable reach maturity and mass-adoption.  This increase in adoption has largely been driven by software and hardware stability which is now allowing these devices to be used with confidence to manage an individual's health and wellness, including chronic condition management. The graphic below from Accenture shows the increase in technology usage across consumers to manage their health from 2016 to 2018.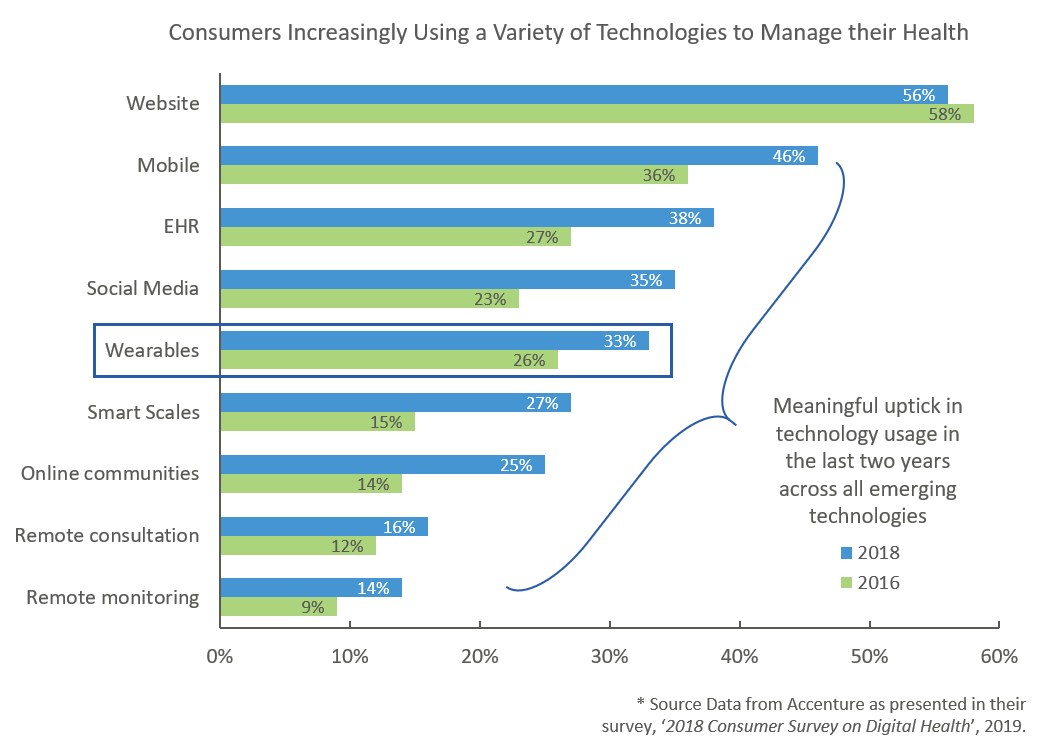 Wearable technology is a rapidly growing market which includes devices that are consumer-oriented such as fitness monitors as well as medically oriented devices, such as mobile ECGs. The market in 2018 reached approximately $26 billion in worldwide revenue and is projected to grow to $34 billion by the end of 2019 – $15 billion of which is expected to be generated from healthcare and medical environments.  While a large portion of the market centers on commonly known smartwatches such as the Apple Watch, there has been growth in earworn devices, smart clothing, and wearable ECGs.  Earworn devices are expected to grow in popularity because manufacturers, such as Valencell, claim that the signal from the ear is much more clear than from the wrist.  Additionally, the smart clothing market is projected to more than triple by 2022.
In addition to providing valuable insights into the health of an individual to guide healthcare decisions, Internet-connected wearable devices provide a revolutionizing new data-feed to the insurance industry that can inform the pricing of premiums as well as coverage limits.  Some insurance providers are beginning to require a data feed from the policyholder's device in order to provide coverage. Of note, security should be a top concern for both users and manufacturers as increasingly personalized data is collected by these devices and attached to real, economic value.  While debates continue on the correct methodology to secure the sensitive data thrown off by wearable devices, most security efforts are focused on utilizing the unique, personalized data from the devices themselves to establish privacy.
While there are many potential uses for wearables, we at Healthcare Growth Partners (HGP) believe the greatest value of wearables is in the field of Remote Patient Monitoring, whereby Internet-connected devices can, in real-time, inform care decisions.  Studies have shown significant benefits from the use of remote patient monitoring systems – one example of which found an approximately 50% reduction in hospital readmissions among a population of 1,000 patients with chronic conditions.  Currently, the conditions most commonly addressed using remote monitoring include sleep apnea, cardiovascular disease, diabetes, and cancer.  Due to increasing incidence of cardiovascular disease, rising geriatric population, and demand for independent and healthy living, Grand View Research projects the remote patient monitoring device market to increase to $1.8 billion by 2026 (excluding the accompanying telehealth services which will have an estimated market size of $31.3 billion by 2023).  In addition, a key barrier to adoption has been overcome now that Medicare has adopted a policy of reimbursing RPM services "just like in-person clinical services with no additional requirements regarding use or originating site of care."
With all of these favorable market dynamics converging on the wearables industry, we have seen significant investment and M&A activity around companies developing wearable technologies.  The following market landscape displays the companies for which we have seen investment in recent years, grouped by their associated categories as we at HGP see them.
A full list of wearable-related transactions we have tracked can be found in tabular form linked here.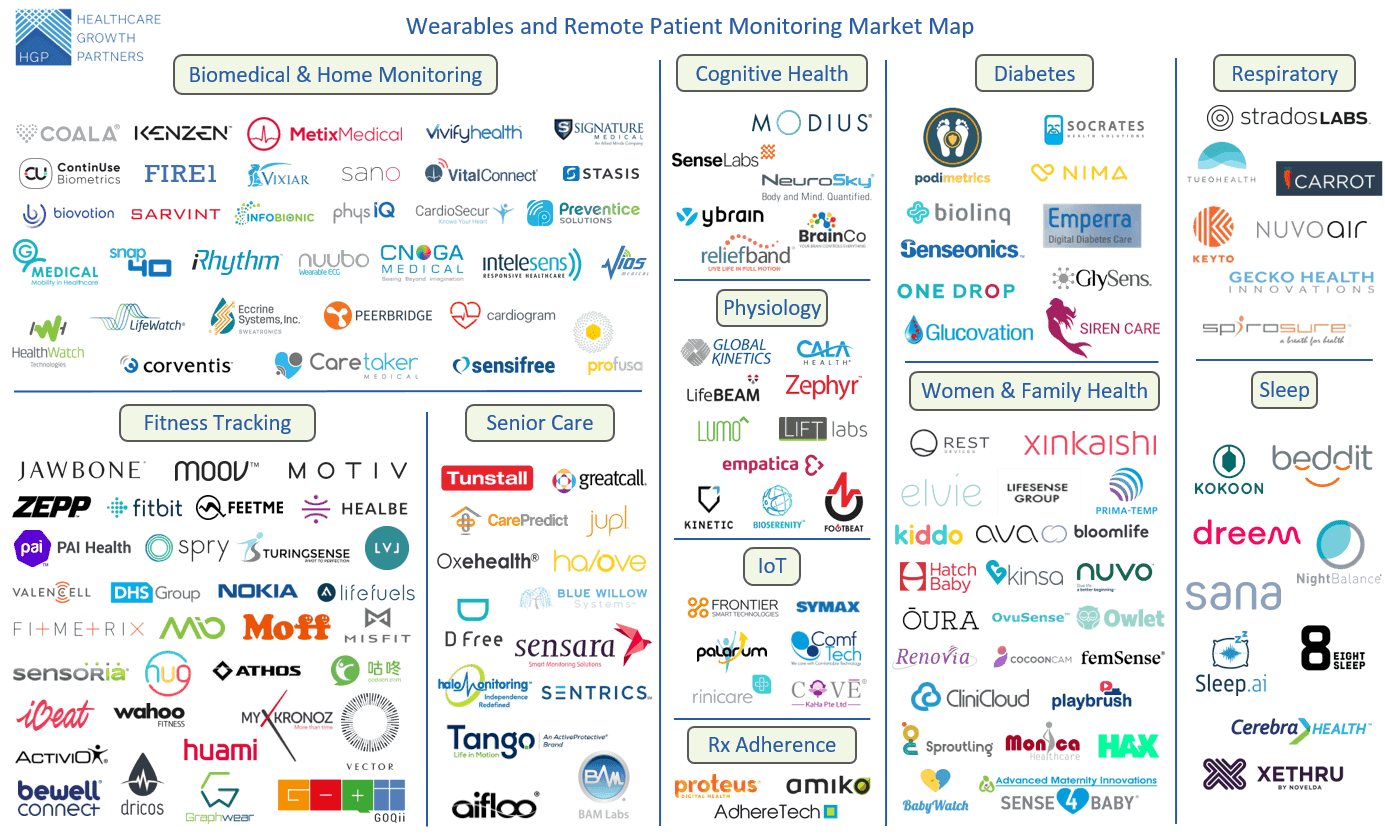 Healthcare Growth Partners (HGP) is a Houston, TX-based Investment Banking & Strategic Advisory firm exclusively focused on the transformational Health IT market. The firm provides  Sell-Side Advisory, Buy-Side Advisory, Capital Advisory, and Pre-Transaction Growth Strategy services, functioning as the exclusive investment banking advisor to over 100 health IT transactions representing over $2 billion in value since 2007.