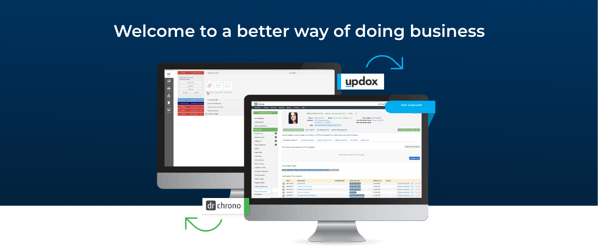 Mobile EHR provider DrChrono Inc. and Updox, an all-in-one healthcare collaboration platform is expanding its partnership that gives practices usingDrChrono's EHR access to Updox's full collaboration suite. The Updox platform allows DrChrono providers to consolidate administrative tasks, patient engagement initiatives, and provider communications.
Integration Benefits for Practices
Now, by accessing the Updox app through DrChrono's Healthcare App Directory, practices can eliminate staff fatigue associated with manual faxing, printing and scanning, phone tag with patients and providers, and the patchwork process of jumping between multiple systems to execute on daily tasks.
Updox's communication platform within DrChrono's App Directory includes features such as document editing, one-click provider signature, tags and queues for easy triage and prioritization, and inbound/outbound fax.  It also includes engagement tools such as secure text messaging, SMS Quicksend, broadcast messaging and will soon include video chat.  The platform includes a HIPAA-compliant inbox to manage all tasks, as well as an internal chat solution for staff and providers.
"Having all this functionality, including faxes, secure texts, and reminders, inside a single application is the biggest reason we selected Updox for our practice," said Shanice Carmenate, patient care coordinator for Synergy Naples, a DrChrono customer. "The organization and efficiency Updox offers was immediately clear. This is a great opportunity for DrChronopractices to replace the multiple systems they are using with one product that has so many options and is integrated with the EHR." 
"We are expanding this relationship with Updox because it offers our customers a very powerful collaboration platform to better communicate with patients and improve efficiency for their staff," said Daniel Kivatinos, COO and Co-Founder ofDrChrono.  "Our Healthcare App Directory offers a wide variety of apps to help medical practices incorporate the best technology into their business, and we believe Updox is a great example of using technology to run practices more smoothly."