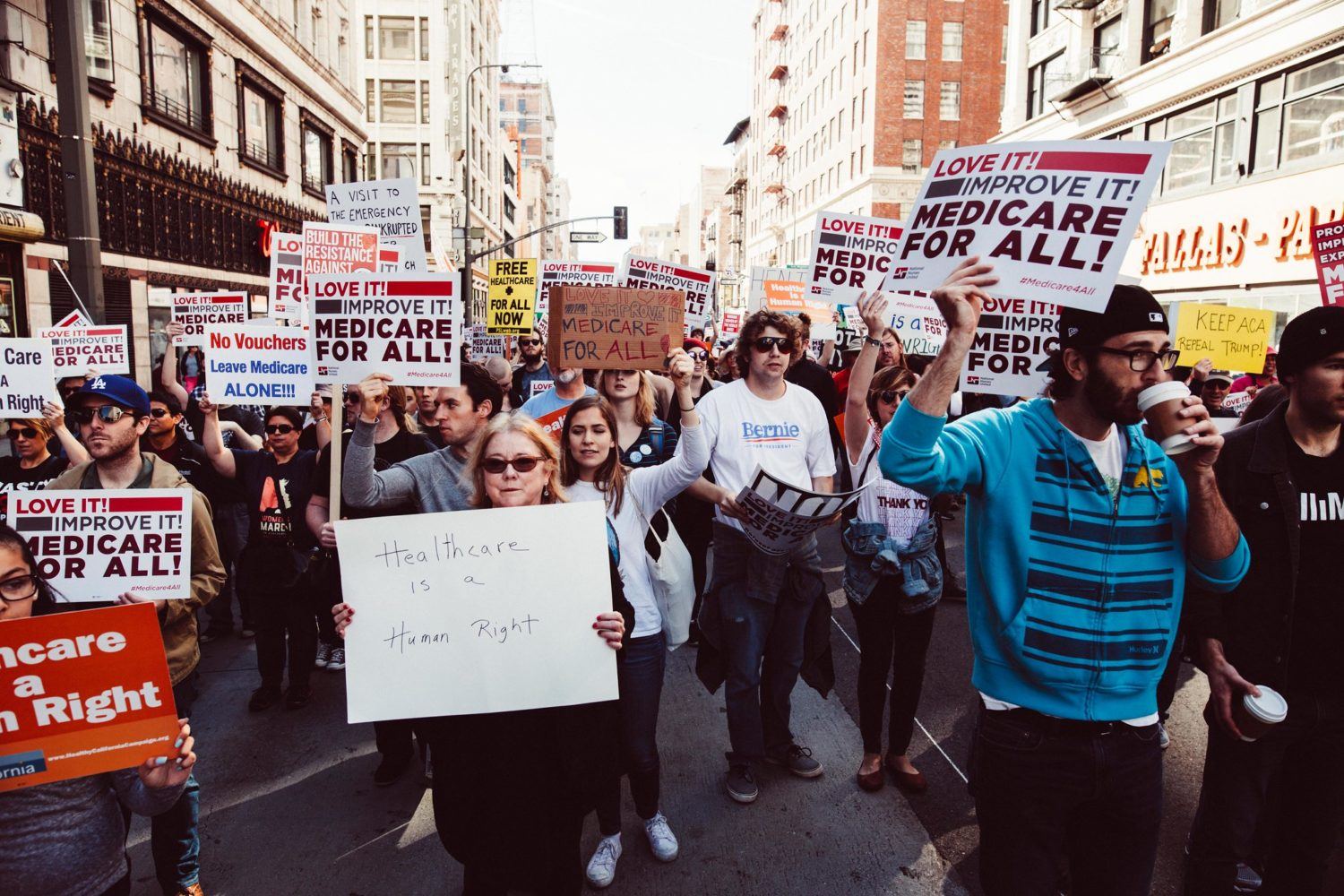 I am going to make a prediction here. No matter who we elect in 2020, Bernie or Trump or anything in between, Medicare For All is not going to happen in America. One can run an electrifying campaign on the promise of Medicare For All, or indignantly against it, but this is pure theater on both sides. I don't know if God can make a rock so big and heavy that even He can't lift it, but I do know that government can make corporations so big and powerful that even government itself can't break them. 
For decades our government encouraged the healthcare industry to consolidate vertically, horizontally and obliquely so it can achieve "economies of scale" and therefore lower consumer prices. In the last couple of decades, the government also compelled the industry to computerize its operations, because technology makes everything better and cheaper. Once the resulting monopolistic behemoths were summoned into existence, it was time to nationalize the whole lot, into one super monopoly, with super technology and super economies of scale. The only other example of such government monopoly in America is the Military.
Obviously, our standing armies must be, by definition, a national monopoly, but note that the Navy is not building its own ships and the Air Force is not building its own planes and the Army is not manufacturing tanks. The government is contracting with private suppliers for pretty much everything, from butter to bullets. The Military Industrial Complex is a network of very large and utterly corrupt contractors for the government, yielding more power over foreign and fiscal policy than Congress, the President, and all citizens put together while delivering practically nothing either on budget or on time. A powerful Military is essential to America's safety and global success, so we grind our teeth and keep paying. And medical care for hundreds of millions of people is at least as important.
I am not entirely sure how people think Medicare For All is going to work. Are you folks envisioning an angry President Bernie dragging Samuel Hazen into the Oval, wagging his finger at him and making an offer Mr. Hazen cannot refuse? Something like, "I will pay $50 per head and not a penny more, because healthcare is a human right, and if you want to be a disgusting millionaire or billionaire, go write a bestselling book, like I did…", at which point Mr. Hazen will be hanging his head down in shame and gratefully take the $50 deal. Upon his return to Nashville, Mr. Hazen will immediately schedule book writing workshops for all HCA department chiefs to compensate for cutting all salaries in half. Yeah… no, that's not how this works.
Go ask Northrup Grumman or Lockheed Martin or General Dynamics or even Boeing or Booz Allen or any other "beltway bandit" how getting money from the Feds really works. There are well-greased revolving doors between the Pentagon and its contractors. There are stock options and executive positions for high ranking Federal employees. There are 535 people in Congress responsible for allocating budgets, and all 535 are for sale. Most of this infrastructure is already in place for healthcare too and building the HHS Heptagon shouldn't take very long. The American President has little to no power over Federal spending, and even less so when it comes to large procurement contracts, as the current occupant of the White House discovered the hard way, during the Lockheed F-35 kerfuffle.
Clearly, large health systems will survive and thrive under a Medicare For All law, but how about private health insurance? Future President Bernie says they will all be banned. Is that so? Currently, a full third of Medicare beneficiaries are insured and "managed" by a handful of large private health insurers. Medicare is paying those private contractors fixed amounts of money per head for their services. Medicaid is doing the same for most of its beneficiaries, and all military health insurance (TRICARE) is contracted out to the usual suspects. Basically, the vast majority of people covered by public insurance, are really insured by gigantic insurance corporations. Fact: under the hood, taxpayer-funded healthcare is the bread and butter of private health insurance companies.
When future President Bernie and the hordes of uninformed supporting characters in the 2020 elections festival say that private health insurance will be banned, they are lying to you. What will be banned under a Medicare For All law, is your ability or your employer's ability, to purchase health insurance directly from a private company. Instead, the government will procure contracts in bulk as it sees fit, assign people to them as it sees fit, and pay for these contracts with tax revenue as it sees fit. Just like they pay for battleships, fighter planes, bombs, tanks and such.  The United States Military is known for lots of great things. Value-based purchasing, and cost-effectiveness, in general, are not among those things.
Depending on who you ask and what is included in the definition of healthcare, Medicare For All is projected to cost between three and four trillion dollars per year, which is five times the amount we spend on the Military. This number is calculated based on costs under current law, minus the waste generated by the cacophony of hundreds and thousands of different insurance plans, different healthcare facilities and their too many to count service and product vendors. The projections do not include the effects of the inevitable massive consolidation of everything healthcare into a dozen or so Federal contractors, able and willing to demand multi-billion dollars contracts for services worth a few million dollars at most on the open market. Remember the Obamacare marketplace website? Multiply that by orders of magnitude and you have Medicare For All.
Medicare For All is as egregious a misnomer for this plan as the Affordable Care Act was. When they say Medicare For All, they mean Federal government procured health insurance for all. When they say everything soup to nuts will be covered, they mean everything the heavily indebted Federal government thinks should be covered, and can afford to cover, will be covered. When they say healthcare will be better, more plentiful and much more affordable, they mean please vote for me in 2020. Medicare For All will be built on the largely immovable foundation our government chartered and nurtured for half a century. If you want a glimpse into a Medicare For All future, go look at any Medicaid Managed Care plan in any impoverished southern State, and look at the balance sheets of the associated contractors and sub-contractors.
It doesn't have to be this way. We don't need to bulldozer everything we have, and we certainly don't need to pretend that we can, or that we must. And we need to remember that the proper role of government in a free country is not to manage the health or the care of all its citizens. Free people are not the wards of a State responsible for keeping them healthy, productive and happy. The role of a democratic government is to keep predators, foreign and domestic, including corporate ones, at bay, while providing a sturdy safety net for the few who cannot care for themselves. Let's do that instead. It will be better, faster and cheaper than the fictional construct called Medicare For All.
About Margalit Gur-Arie 
Margalit Gur-Arie is the founder, BizMed. She writes regularly about the intersection of healthcare & technology on her site: On Health Care Technology. Follow her on Twitter at @margalitgurarie
Opinions expressed by HIT Consultant Contributors are their own.