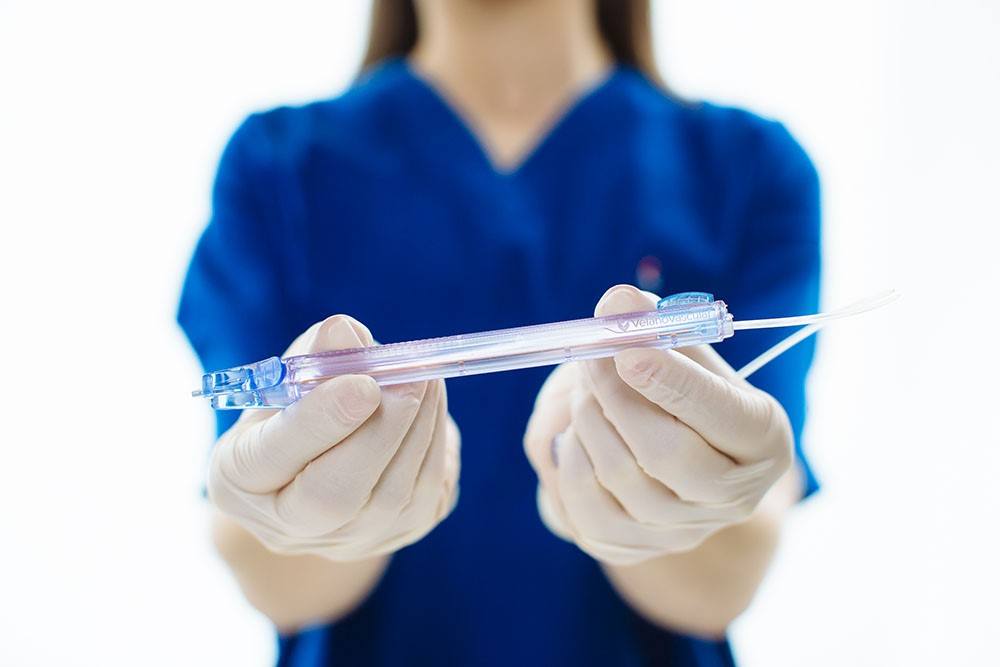 Velano Vascular, a San Francisco, CA-based vascular access technology innovator today announced that it has raised $10 million from strategic investor Intermountain Healthcare following the system's rollout of the PIVO™ needle-free blood collection technology. The funding also included participation from Becton Dickinson's former Chairman and CEO Edward Ludwig; notable entrepreneur, investor, and health sector philanthropist Marc Benioff; Baxter International's former Chairman and CEO Robert Parkinson; and other undisclosed investors.
This additional financing brings Velano's total investment to more than $37 million from a mix of healthcare companies, health systems, healthcare industry veterans, and venture capital firms that all share a commitment to establish a new standard of care for the world's most vulnerable patients.
The Trauma, Risk, Waste Associated With Blood Draws
Blood draws are such a standard and common component of healthcare delivery, we tend to overlook the trauma, risk, and waste that they can create. More than one billion inpatient blood draws occur around the world every year, informing nearly 70% of all medical decisions. Yet this procedure is made more difficult and less efficient through the use of needles, a process that is further complicated by the rising number of Difficult Venous Access (DVA) patients. In addition, the rising incidence of aging, obesity and chronic illness is making venous access more difficult and less efficient.
A Revolution in Blood Draws
Velano was born out of a caring physician's response to an inquisitive patient's frustration. Founded in 2012. Velano Vascular is a dedicated team of experienced healthcare change agents came together to transform the way we draw blood in hospitals. Velano's FDA-cleared PIVO needle-free blood collection device and its family of vascular access products combat the urgent challenge of vascular access globally.
PIVO: Needle-Free Blood Draw Device
PIVO is a needle-free, single-use, sterile device that temporarily attaches to a peripheral IV catheter to collect a fresh venous sample. Using the existing PIV line as a conduit to the vein, a flexible, internal flow tube is advanced through the PIV, beyond the catheter tip, and into the vessel to collect a blood sample. This flow tube is designed to extend beyond the suboptimal draw conditions around the IV to reach vessel locations where blood flow is optimal for aspiration. Once blood collection is complete, the device is retracted, removed from the PIV, and discarded.
PIVO Benefits for Hospitals & Patients
For hospitals that want to reduce painful blood collection 'sticks', preserve patient's veins, and minimize reliance on central lines for blood draws, PIVO is a revolutionary vascular access device that expands the use of peripheral lines for high-quality blood draws. PIVO provides significant, measurable value in patient experience, organizational risk, operating efficiencies, and overall quality of care.
Initial Pilot with Intermountain
Intermountain previously collaborated with San Francisco-based Velano Vascular to test, refine and pilot the company's needle-free PIVO technology. Following hundreds of thousands of successful blood draws, Intermountain was the first health system in the United States to deploy PIVO systemwide as a standard of care.
"As the first health system in the U.S. to bring PIVO to our inpatient populations, we have witnessed the many positive impacts of Velano's vision for a one-stick hospitalization firsthand," said Intermountain Healthcare President & Chief Executive Officer A. Marc Harrison, MD. "We are thrilled to deepen our commitment to Velano and help deliver a new, more humane standard of care for all patients."
Griffin Hospital: ICU Pilot of PIVO for Inpatient Blood Draws Pilot
Griffin Hospital performed a four-month ICU Pilot of 1,130 PIVO draws in February 2016 to assess PIVO usage and practitioner satisfaction. On a scale of 1-5, with 5 representing extremely satisfied, nurses rated their overall satisfaction with PIVO a 4.5 and believe PIVO should be used with at least 85% of ICU patients. All nurse survey respondents agreed that PIVO draws provide a better experience for the patient.
Patient and family member feedback was positive, reflecting an overwhelming appreciation for not having to continually be stuck for blood draws. In fact, two patients who received PIVO draws in the ICU later refused to have their blood drawn with a venipuncture needle upon transfer to another floor outside of the ICU.
Velano Expansion Plans
In 2018, Velano expanded the use of its blood collection technologies to ten states and to dozens of U.S. hospitals. A portion of the funding will also be deployed towards a state-of-the-art manufacturing line currently under construction in the United States. This new facility will begin production in 2019 to meet growing health system demand for Velano's needle-free blood collection solutions.
"We are thrilled to welcome new and returning investors as we fuel our transformative efforts to meet the commercial demand for PIVO and a family of novel solutions," said Velano Chief Executive Eric M. Stone. "Blood collection is a universal issue and PIVO will ultimately touch every human on the planet. We are excited to expand our family of supporters as we build production capacity in the United States, enlist new hospital partners, and realize our vision for a one-stick hospitalization."