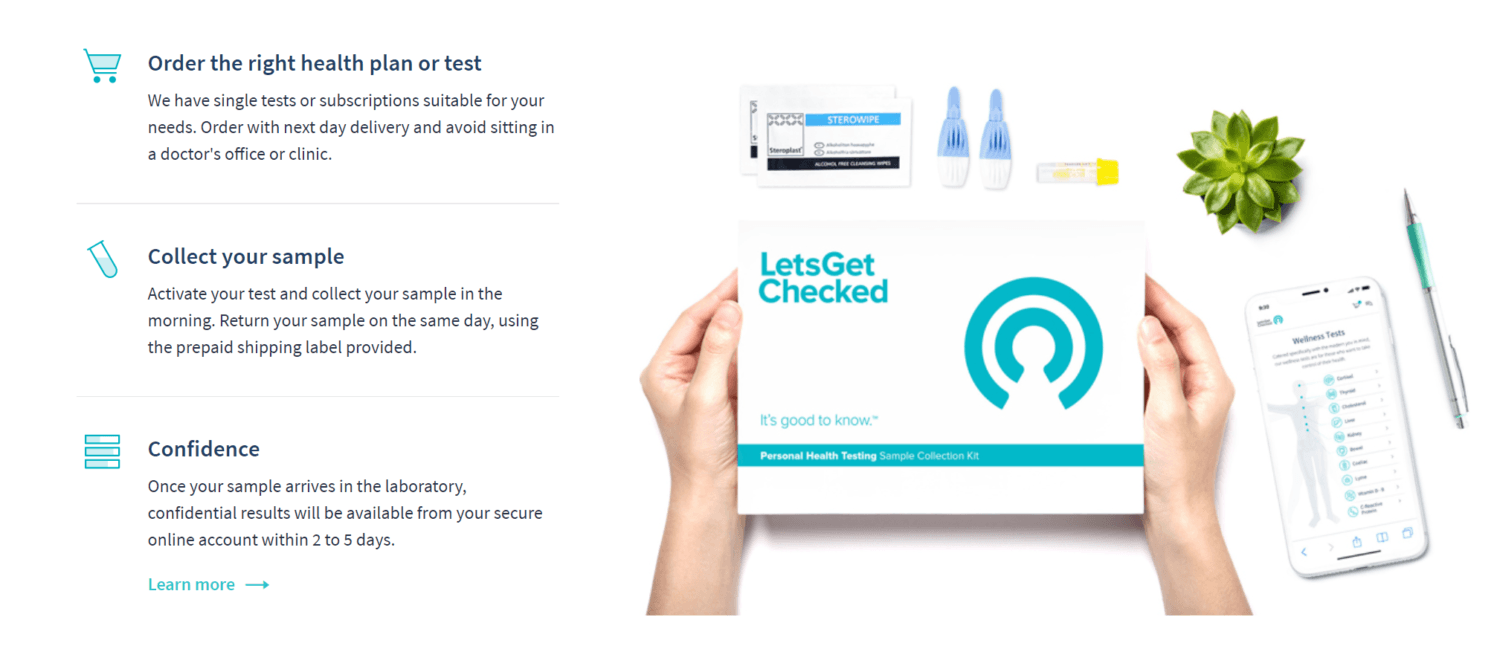 LetsGetChecked, an NYC-based direct-to-consumer at-home health testing platform increasing access to laboratory and self-testing, today announced it has raised 30 million in Series B round led by LTP with participation from existing investors Optum Ventures and Qiming Venture Partners USA.

At Home Testing, For A Healthier You

Founded in 2014, LetsGetChecked is a medical technology platform linking customers to regulated laboratory testing to better manage and control their health. The company's portfolio of testing options has expanded to include wellness testing, cancer screening, sexual health testing, fertility testing, genetic testing, and pharmacogenomic testing. Tests are manufactured and processed in accredited labs by physicians, and available in the US, Canada, and Europe.

How It Works

Users can order in-state physician-approved laboratory tests via LetsGetChecked.com or through partner retailers, including CVS, Walmart, Pharmaca, and McKesson online stores. Anonymized tests are then shipped from the company's ISO accredited facility by next day delivery and individuals can complete and return the samples for rapid processing within as little as two days.

Accredited Network of Laboratories

Tests are performed by leading CLIA-certified reference labs. Throughout the process, patients are connected with in-state board-certified physicians to discuss any abnormal results and determine the best course of action for treatment and care.

Patients also receive a nurse call to discuss the results live, which can be accompanied by an e-prescription at no additional cost to the pharmacy of their choice. LetsGetChecked's portfolio of testing procedures currently includes wellness testing (cholesterol, thyroid, etc.), cancer screening, sexual health testing, fertility testing, genetic testing, and pharmacogenomic testing among others.

Wearable Integration

Integrated with connected health devices such as Apple Health, Fitbit and Garmin, LetsGetChecked provides customers access to a range of health data via its dedicated health dashboard. By combining lab results with real-time wearable data, users can receive risk assessments and scores such as their cardiovascular health and others to determine the probability of developing a heart attack within a given timeframe.

Recent Traction/Milestones

The company has integrated with large reference labs and health systems and is building partnerships with a growing number of healthcare insurers for personalized screening and home testing procedures. For shipping and handling, LetsGetChecked has logistics partnerships with UPS, USPS and FedEx to provide a seamless and convenient consumer experience with quick turnarounds for testing results.

The company plans to use the funding to continue scaling the company's consumer brand in diagnostics, as it currently serves the entire U.S., Canada and Europe. The funding will also be made to fuel development of the core technology platform and on expanding manufacturing and logistical capabilities throughout North America.

"When I was younger, I had a condition whereby I benefited from getting screened early. I made a full recovery, but that isn't always the case for people. We have all experienced family or friends getting diagnosed with something too late and conditions that should be manageable, get way out of hand. Early diagnostics through consumer-led screening can help solve this problem and lead to better clinical outcomes from everyone," said Peter Foley, CEO and founder, LetsGetChecked. "Support from investors like LTP who have a proven track record of helping to modernize healthcare aligns well with our mission and company goals of bringing specialized health testing and insights direct to consumers. I'm grateful for LTP's investment and involvement."