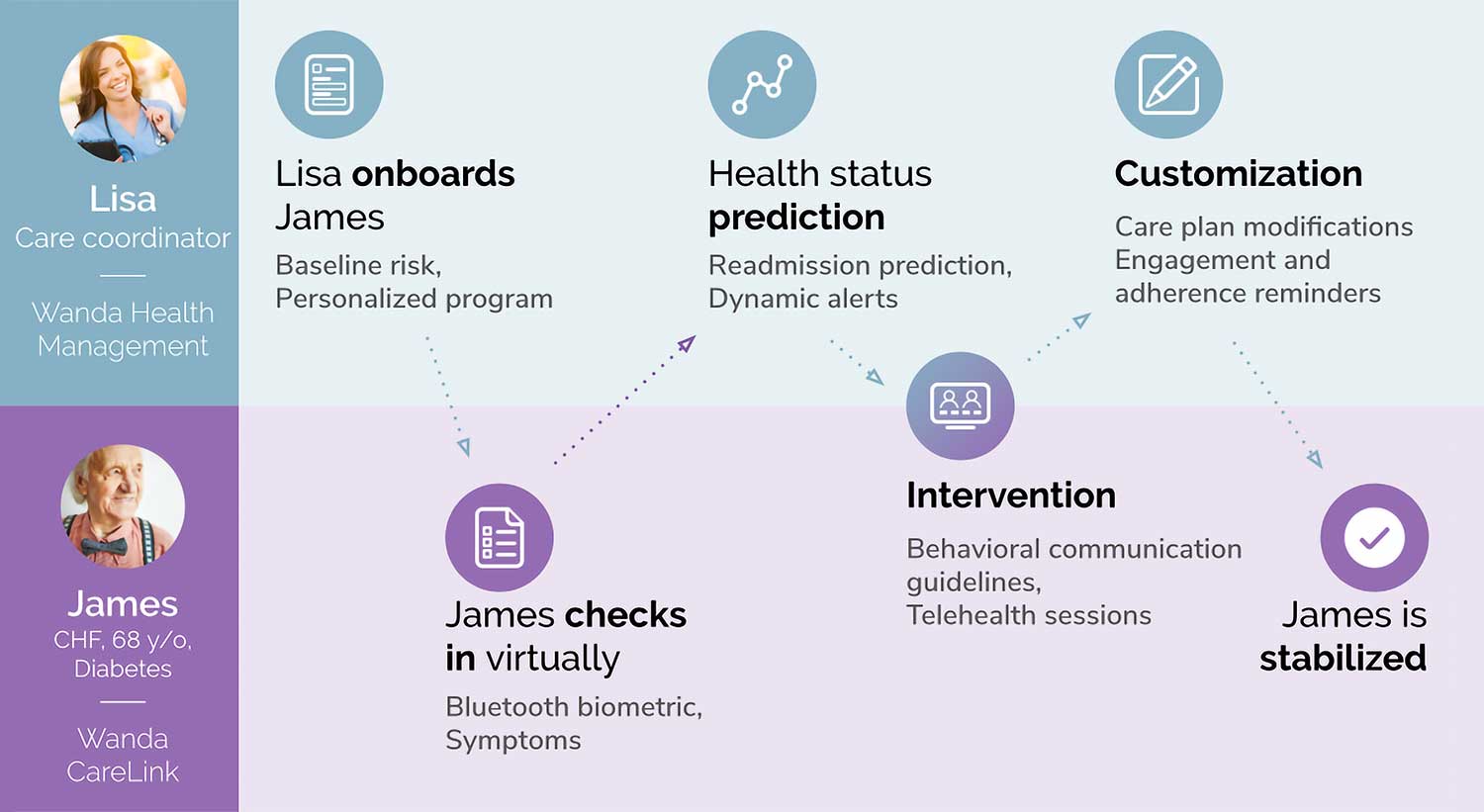 EMV Capital, a London-based early-stage venture investor announced the acquisition and investment in Wanda Inc., a San Francisco-based digital health startup commercializing advanced clinical decision support software powered by machine learning and real-time patient data analysis. EMV Capital's investment will enable Wanda to accelerate its growth in the North American market, as well as to enter the UK and European markets.
Wanda Inc. Background
Wanda Founded in 2011 from the results of eight clinical trials at the University of California Los Angeles (UCLA), Wanda is an integrated platform embedded with active AI linking doctors, clinicians, patients, and caregivers into a proactive care team to stop adverse events before they happen. The active machine learning finds rehospitalizations 7 days before they occur and empowers clinically guided interventions to prevent them from happening. Key features of the platform include
– Advance-warnings of adverse events: Patented machine learning algorithms identify 90% adverse events 7 days before they manifest, keeping high-risk patients safer.
– Proactive care management: Insights on the pending adverse event are delivered to the point of care in real time, prompting interventions to improve patient care plan adherence.
– Virtual check-ins: Ongoing collection of patient data including physiological, behavioral, and phycological status to improve patient-centered care.
– Multimodal patient engagement: Communication options (video, IVR, text messages, app) for assessing health data and connecting patients, doctors and clinicians to improve patient engagement in care plan adherence.
"We are delighted to welcome EMV Capital's smart venture strategy. Their expertise in B2B technology investments and network of corporate partners will support Wanda's growth stage," commented Foad Dabiri, Co-Founder and CEO of Wanda. "We are very excited that Wanda has reached a stage where its products and technology have proven their value to our partners and clients and now it is time for the next exciting chapter in its mission."
Significant of Acquisition & Investment in Wanda for EMV Capital
"I'm excited to welcome Wanda, an innovative digital health company into the EMV Capital family" said Dr. Ilian Iliev managing director of EMV Capital. "Wanda has shown impact and strong traction in the past couple of years and we are excited to support the company's team through its growth phase. It fits in our investment thesis of backing exciting AI-powered technology platforms that can scale rapidly through industry partnerships."

 

Bill Bassett, Chief Commercialization Officer of Wanda noted, "We intend to expand the operations and commercialization efforts of Wanda targeting new provider and payer segments in the health care space. The success experienced by customers including Accountable Care Organizations (ACOs), Post-Acute Care Providers, and Physician Practice Management Companies (PPMC) includes improving people's quality of life while reducing the adverse effects of chronic diseases, such as heart failure, and lowering the overall cost of healthcare."