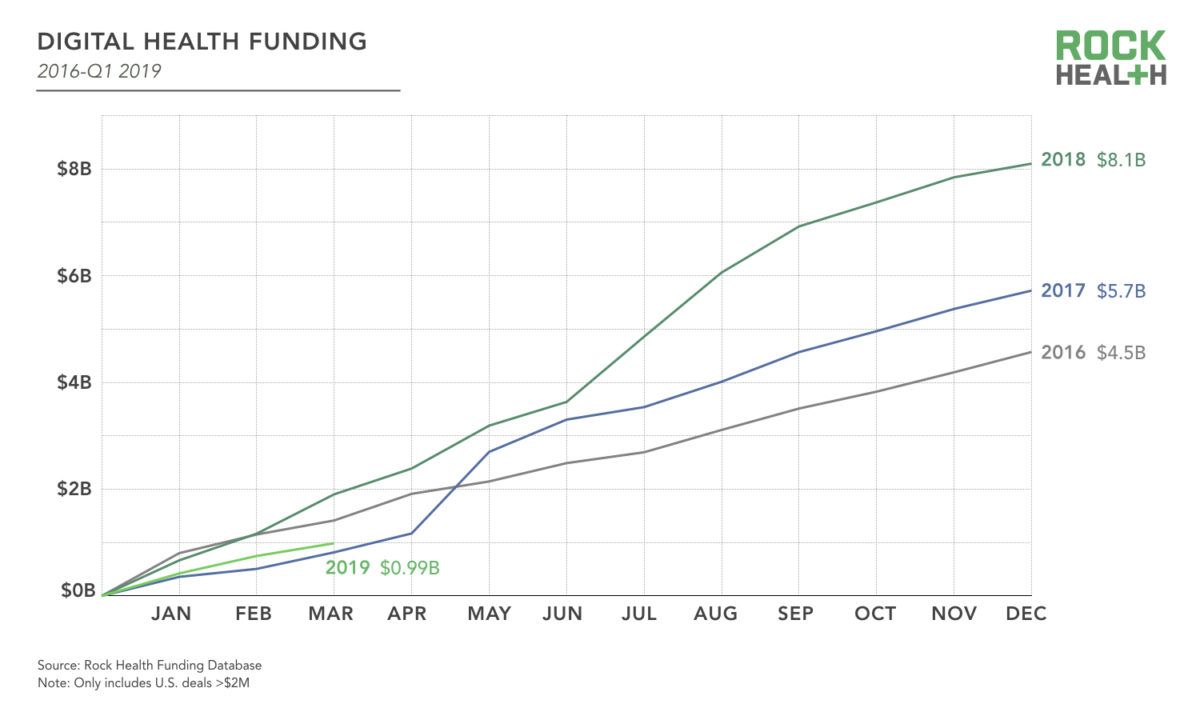 Digital health funding reached $986M across 61 digital health deals in Q1 2019, according to Rock Health, a full-service venture fund dedicated to digital health. The Q1 2019 funding represents about half of the $1.62B that was raised a year ago in Q1 2018 but in line with 2017 and 31% below 2016.
Compared to the $1.2B in Q4 2018, quarterly funding has averaged $1.4B over the past two years (Q1 2017-Q1 2019). Rock Health signals the $986M invested in this past quarter are somewhat below recent trends.
The Q1 2019 Rock Health report reveals that after a two-and-a-half-year drought, the digital health IPO market is heating up with Change Healthcare, Health Catalyst, Livongo; and Peleton filing for IPO this year. In addition, two new digital health unicorns, medication App Calm and healthcare analytics provider Health Catalyst emerged in horns in Q1 2019 reaching a $1B valuation signaling ongoing, strong valuations in the digital health market.
The report produced by Sean Day and Megan Zweig with help from Bill Evans, Danielle McGuinness, Eric Shan sources data from Capital IQ, SEC company websites, Crunchbase, NVCA, press releases and the Rock Health funding database.
Other key findings from the report include:
Digital Health Investor Mix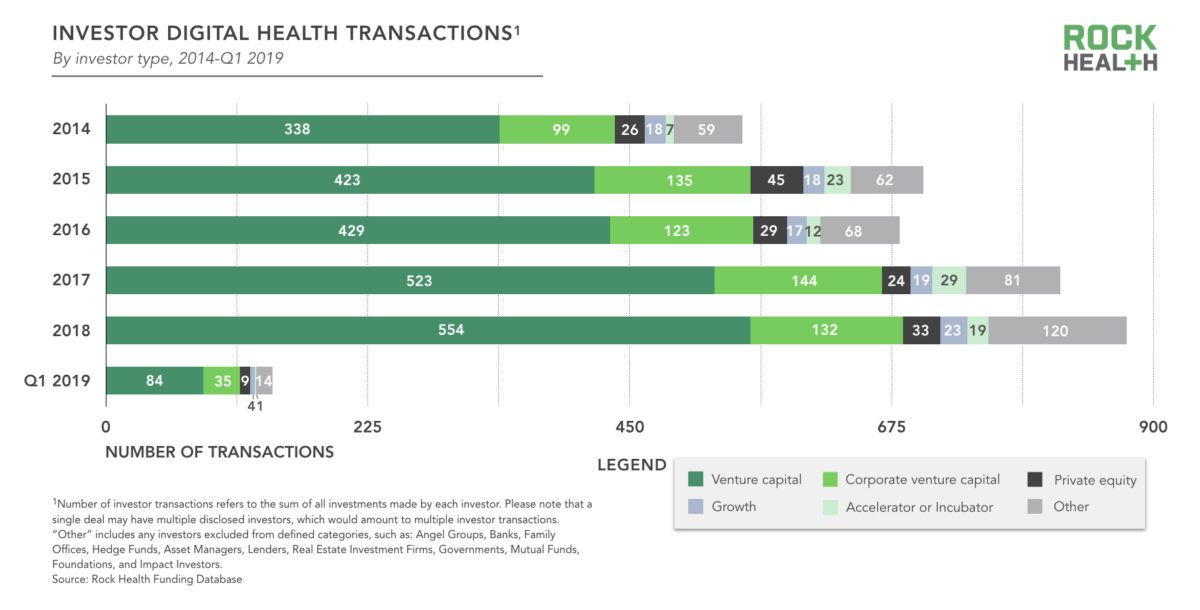 Over the previous five years, corporate venture capital (CVC) has consistently participated in between around a third of digital health deals. This stands in contrast to overall (non-healthcare) US corporate venture capital activity. During the same five year period from 2014 through 2018, corporates participated in 13% to 16% of venture deals—about half the rate of CVC investment in digital health.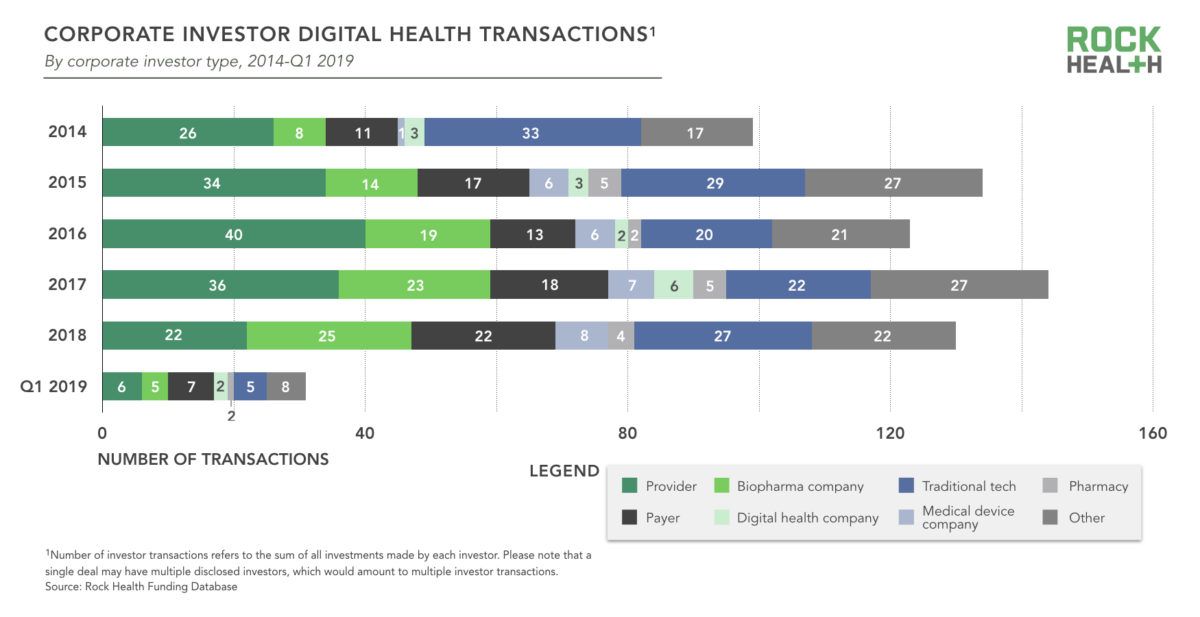 The biggest provider investors over the past five years are  Kaiser Permanente, Mayo Clinic, and Ascension—each making more than 10 investments since 2014. They are three of only 11 corporate venture arms overall whose number of digital health investments is in the double digits in that time frame (GV leads the pack with 31).
Merger & Acquisition Activity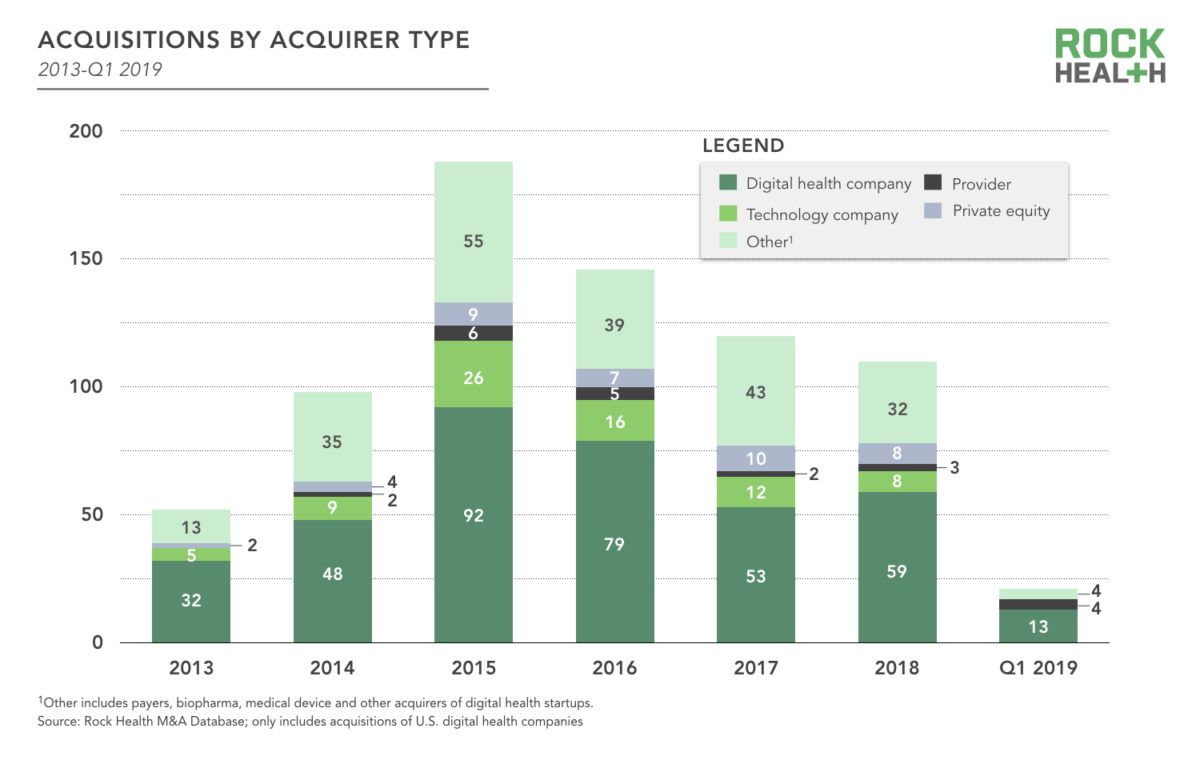 Q1 2019 was a slow quarter for digital health M&A with 21 startup acquisitions—32% below an average of 31 acquisitions per quarter across 2016-2018.
Consolidation within digital health continued with 13 startups (more than half of all M&A for the quarter) acquired by other digital health companies. Behavioral health companies were a particularly hot commodity.
Venture Deal Flow
Through the first three months of 2019, Rock Health reports a significant portion of their deal flow focused on care coordination and monitoring of disease—about 25% of our Q1 pipeline falls into those two categories.
This focus appears to be a response to improved reimbursement for digital solutions, specifically remote patient monitoring (RPM) and chronic care management (CCM). In particular, the Center for Medicare and Medicaid Services (CMS) went live with three new CPT codes2 for remote patient monitoring on January 1st, 2019.