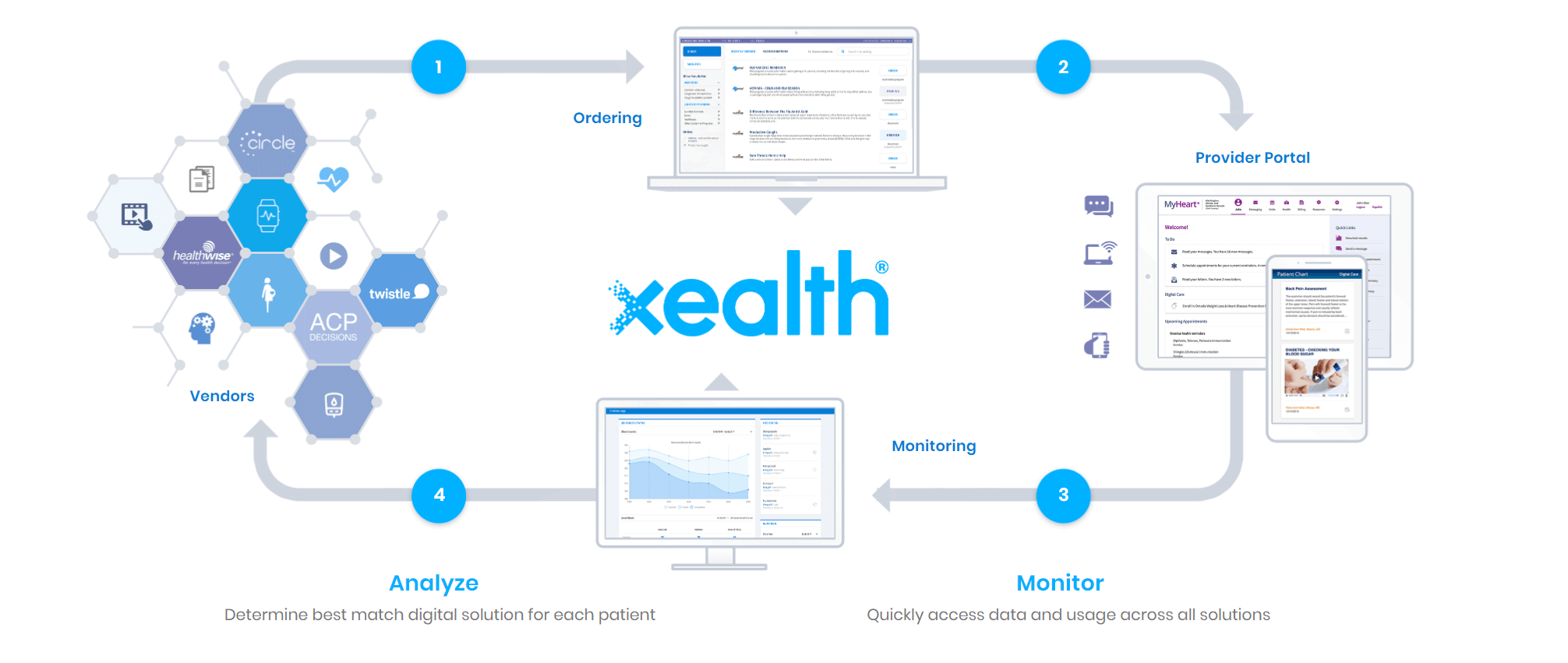 Xealth, a Seattle-based digital prescribing platform has raised $11 million in Series A funding from McKesson Ventures, Novartis, Philips, and ResMed. Existing investors Threshold Ventures (formerly DFJ Venture), Providence Ventures, UPMC and Froedtert and the Medical College of Wisconsin health network also participated in the round.
Xealth Background
Spun out of Providence St. Joseph Health in 2017, Xealth enables clinicians to prescribe and monitor digital healthcare content, apps, devices, and services from within their electronic health record (EHR) charting interface, and to integrate the interaction into a health system's existing patient portal. These can include patient education, online third-party apps and programs, device monitoring, and non-clinical services such as ride shares, food delivery, and e-commerce product recommendations. Using the Xealth platform, care teams and physicians can monitor patient engagement and analyze the effects of more engaged patients.
Traction to Date
Xealth works with UPMC, the Froedtert and the Medical College of Wisconsin health network, Baylor Scott and White, Duke and other leading health systems.  To date, more than 30 digital health solutions and over a million patient interactions are being prescribed and monitored by these partners to connect patients with educational content, transportation, meal delivery, e-commerce product recommendations and other services needed to improve health outcomes.
Future Plans
Xealth plans to use the latest round of funding to fuel the expansion of Xealth's platform, better connecting patients and doctors. In addition, Xealth's newest investment partners will be supporting the application of innovative digital tools to transform multiple segments of the health care industry. Investor ResMed was an early partner of Xealth at Providence to help care for the 40,000 Providence patients who are using CPAP machines. Physicians use CPAP data to help patients better prepare for upcoming procedures, as well as monitor how well the device is working to maintain health.
Healthcare investment partner McKesson Ventures sees Xealth as a player in the emerging "digital supply chain" that makes it possible to prescribe and monitor digital therapies and makes the associated data streams actionable. The platform helps to bridge the existing drug and health care products supply chain with the digital, which opens up a new set of digitally-based treatment options that either stand alone or are in combination with traditional therapies.
"With these new partners joining our existing investors and customers, Xealth will be serving virtually every sector of the health care industry—providers, payors, pharma, devices, and supply chain," said Mike McSherry, chief executive officer of Xealth. "The Xealth platform is quickly becoming the preferred 'digital formulary.'"