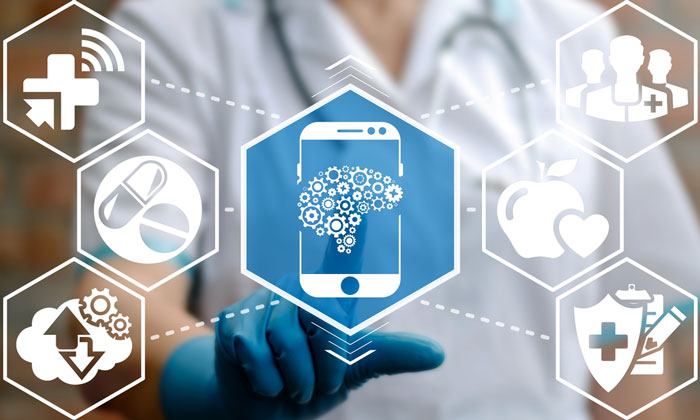 The Internet of Things (IoT) has bred a variety of new technology solutions, used across just as many disparate industries. The Industrial Internet of Things (IIoT) is essentially IoT devices used within construction, development and industrial environments.
Similarly, the Internet of Medical Things (IoMT) involves connected devices used within the medical and health care industry.
They differ from general IoT not just in terms of usage, but also in design. IoT is often more consumer-focused, designed to provide maximum convenience and usability. The other forms are more about accuracy, reliability and above all, security.
Even so, there's always the question of how they stack up against one another. Is IoMT just as advanced and capable as general IoT? Why or why not?
1. How Is IoMT Principally Different?
The IoT is readily described as a modern, connected model of existing devices or appliances. A smart video doorbell, for example, is just like a regular doorbell — only it allows homeowners to manage the device via a mobile app. They can also tap into a live stream of their front doorway or entry, and talk to anyone that rings the bell.
Similar features are offered across the board with devices like smartwatches, refrigerators, televisions, appliances and much more.
What one may notice right away, however, is that a majority of IoT-branded devices are meant for the average consumer or layman. Unquestionably, the technology is remarkably useful for many different applications, not just consumer-grade products. The potential has spurned the introduction of platforms like IIoT or IoMT, where the tech can also offer an incredible array of benefits.
In hospitals, for instance, doctors and nurses are constantly on the move but must continue to check on patients throughout their day. By outfitting medical equipment, sensors and devices with a more connected network, those same professionals could receive the data and information they need from anywhere on campus. This would free up a lot of time for other, life-saving activities.
IoMT is the technology that will make this happen, but it's crucial that security and reliability are included as a fundamental element. Streaming medical records and data is incredibly risky compared to streaming information about what's in a fridge or playing on TV.
Security is still a concern in all cases, but in the medical field, it's vital to protect all sensitive information. The potential damage can affect everyone involved, including the medical facility, which could see huge fines or fees for noncompliance.
2. Where Is IoMT Compared to IoT?
Nearly three in five health care companies now have IoT devices installed, with seven out of eight strategizing its use. About 70 percent of health care organizations now utilize the technology for maintenance and monitoring practices. Nearly 64 percent of the technology's use is dedicated to patient monitoring.
Right away, these statistics point out a growing adoption of technology and its widespread use. That doesn't necessarily mean it's on par with the greater IoT market, though. In fact, it's not.
IoMT is instead in its relative infancy, with a lot of different applications and solutions yet to be discovered or deployed. That's because many organizations are cautious about its adoption, and spend a majority of time strategizing proper networks and rollouts before pushing the technology live.
Knowing how important it is to keep medical records, data, and streams secure, it makes sense why the industry would be taking a little more time adopting the technology.
IoMT, however, is not lagging behind considerably because a lot of what's being done in the general IoT market will be rolled into the medical and health care industry. Deploying endpoint security for IoT, for example, is just now picking up speed and will certainly be useful in the health care market, as well.
Allied Market Research predicted in 2016 that IMoT would become a $136.8 billion industry by 2021. Comparably, general IoT is predicted to be worth $520 billion by 2021, nearly doubling in size. What makes this comparison tricky is that IoMT is included in the IoT estimation. It is merely a subset of the general technology.
Security-wise, however, IoMT has the upper hand — especially since organizations are taking their time with its adoption. Newer solutions like endpoint security, internal segmentation, advanced user authentication policies, and real-time monitoring make it much less likely that medical data will be compromised. Compare that to overall unpreparedness among most deployed IoT systems, which shows the tech tends to be more vulnerable and ripe for attack.
3. Where Does IoMT Stand?
One thing is certain, and it's that the IoMT sector is set to expand considerably over the next few years. That goes hand-in-hand with general IoT, which is also seeing unprecedented growth.
When you look at specific elements of each, it may appear as though IoMT is behind or lagging. In reality, that's not the case — especially when you consider security. IoMT definitely has a leg up, because organizations are more careful about adopting its use, and have access to more advanced and capable security solutions.
As for its rollout, just knowing that 70 percent of health care organizations now use it in some capacity should show that it's poised to make a big impact if it hasn't already.
Kayla Matthews is a contributing writer for HIT Consultant whose work has appeared on VentureBeat, The Week, Contagion Live and BioMed Central.
Featured image credit: europeanpharmaceuticalreview