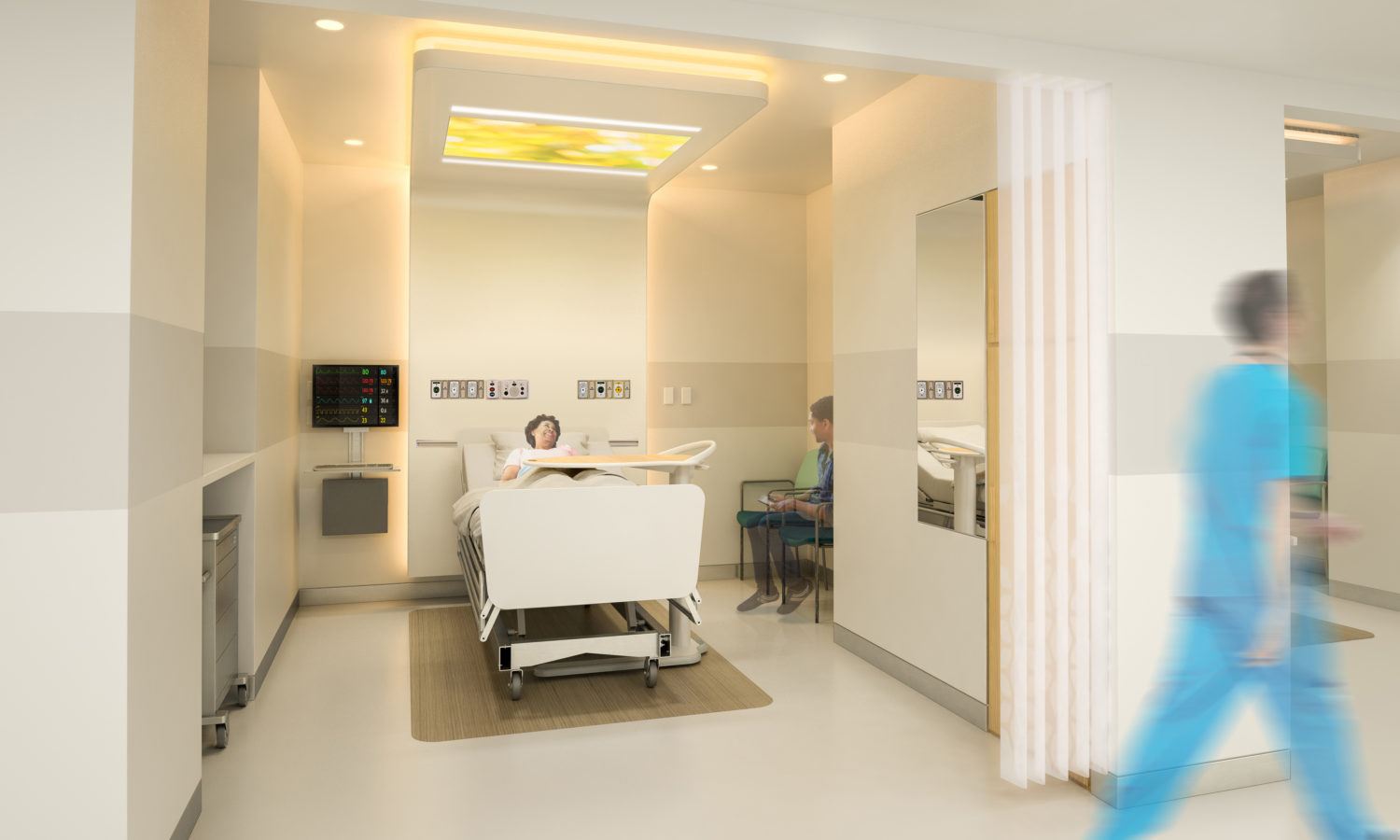 Philips' ambient experience offers a personalized environment for positive distraction and active relaxation to reduce stress pre & post medical procedures. 
 Royal Philips, a global provider of health technology, today announced the introduction of its Ambient Experience preparation & recovery bay in the U.S. Combining the creative use of colored dynamic lighting and video, this new offering provides patients with a uniquely personalized environment that delivers positive distraction and active relaxation to reduce pre-operative stress and enhance the post-operative recovery environment. The Ambient Experience preparation & recovery bay is the latest addition to Philips' highly innovative patient-centered Ambient Experience portfolio. 
Patient Pre-Op Stress & Post-Op Recovery
In today's environment, patients often experience high levels of stress prior to a medical procedure, particularly a cardiac catheterization [1,2,3]. Invasive procedures requiring full anesthesia can also cause considerable psychological distress, as can non-invasive scans that may result in the diagnosis of serious illness.
Stress occurs for reasons such as the anticipation of discomfort and pain, separation from the patient's family, loss of independence, or fear of the procedure itself. Conventional pre-operative preparation and post-operative recovery rooms do little to alleviate the situation. They are typically cluttered with medical equipment designed to meet the requirements of clinicians rather than patients.
Yet calm, relaxed cooperative patients are known to result in better outcomes, clearer medical images, and faster procedures [4]. There is, therefore, a real need for perioperative environments that help to reduce patient stress as much as possible.
Philips Ambient Experience Overview
The Philips Ambient Experience preparation & recovery bay solution allows patients to select different ambience settings contributing to positive distraction and active relaxation. At the same time, the solution reduces the impact of medical technology through integration into the sidewalls, where it is illuminated with task lighting only when needed. Task lighting is also provided for dealing directly with the patient to carry out procedures such as cannula insertion. Bright light supports hospital staff when making the bay ready for the next patient. Philips' solution, therefore, adapts to all four phases of the bay's workflow: patient arrival, preparation, recovery, followed by housekeeping.
"The fear and stress of undergoing surgery is something we can all relate to even if it's not happening to us personally," said Werner Satter, Business Leader Healthcare Experience Solutions for Philips. "That's why at Philips we believe that shaping the patient experience by creating a calmer, less intimidating environment is one of the best ways of helping people at a point in their lives when they need it most. Ever since the commercial introduction of our Ambient Experience concept in 2006, we have seen that a purposefully designed patient-centric environment can make a real difference to a patient's experience and state-of-mind, with the cumulative effect of helping hospitals to improve their workflow and improve staff satisfaction."
The Ambient Experience preparation & recovery bay will be rolled out to other markets next year.
References
[1] Carroll, Diane L., et al., Non-pharmacological interventions to reduce psychological stress in patients undergoing diagnostic cardiac catheterization: a rapid review, European Journal of Cardiovascular Nursing. 2017, Vol. 16(2) 92-103 ©The European Society of Cardiology. 
[2] Nekouei, Zohreh Khayyam, et al., Comparing anxiety in cardiac patients candidate for angiography with normal population. ARYA Atherosclerosis Journal 2011. 7(3): 93-96. 
[3] Delewi, Ronak, et al., Anxiety levels of patients undergoing coronary procedures in the catheterization laboratory. International Journal of Cardiology. 228 (2017) 926-930.
[4] Compared to the average of the other five Philips MR scanners without Ambient Experience and In-bore Connect. Results from case studies are not predictive of results in other cases. Results in other cases may vary.