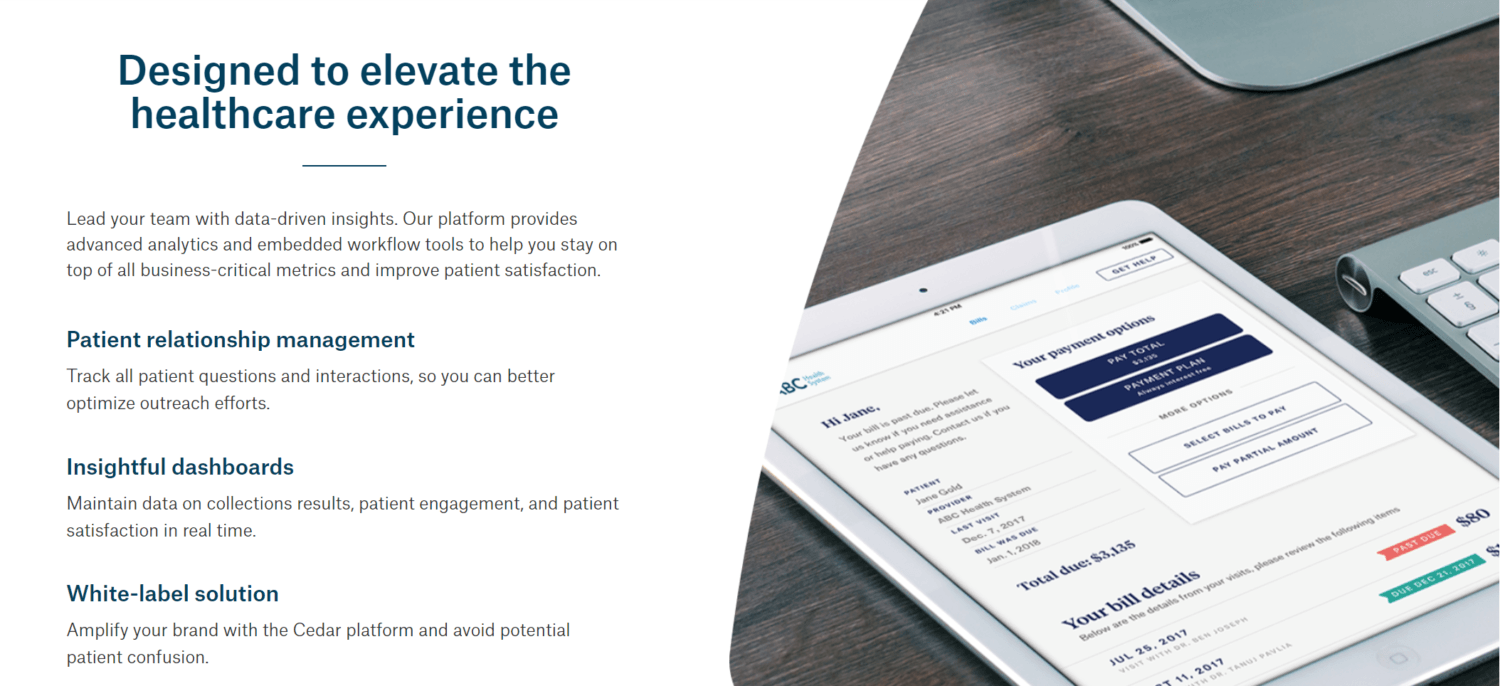 Cedar, a patient payment and engagement platform, announced the next evolution of its flagship solution, Cedar Pay. The enhancements now allow providers to offer a truly unified patient billing experience and simple checkout options.
Healthcare executives still struggle to help patients understand and pay healthcare bills, with 50 percent of provider executives reporting the need to improve the patient billing and payment experience, according to a recent Cedar study. The next evolution of Cedar's platform helps to alleviate this problem by further bringing the consumer experience to the forefront of patient billing.
As Cedar continues to optimize the patient experience across healthcare, the company is also developing a new front-end solution, Check-In Plus. The solution, available in 2019, will extend the Cedar platform to provide hospitals, health systems, and medical groups ways to more effectively engage with and educate patients prior to their visit.
The Cedar platform leverages advanced data science, machine learning and smart segmentation to deliver insights that develop a complete picture of patient communication and payment preferences. The latest enhancements to Cedar Pay further streamline and simplify the patient billing experience by providing:
– Truly Unified Billing: Patients can view everything associated with their visit in one place, including for other family members associated with their account. Medical bills are grouped by episodes of care instead of claims to match how each patient thinks about their medical care journey.
– Modern Checkout Experience: Now it's even easier for patients to proactively pay their medical bills. Instead of requiring patients to look up their account via account number or medical record number, they can securely access their full online dashboard by entering their email or phone number
– Dynamic Personalized Segmentation: Platform updates unlock additional opportunities to personalize the patient journey to drive more effective engagement that resonates with each unique patient.
"Providers are constantly challenged with establishing a streamlined approach to engaging patients when it comes to the billing process," said Joel Perlman, advisor to Cedar and former executive vice president and chief financial officer at Montefiore System. "This is a critical pain point in healthcare as organizations look to optimize time with patients and drive satisfaction. Cedar's new capabilities now allow providers to easily deliver consumer-friendly billing communications that drive patient engagement and increase collections on the backend."