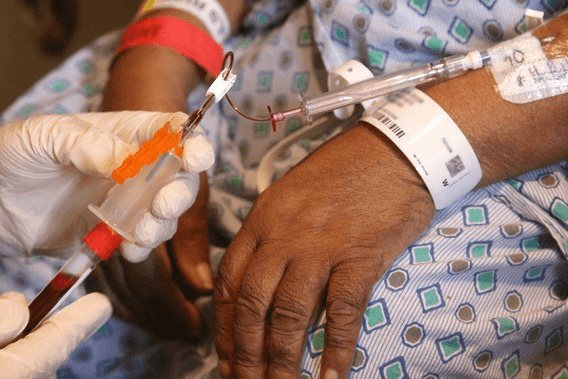 University Hospitals Cleveland Medical Center adopts needle-free blood draw technology to reduce anxiety and risks for hospitalized patients.
University Hospitals (UH) Cleveland Medical Center in Ohio, announced that it has implemented the PIVO needle-free blood draw device from San Francisco-based medical device innovator Velano Vascular at UH Cleveland Medical Center for inpatient blood draws. UH is the first health system in Ohio to deliver this enhanced experience to patients and is helping to pioneer a bold national movement to adopt a more humane standard of care for blood draws.
More than 400 million blood draws occur annually in hospitals in the U.S., informing as much as 70 percent of all clinical decisions. Many of these are conducted in a hospital setting on patients that receive as many as three blood draws daily. This number can increase dramatically for the 30 percent of U.S. hospital patients that are considered Difficult Venous Access (DiVA) due to obesity, age, and disease, a condition that makes blood collection more challenging.
PIVO is a FDA cleared 510(k) single-use, disposable device that enables consistent, high quality blood samples from indwelling peripheral IV lines, allowing hospitals to reduce reliance on repeated needle sticks and central line access for blood collection. In addition to seeking a more compassionate care experience for patients, a safer environment for practitioners, and a more financially responsible alternative for health systems, PIVO aims to equip hospitals to better serve the increasing population of DVA (Difficult Venous Access) patients.
The adoption of PIVO at UH's flagship academic campus follows evaluation of the technology and the procedure in multiple UH Cleveland Medical Center inpatient units. PIVO connects to an indwelling peripheral IV catheter, commonly used in hospitalized patients, and enables practitioners to extract high-quality blood samples from the vein, eliminating the need for multiple needle-sticks.
Velano Vascular Chief Executive and co-founder Eric M. Stone is a Northeast Ohio native and former UH Rainbow Babies & Children's Hospital patient. "As a chronic disease sufferer and over the course of multiple hospitalizations as a teenager, I developed a clinical fear of needles," said Stone. "My personal experience as a patient has informed our person-centered mission at Velano to enable more humane care. Coming full circle, back to UH and Rainbow, to make this technology a national standard of care will enable our children and their parents to have their blood drawn in a gentler way."