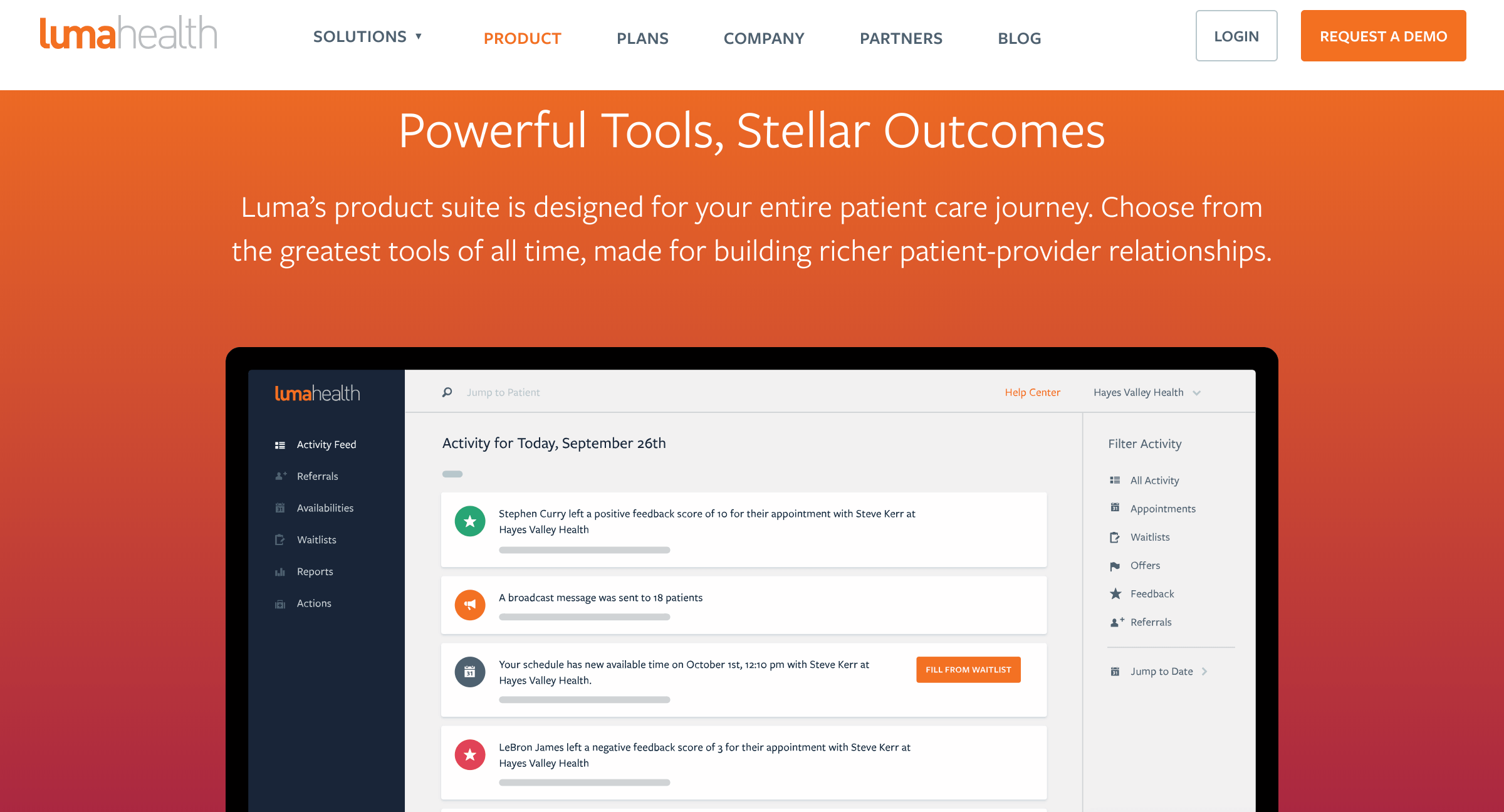 Luma Health, a San Francisco, CA-based smart patient-provider communications platform, today announced it has completed a $6.33 Million round of Series A funding led by U.S. Venture Partners along with continued participation from the Stanford-StartX Fund and existing investors. Luma Health plans to used the latest round of funding to extend its go-to-market operation, including sales and marketing, while also expanding its engineering team to support the company's growing product roadmap. The investment brings Luma Health's total funding since launching its cloud-based patient-provider communications platform to $9.6 million. 
The daily process of staff and physicians conducting traditional patient communications by phone is lengthy, inefficient and hurts the bottom line, however, it's one of the most common methods of communication. Additionally, there are regularly occurring obstacles when communicating by phone which leads to lower referral-turned-patient rates, lower patient-retention rates and a lower rate of refilled canceled appointments. Not to mention, the traditional way of patient-provider communications leaves patients waiting on average between 2-12 week to see a physician (primary + specialists included). 
To address this patient-physician gap, Luma Health developed a mobile-first, cloud-based conversation platform  in 2015 designed to address the entire patient care journey. Luma Health empowers providers with the tools to better connect with patients via text. It seems simple and it is. Providers are able to develop uniquely crafted messages which are managed and deployed by automated chatbots. This saves time and money while nurturing patient relations in a more efficient manner.
Key features in the Luma Health patient-provider communications platform include:
– Care Pathway Messaging: New bot-enabled messaging allows providers to send unique, automated text messages to serve the personal needs of each individual patient before and after visits and procedures. Two-way functionality also allows patients to respond and ask questions via text message, fully integrated with over 55 electronic health record and practice management systems.  
– Referral Management: Allows specialty clinics to automate referral outreach and enable patients to self-schedule via call or text.
– Smart Waitlists: By integrating with practice management calendars, patient cancellations are automatically filled via ongoing waitlists.
– Actionable Reminders: A two-way reminder system goes beyond text appointment confirmations and creates customizable messages that patients can engage with — reply, reschedule, or join waitlists.
– Feedback and Reputation Management: Enabling real-time, actionable, and anonymous patient feedback and online reviews.
– Secure Chat: HIPAA-compliant chat functionality allows for the safe exchange of information relating to insurance, test results, and images.
– Web Scheduler: Scheduling widgets allow clinics to publish available times on the web site, empowering patients to make appointments anytime and anywhere. 
"Our goal is to help Americans become closer to their healthcare team and receive more timely and personal access to care. We want to help them interact directly with their own clinic, doctor or medical staff to keep the connection personal," said Adnan Iqbal, CEO and co-founder of Luma Health. "The results are there — clinics typically see a 10x ROI in the first month. This new investment will help expand our team and offerings while connecting even more patients with their care provider and guiding them through their healthcare journey."