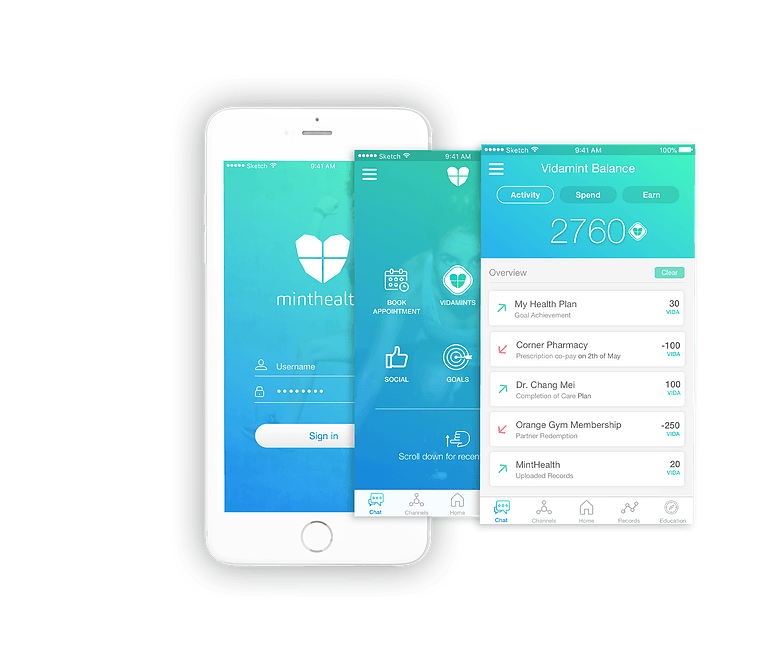 MintHealth, a global decentralized health platform with a portable, secure, and self-sovereign personal health record (PHR) built on blockchain technology and designed to drive healthy patient behavior through the Vidamint™ token. MintHealth announces the immediate availability of the associated white paper behind a planned Vidamint (VIDA) token sale in Q1 of 2018. The company also announces the addition of Wyche "Tee" Green, III, founder and director of Greenway Health™, to the MintHealth Board of Directors.
Started by a team of veterans in the healthcare industry, MintHealth is tackling two fundamental problems in healthcare today – the lack of a patient-controlled health record that can be seamlessly shared with key stakeholders, and an incentive model to promote proactive patient behaviors for the purpose of combatting the incessant global rise in chronic disease related healthcare costs.
MintHealth's patient-controlled health record to include key laboratory, medication, diagnosis, care plan, complex medical imaging (e.g., CT, MRI, x-rays, echocardiograms, ultrasounds, etc.), patient generated behavior data, and key vital signs generated outside of the clinic including weight, blood pressure, sleep, stress levels, glucose, and more. The platform pulls information from electronic health record systems, as well as from all personal sources of patient-generated data including web, mobile applications, and connected devices. Permissions for data access will be granted by patients via smart contracts embedded in the blockchain, and execution performed via the MintHealth application.
Doctors, health systems, health coaches, case managers, family, and friends can gain access to the data via social modules embedded in the MintHealth application that will serve to build awareness around chronic conditions via a patient-centered community. Health coaches will be able to leverage a proven clinical tool with built-in automation to manage sicker patients needing more hands-on support. Patients will be encouraged to use the platform and to complete key training, education, and care plan modules in exchange for Vidamint tokens, which will be redeemed for insurance premium reductions, prescription refills, and discounts on various health and wellness brands.
Regional healthcare insurance companies that employ physicians will be early adopters of Vidamints and will partner with the MintHealth team to roll the program out in several pilots across the country. The improved clinical outcomes and healthcare costs driven by the MintHealth platform will drive further adoption of the Vidamint token by larger insurance companies and government health plans.
"We have seen repeatedly that financial incentives for patients and doctors drive better outcomes and sustained patient engagement. It's time now to combine this concept with a platform that can execute both the incentive model and the self-sovereign health record. We're bringing together more than 100 years of domain expertise, existing intellectual property, and trade secrets to make the promise of personalized health a reality," said Dr. Samir Damani, MD, PharmD, FACC, co-founder and CEO of MintHealth.  
The $3 Trillion Problem
The U.S. continues to face a healthcare crisis of skyrocketing costs and worsening health outcomes.  Of the 56 million deaths each year, 40 million are due to preventable conditions like diabetes, heart disease and cancer. As a country we spend $3 trillion each year on healthcare and 90 percent of that amount goes to treating chronic conditions –but this can change. Creating data liquidity between provider and patient data silos is one of the industry's biggest challenges.
"Based on decades of experience as a healthcare practitioner, I've experienced first-hand how these silos prevent us from providing the best possible healthcare. Blockchain technology breaks down those walled data repositories," said Dr. Vishal Verma, co-founder and president of MintHealth. "Patient info will no longer be solely embedded in one system's EHR. We will give patients ownership of their medical data and make it accessible and interoperable in a secure way. The MintHealth PHR will seamlessly move between patient and provider data silos providing total interoperability where any physician can access a patient's complete medical data from all his/her other providers at the time of care."
The goal of MintHealth is not to replace EHRs, but to complement them in a way that drives improved patient engagement, lower costs, and improved clinical outcomes.  
MintHealth White Paper: Patient Engagement Platform & Vidamints (VIDA)
Insurance companies are actively seeking ways to engage chronic disease patient populations and lower costs. The MintHealth platform aligns patient and physician incentives to improve health outcomes and promote value-based care (i.e., proactive, preventative health management to make patients healthier and to lower costs).  
The MintHealth mobile app is designed to promote proactive behavior through informed, active patient engagement, gamification, social support, and financial incentives. Incentives will be distributed via Vidamint tokens (VIDA) to help encourage and reward patients for engaging in healthy behaviors that are assigned to them through the MintHealth mobile app. Once a behavior is assigned to a patient, Vidamints will reside in an escrow vault smart contract and be delivered to the patient's wallet upon successful completion of each behavior.
Across the MintHealth ecosystem, Vidamints will be used for:
•Incentivizing healthy behaviors and patient-controlled sharing of data for research (academic and research organizations, as well as pharmaceutical, medical device, and other life science companies)
•Establishing the patient self-sovereign health identity and record
•Compensating provider success in improving their patient population's health
•Powering ecosystem redemption including insurance premium reductions, prescription copays, gym memberships, health foods, among other health and wellness brands
•Enabling patient governance & voting
Visit www.vidamints.com for details on the Vidamints mechanism and to download MintHealth's new "Aligning Stakeholders in a New Healthcare Ecosystem" white paper.
Tee Green Joins Board of Directors
Wyche "Tee" Green, III, a top authority on healthcare reform, was recently appointed to MintHealth's Board of Directors. He is a founder and director and former CEO of Greenway Health™, where he served in leadership roles since its founding in 1998. Greenway Health's electronic health record (EHR) solutions are deployed at nearly 10,000 medical groups, clinics and enterprises across the U.S., where they're used by more than 75,000 clinical professionals to improve patient care and to manage their financial and administrative processes more efficiently.
"The true revolution in healthcare will come when information is finally freed to be used to manage chronic care in a more advanced, consumer-driven way. That is the killer strategy for improving the healthcare system. There's nothing we've done to date with the technology infrastructure to allow patients to be engaged in the process," said Tee Green. "Blockchain-based solutions like MintHealth will help usher in a much needed era of data liquidity, at a massive scale, that puts the patient in control to improve health. I'm thrilled at the opportunity to join the board and contribute to their ambitious vision."