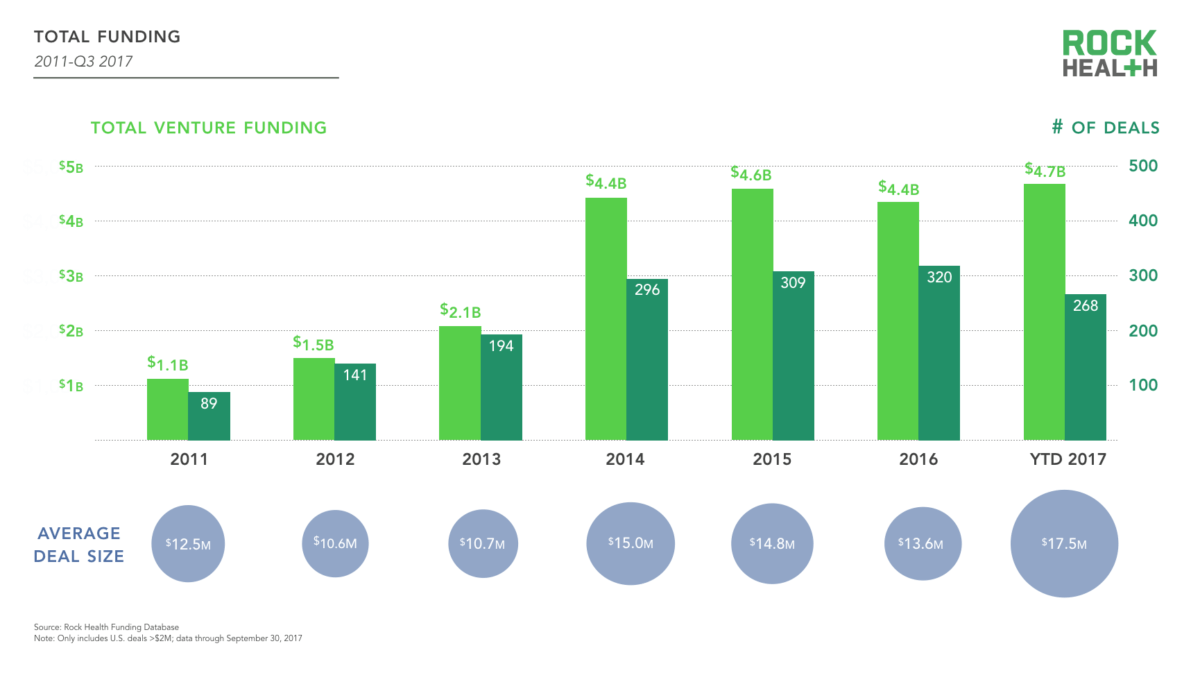 Digital health funding has reached $1.2B in Q3 2017, bringing the YTD total to $4.7B—surpassing the prior historic annual high of $4.6B in 2015, according to Rock Health, a full-service venture fund dedicated to digital health. The report, Q3 2017 Digital Health Funding Update reveals that there have been 268 digital health funding deals across 261 companies. Comparatively, 240 digital health venture deals had closed by the end of Q3 in 2016.
Other key findings/insights from the latest Rock Health report include:
– The biggest deal of the quarter—and the only one over $100M—went to a little company called 23andMe as it made a shift we're seeing companies across digital health make: from B2C to B2B.
– There may be no digital health IPOs in 2017. M&A has slowed as well, leaving investors oscillating between feeling frustration and preaching patience.
– Compared to previous years, there is greater alignment between where venture dollars are going and where they're getting returned—particularly with EHR/clinical workflow and consumer engagement categories.
– 16% of the 83 companies funded in Q3 are led by women CEOs, which is a significant increase from the 11% (and lower) female representation persisting in previous years.
–  Since the first half of 2017, companies in the "Personal Health Tools and Tracking" space have received significant funding, pushing it into the top six funded categories year-to-date.
The other top categories such as consumer health information and healthcare consumer engagement are bolstered by mega deals from the first half of the year, with these top six categories accounting for 74.3% of total funding in 2017 thus far.
– California still dominates when it comes to digital health funding, with over a third of funding (38%) coming to companies headquartered in California. Other high-funding hubs this year include New York and Illinois, which represent 15% and 14% of overall digital health funding activity, respectively.
– The digital health stocks with the greatest returns YTD are Teladoc (up 101%), Care.com (up 90%), and Tabula Rasa HealthCare Inc (up 79%). The stocks with the biggest losses YTD are Connecture (down 61%) and Nant Health (down 58%).
The report produced by Megan Zweig with help from Lou Jug, Ted Cho, Danielle McGuinness and Bill Evans sources data from Capital IQ, SEC company websites, Crunchbase, NVCA, press releases and the Rock Health funding database.