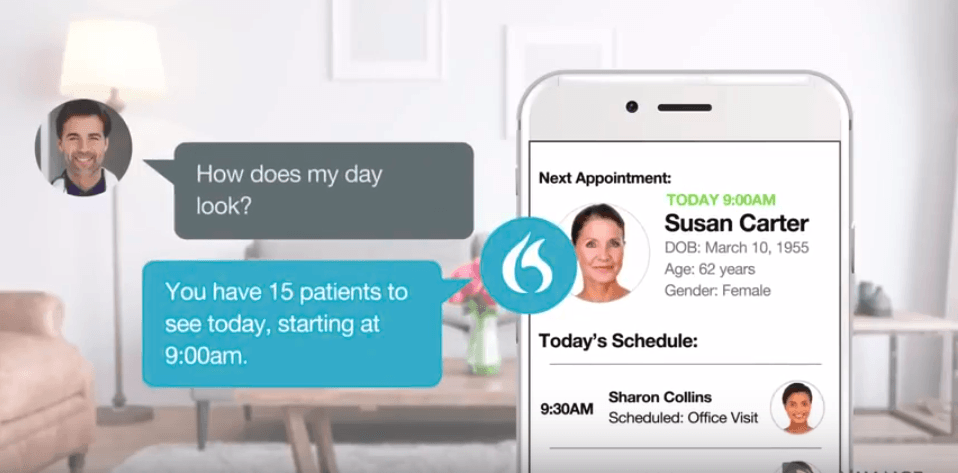 Nuance Healthcare unveiled a new AI-powered virtual assistant solution aimed at optimizing the experience healthcare providers have with their EHRs and allowing physicians to spend more time focusing on the patient. This latest offering from Nuance builds upon their award winning platform – which 500,000 clinicians use to communicate more than 300 million patient stories a year – delivering a seamless transition of conversational dialogues to actionable information for doctors.
Additionally, the virtual assistant will contain embedded, unique and sophisticated workflows that will work across major EHR systems that clinicians are already accustomed to using. The company is also developing a HIPAA-compliant smart speaker designed for healthcare settings.
Building on decades of experience working with healthcare providers, an extensive market footprint, and its highly scalable, multi-channel Virtual Assistant platform, Nuance has created a virtual assistant solution optimized for the healthcare provider market that includes:
– Industry-leading voice recognition technology designed for healthcare: Dragon Medical is trusted by more than 500,000 clinicians to accurately create and communicate more than 300 million patient stories a year. This cloud-based offering enables any individual, using specialized medical terminology, to communicate naturally with high accuracy and no voice training across a range of devices and apps.
– Voice biometrics and text-to-speech: The solution utilizes Nuance's award-winning voice biometrics and text-to-speech 
– Unparalleled integrations and strategic healthcare IT relationships: The offering contains embedded, unique and sophisticated workflow capabilities across major electronic health record (EHR) systems that clinicians use every day across mobile, web, and desktop platforms.
– Prototype smart speaker customized for healthcare provider settings and use cases: A prototype, specialized healthcare smart speaker connects to the Dragon Medical cloud and is optimized for clinical interactions and ambient speech clinical workflows.
– Secure and reliable platform: The solution leverages the HITRUST CSF certified Microsoft Azure cloud hosting platform to deliver the enhanced performance, security, and privacy today's providers require.
"Technology needs to be unobtrusive and support the process of providing high quality patient care—not get in the way," said David Y. Ting, MD, CMIO, Massachusetts General Physicians Organization in a statement. "Having Nuance's AI-powered virtual assistant technology embedded into the EHR will help make a new generation of patient care a reality – for both clinicians and patients."