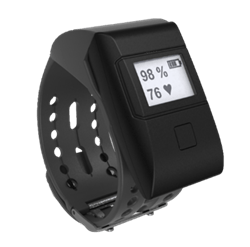 Oxitone Medical (Oxitone), an Israeli-based medical device and digital health company developing wearable monitoring solutions has received 510(k) clearance from the FDA for its wrist-sensor pulse oximetry bracelet Oxitone 1000. The wrist-sensor pulse oximeter Oxitone 1000 measures critical vital signs such as SpO2 and pulse rate with the same precision as conventional fingertip pulse oximeters.
The Oxitone solution has been validated in pilot studies in a number of medical settings including desaturation labs. The results have proven almost 100% patient satisfaction, significant reduction of medical staff workload and a potential for major reduction in readmission. Oxitone FDA clearance paves the way towards supervision of patients beyond hospital walls while providing the hospital's medical-grade level of care.
Oxitone's technological solution, protected by five patents, enabled building the world's first biosensor that exploits the wrist anatomic structure as a quasi-optical element. At the same time, the bracelet's patented mechanical configuration encompasses springs and dampers for ergonomic fixation of the sensors unit which isolates it from wrist movement and topographical variations.
More than 20 million Americans suffer from cardio-pulmonary chronic diseases that cause more than 420,000 deaths a year, and these numbers are growing. Seamless real-time monitoring of chronic patients is critical to clearly observe clinical status, recognize variations from the norm and, as a result, to avoid costly and deadly exacerbation. Traditionally, home monitoring of chronic patients includes uncomfortable and bulky fingertip spot-check pulse oximeters that cause low patient compliance.
"The Oxitone transformative solution redefines the way measurements happen. We shift a care paradigm towards unification of hospital and home care of chronic diseases," said Oxitone Founder and CEO Leon Eisen, PhD. "Our vision goes far beyond just wrist-sensor pulse oximeter. The next step is to integrate the bracelet with our patient management and monitoring digital health platform that includes a companion patient/caregiver mobile application and cloud supervisor's portal. Our platform transforms real time health data into patterns, alerts, predictive analytics and life management notifications. As a specific example, by real-time monitoring of oxygen saturation, pulse and activity level, COPD exacerbations can be detected early, clinical interventions can be initiated immediately and readmission prevented. We believe that our solution will deliver a great value for patients and providers, and significant savings of funds."