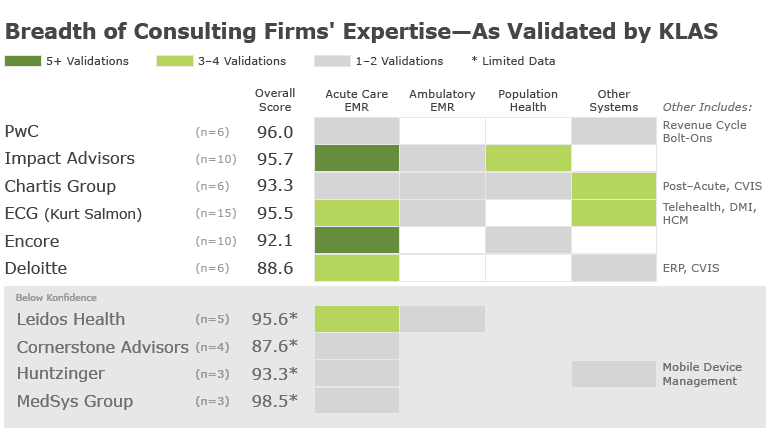 The Chartis Group, ECG(Kurt Salmon), and Impact Advisors  stand out as the top consulting firms for helping healthcare providers select systems beyond EMRs, according to a recent KLAS report.  The KLAS report, "Crucial Factors to Consider When Choosing A Consulting Firm," reveals Cerner's acquisition of Siemens' healthcare IT, the sunsetting of McKesson Horizon, the release of MEDITECH 6.0, and the continued record-breaking pace of healthcare mergers and acquisitions—have caused many providers to reevaluate their EMR options. These key factors are driving an increasing numbers of health systems to turn to consulting firms to assist them in their evaluation of potential vendors to enhance their population health/value-based care initiatives. 
For the latest report, KLAS interviewed healthcare organizations to identify four key factors in selecting the right consulting firm that will be an objective advocate for their clients' best interests: 
Factor #1: Which firms have the experience and breadth you need?
Health systems has selected consulting firms mainly to help them perform system selections for acute care EMRs; however, providers also now need expertise in helping them select vendors in other IT markets. KLAS found that The Chartis Group, ECG (Kurt Salmon) have the most KLAS-validated work in areas outside of the acute care EMR.  In contrast, most KLAS-validated work done by Leidos Health, PwC, and Deloitte was focused on acute care EMRs.
Providers have used The Chartis Group for post–acute care and CVIS selections; ECG for telehealth, document management and imaging, and human capital management; and Encore and Impact Advisors for population health.
Factor #2: Which firms deliver the best value?
With top consulting firms performing at high levels, costs heavily impacts the clients perception of value. KLAS found that PwC delivered the best value for their combination of expertise, unbiased work, flexible processes, willingness to partner with clients on financial compensation and work within providers' financial limitations results. 
Providers perceived Deloitte as expensive, citing their nickel-and-diming and upselling of implementation services as key factors on questioning whether the consulting firm's ROI is worth the investment. 
Factor #3: Which firms show the most objectivity?
Although providers can benefit from firms having strong relationships with certain IT vendors, they expect firms to have equal knowledge of all options being considered. Additionally, providers demand that firms deliver all the information objectively without influencing the outcome.  KLAS examined various firms' selection track records and found ECG (Kurt Salmon) customers say their firm makes extra effort to be objective, and customers of ECG have chosen a wider variety of vendors than customers of other vendors. Selection outcomes among The Chartis Group and Deloitte customers show the least variation, while Impact Advisors has the most customers who say their firm wasn't completely objective. 
Factor #4: Which firms excel at expertise and methodology?
KLAS revealed Encore demonstrated the deepest expertise in Epic's Connect Model, while while ECG (Kurt Salmon) has flexible, effective methodologies that cater to clients' needs. PwC was also highlighted for their deep expertise specifically with acute EMR system selections.
In contrast, clients felt Deloitte and Leidos Health fall behind other firms when it comes to methodology. Clients cited Deloitte as struggling to define a process for identifying and solving customer concerns even though it had great knowledge of acute care EMRs. Leidos Health clients reported disruptions due to turnover among the Leidos consultants, despite having a flexible methodology. 
It is important to note that these KLAS performance scores may change significantly when including newly interviewed provider organizations, especially when added to a smaller sample size like in emerging markets with a small number of live clients. These findings presented are not meant to be conclusive data for an entire client base.
For more information on this report, visit KLAS Research.