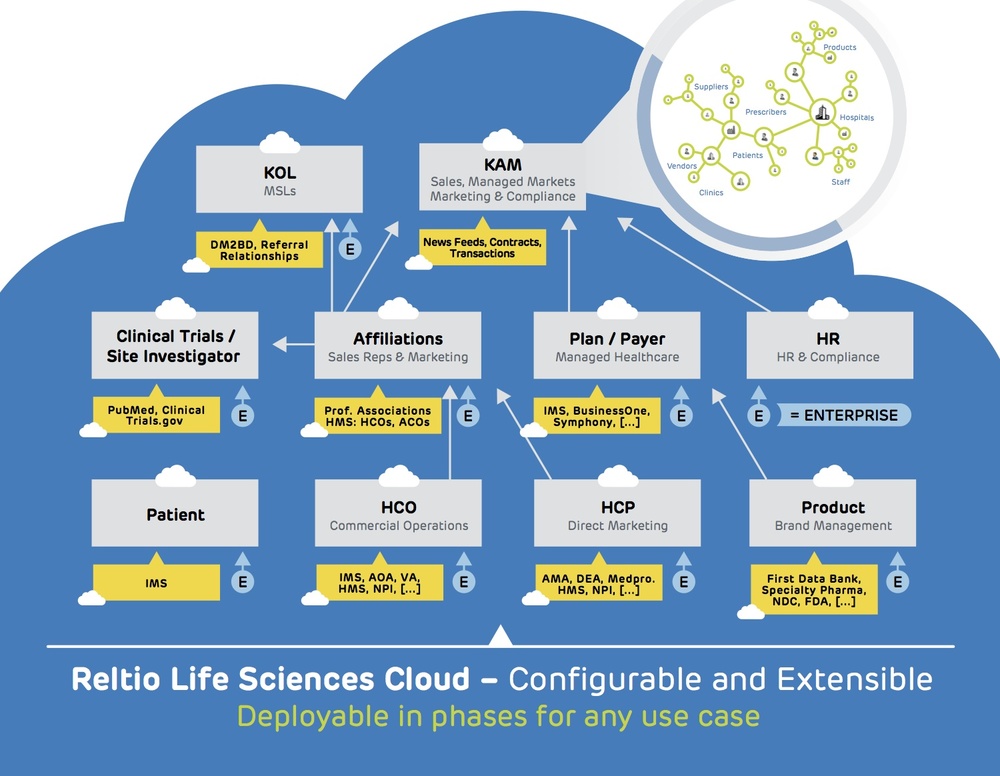 Reltio, a Redwood Shores, CA-based creator of new "data-driven apps" delivered through a modern data management platform  has raised $22M in Series B funding led by New Enterprise Associates (NEA). The round also included participation from existing investors  Crosslink Capital and .406 Ventures bringing Reltio's total venture funding to $32M to date. The company plans to utilize the recent to strengthen its footprint in modern data management through accelerated hiring of talented individuals across all groups, and continued expansion into global markets.
With the emergence of IDNs, ACOs, MCOs the approach to healthcare is evolving. The focus in on overall well being and quality of life than just one-time treatment. This requires a new patient-centric approach with a complete understanding of patient's needs, behaviors, and preferences and focus on building long-term relationships. 
Reltio's core product, Reltio Cloud provides healthcare and life sciences organizations with a modern data management platform that enables a complete understanding of your patients, physicians, and other partners across all clinics and facilities, with real-time visibility into relationships, healthcare metrics, and utilization trends by the site of care.
Reltio also delivers a complete view of information for managed markets teams so they can optimize their activities and achieve better outcomes. Highlights include:
– Complete payer hierarchies down to the plan level
– Detailed views of payers, channels, regions, and plans
– Insight into formulary, competitive products and tiers
– Cross correlation of product metrics and longitudinal stats
– Identification and management of Pharmacy Benefit Manager details and associated contracts
Reltio founder, Manish Sood co-authored the patent that revolutionized master data management, and his previous work has become foundational to practices routinely in use today. Cloud-based Reltio data-driven app are currently available for every function and use case within a life sciences organization, including Affiliation Management, HCP/HCO Data Management, Product Data Management, Plan and Payer Management, Clinical Trial Site Investigator Management and Key Account Management.
In just the first half of 2016, Reltio has added leading companies in healthcare & life sciences with the recent signing of three of the top ten global pharmaceutical organizations, and an alliance with IMS Health to power IMS Health's flagship IMS One Platform.