11. GameMetrix – Customer Engagement for Health & Wellness

GameMetrix has created numerous games, among them a Jeopardy-style trivia game called Triviality that serves to enhance knowledge about diabetes. Players work through a series of questions, compare their scores, play against friends, work to the top of the leaderboards, and then redeem their points for prizes such as test strips or diabetes books. Users can go back through the game to test their knowledge again and earn more points. GameMetrix also allows insurers, physicians and other clients to customize games for patients.
12. Syandus –  Intelligent Simulation Learning Technology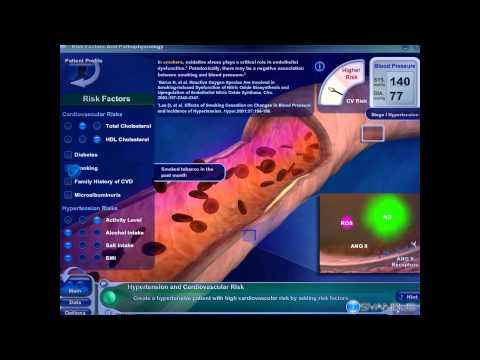 Ever wondered what is really happening in your body? Through simulation technology, patients with COPD can see how their choices directly affect their physical well-being. Using a "virtual patient," doctors can upload a medical history, then allow the real patient to plug in other variables, such as smoking habits, drug therapy, environmental factors and more. The simulation shows exactly how those variables affect the body. The patient can then change and tweak those variables to better understand how their body reacts to those choices — offering a deeper understanding of just how their actions are connected to the way they feel.
13. Akili Interactive Labs – Better Science, Better Games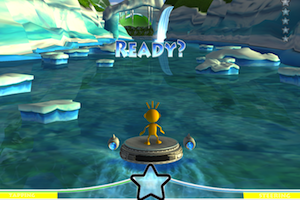 Akili is combining cutting edge neuroscience and top-tier gaming to produce first-in class therapeutic and monitoring tools that have the look and feel of a video game. With a product that is both engaging and validated through rigorous science, the company is seeking to produce highly effective healthcare products. The Akili video game platform is designed to quantify and improve the ability of individuals to deal with cognitive interference (distractions and interruptions), which impacts their ability to pay attention, plan and make decisions. Such deficits are common symptoms of many degenerative diseases like Alzheimer's, as well as psychiatric conditions such as ADHD, autism and depression. The company recently signed an agreement  with Pfizer Inc. to test the ability of Akili's mobile video game platform ("Project EVO") to detect cognitive differences in healthy elderly people at risk of developing Alzheimer's disease. 
14. Hubbub – Play Well Together

Hubbub Health is the simple instant-on solution for companies looking to improve their employees' overall health and productivity. Using the latest technology and social gaming methods, Hubbub inspires and motivates employees to have fun and be healthy. Early results show engaged players move more, have at least 52 friends supporting them, and lost an average of 3 pounds!
Hubbub's tools, features and services were created to maximize engagement (make healthy fun!) and provide an easy-to-use turnkey solution without the administrative hassle.
15. Fix – Have Fun, Get Fit

Founded on the belief that all aspects of life are enhanced by a healthy lifestyle, FIX develops high quality, interactive games that promote health and daily activity in a fun, socially connected environment.Their first game, UtiliFIT™, provides a platform for users to get active individually and in groups, using game psychology and social design to make exercise fun, accessible and socially motivated for people of all fitness levels. The game not only promotes a healthy lifestyle, but offers a fun daily experience that keeps users active and engaged with each other. 
16. Welltok – Optimizing Health, Maximizing Rewards
Welltok, Inc. is setting out to radically change how consumers optimize their health and maximize rewards. Welltok's groundbreaking CaféWell Health Optimization Platform organizes the ecosystem of apps, tracking devices, content, communities, wellness and condition management programs for population health managers and creates personalized health itineraries for consumers to drive behavior change. The platform aligns actions and behaviors with the right incentives and rewards to motivate consumers to reach their health and wellness goals, ranging from reducing stress and quitting smoking to managing diabetes or depression. Welltok recently raised over $22 million in Series C funding to become one today's best capitalized digital health companies and made headlines for its partnership with IBM to leverage Watson's cognitive computing capabilities to dialogue with consumers about health activities. 
Cowritten by Shannon Dauphin Lee and Fred Pennic