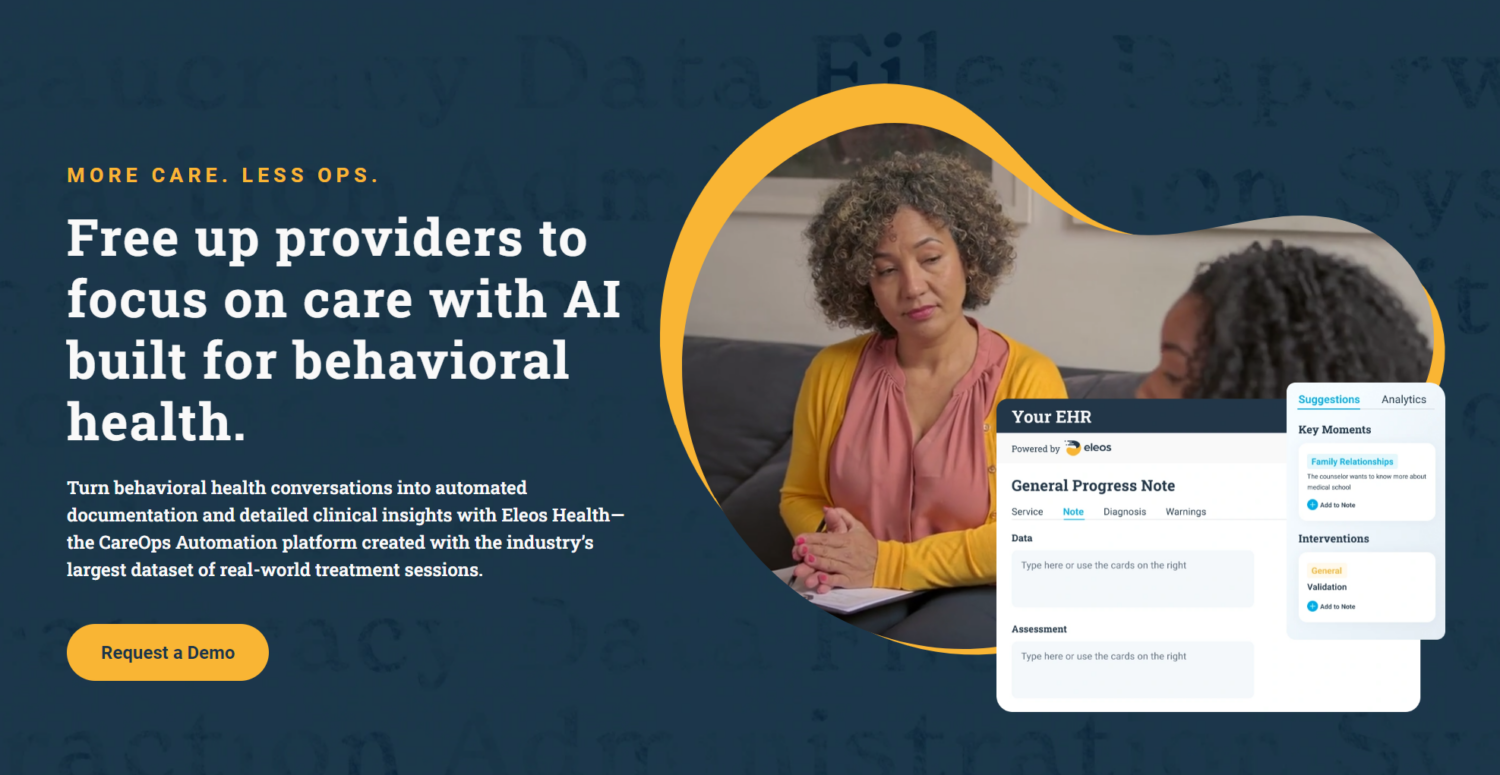 What You Should Know:
– Eleos Health, a leader in AI for behavioral health, has secured $40M in a Series B funding round. Menlo Ventures led the funding round, with participation from F-Prime Capital, Eight Roads, Arkin Digital Health, SamsungNEXT, ION, aMoon, and lool ventures. This brings Eleos Health's total funding to $68M.
– The funding will accelerate Eleos Health's product development, hiring efforts, reach, and strategic partnership development.
CareOps Automation for Behavioral Health
Eleos Health's platform CareOps Autmation turns behavioral health conversations into documentation and intelligence that drives better care. Leveraging proprietary, behavioral health-specific large language models (LLMs) created with treatment data and clinical expertise unmatched by any other platform on the market, Eleos accurately interprets, analyzes and documents behavioral health conversations, reducing the operational burden on providers while unlocking objective insights into evidence-based care and the therapeutic alliance.
Eleos Health addresses the urgent need for behavioral health services in the U.S. The platform combines clinical expertise with advanced AI specific to behavioral health to improve patient outcomes.
Expansion Plans
The funding will support the development of new and enhanced AI solutions for various aspects of behavioral health, including group therapy sessions, compliance automation, case management, concurrent documentation, and support for value-based care. It also aims to expand its reach and serve more behavioral health providers and segments including hiring more than 50 people by the end of 2024.
Since its launch in 2020, Eleos Health has achieved significant growth. It has experienced 3x year-over-year revenue growth, doubled its customer base, and expanded its services to 23 states. The platform has saved over 300 days of documentation time for providers and organizations by analyzing therapy sessions and supporting case management, compliance, and group therapy.