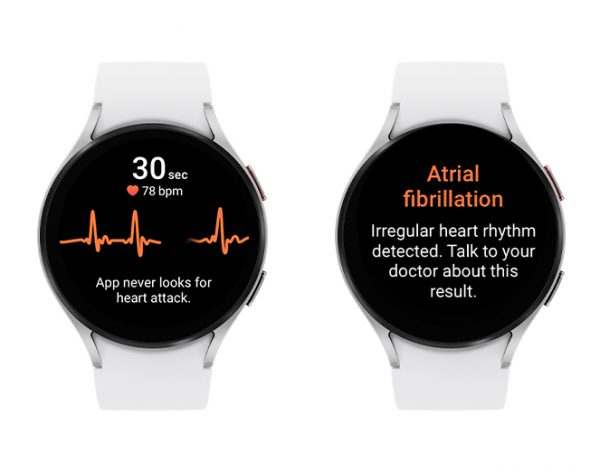 What You Should Know:
Today, Samsung announced today its Irregular Heart Rhythm Notification feature of the Samsung Health Monitor App has been cleared by the FDA. With this new feature, Galaxy Watch users can be alerted when heart rhythms suggestive of atrial fibrillation (AFib) – a type of arrhythmia – are detected.
The Irregular Heart Rhythm Notification works with the app's existing on-demand Electrocardiogram function to proactively monitor heart rhythms suggestive of AFib, and will be introduced with the One UI 5 Watch update available on future Galaxy Watch devices later this year, with expansion to previous editions.  
How It Works
Galaxy Watch offers tools to help users better understand their heart health using the Samsung BioActive Sensor, including on-demand ECG recording and HR Alert function4 that detects abnormally high or low heart rates. The addition of the new IHRN feature enables Galaxy Watch users to monitor another aspect of their health. Once activated in the Samsung Health Monitor app, the feature will check for irregular heart rhythms in the background via Galaxy Watch's BioActive Sensor. If a certain number of consecutive measurements are irregular, Galaxy Watch warns the user of potential AFib activity, prompting them to take an ECG using their watch for a more accurate measurement.