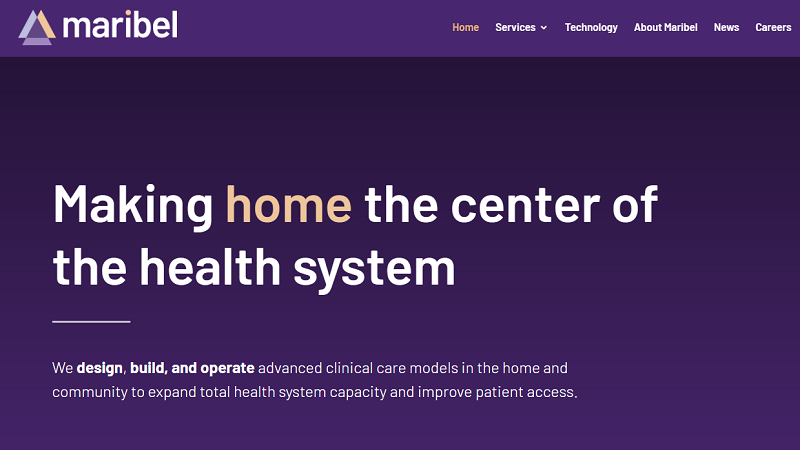 What You Should Know:
– Maribel Health, a turnkey partner for health systems looking to design, build, and operate a full continuum of advanced home and community services, announced today the completion of a $25 million Series A funding round led by General Catalyst.
– The new funding will be used to accelerate growth with Maribel's initial partners, to attract and onboard the talent required to serve its collaborators worldwide and to support continued investment and development of Maribel's technology platform to manage the clinical workflows, care complexities, and logistics of providing advanced care safely and effectively in the home and community. 
Making home the center of the health system
Health systems face unprecedented challenges with capacity, workforce, and reimbursement. We work for health systems to design, build, and operate advanced clinical care models in the home and community to expand total capacity and improve access​.
In late 2021, Ronald Paulus, MD, a health system CEO, and Adam Groff, MD, a home and community services entrepreneur and hospital medicine physician, came together to enable health systems to respond to inevitable demographic shifts and workforce constraints driving care out of hospitals and into the home. Together, they founded Maribel Health to design, engineer, and operate the capabilities – including technology, clinical models, and operational management services – in order to enable the home and community to be increasingly central to both patients' and health systems' success.
Maribel focuses on solutions that augment the home-based workforce to deliver more advanced clinical services. As a technology-enabled operating partner of health systems, Maribel enhances capabilities and integration of existing home and community organizations to expand total health system capacity. Examples of work underway include building out hospital-at-home logistics and clinical operations, community-based palliative care, mobile integrated health / community paramedicine, and longitudinal complex chronic care with our partners.
Who Is Marbel?
Maribel Health is named in honor of Maribel Sanchez Souther who died in 2016 at age 41 after a two-and-a-half-year battle with triple-negative breast cancer. She lived an amazing life as a wife, mother of three, friend, Ivy League coach, and All-American runner. During her treatment, Maribel had multiple hospital admissions that took her away from her young family. Often, these issues could have been addressed more effectively in the home with the right support and technology. Maribel Health exists so that patients like Maribel receive the care they deserve where they need it most – in their home.
Maribel combines deep operating expertise with novel technology to help its partners design, build, and operate advanced clinical care capabilities in the home and community, including hospital-at-home, to sustainably expand total system capacity. Ultimately, Maribel's mission is to make home the center of the health system so that all patients have access to high-quality, reliable, and compassionate care where they live and increasingly work.
Recent Traction
Collectively, the Maribel team has overseen over 15,000 hospital-at-home admissions, led the design of eight successful advanced home care programs, advised over 100 hospitals and health systems, and designed, developed and deployed technology used in the care of more than 8,000,000 patients.
In conjunction with this financing, Maribel also officially announced founding anchor partnerships with Mercy Health System and BAYADA Home Health Care in separate, joint statements. Both partnerships involve the end-to-end design, build, and operation of hospital-at-home programs that can serve as a chassis for other advanced home care models including community-based palliative care, SNF-at-home, and mobile integrated health.