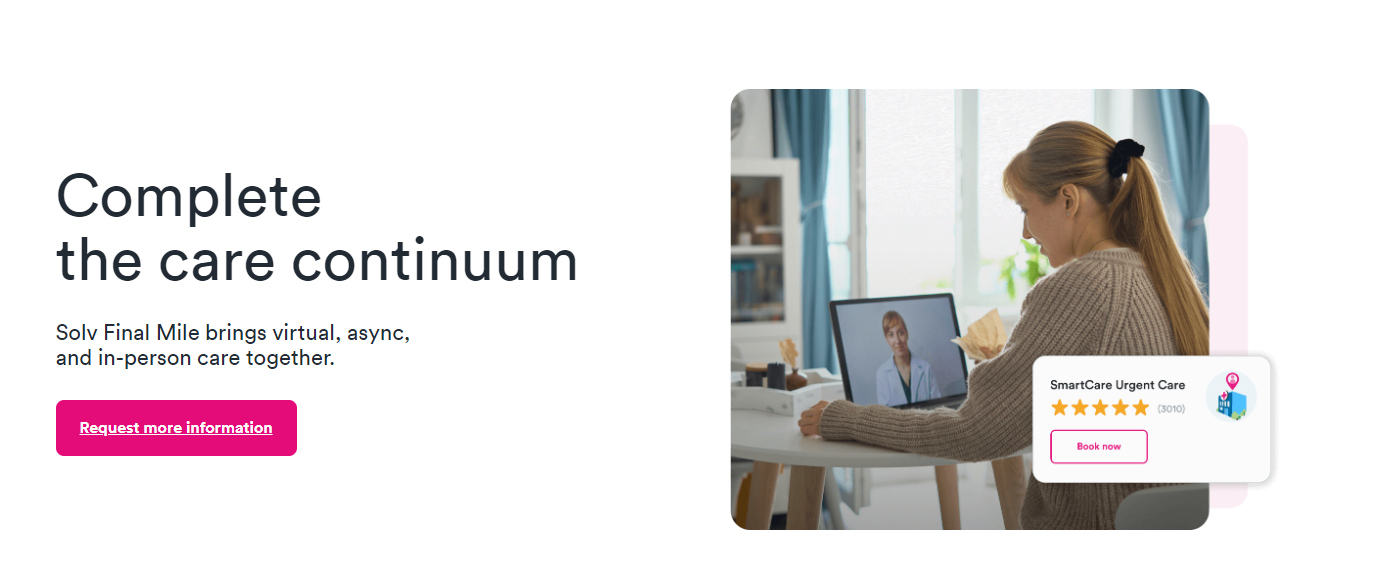 What You Should Know:
– Solv today announced the launch of Solv Final Mile Network, the first solution to bridge the gap from online navigation and virtual care to in-person, local medical care across the country.
– Built on the scale of Solv's national network of providers, Solv Final Mile technology makes continuity of the patient care journey possible, by eliminating the friction between digital care and same-day, in-office visits for providers and their patients. Included Health, a leader in integrated care delivery and navigation, will be a Solv Final Mile partner at launch.
Why It Matters
According to Deloitte, since 2018, consumers' usage of virtual health has increased across all ages, and almost two-thirds of consumers would utilize virtual care visits for preventive health. Many consumers seek virtual care when they have symptoms, or to fulfill specific care needs. Others rely on virtual primary care platforms, often through an app, as their pathway to healthcare services instead of going to an in-person primary care physician. While the volume of telehealth visits, after spiking during the Covid-19 pandemic, has declined since its peak, it remains an essential option for tens of millions of people. Physicians clearly have an interest in expanding telehealth: 93% of doctors say digital health is an advantage for patient care, up from 85% in 2016, according to a report by the American Medical Association.Yet a roadblock for long-term sustainable telehealth across every care pathway is the absence of a seamless way to transition patients to in-person visits when a virtual provider decides a trip to the lab, an EKG, a mammogram, or any other "hands on the patient" services are necessary – which happens in 5-15% of virtual care visits, according to data collected by Solv. National virtual-care organizations have not had a seamless way to book an appointment with local care providers, and thus have difficulty knowing if the patient completed the next step in their care journey. When patients are not able to complete the care journey, this can lead to disjointed care, poor health outcomes and higher costs.
Solv Final Mile Benefits
Solv Final Mile uniquely addresses these challenges through Solv's proprietary APIs and tools that seamlessly link virtual and online care to in-person care through Solv's national network of high quality urgent care centers, where 150M Americans today are within five miles of a bookable, same-day appointment. Access to this network — with real time appointment availability and EHR interoperability — eliminates uncertainty for providers, as well as the necessity to build and manage their own partnerships.
Healthcare navigators, who help direct patients to the most appropriate provider, are used by employers to offer health-related benefits and services to their workers. According to benefits consultant Mercer, employers are using virtual triage and chat-based tools more frequently to satisfy employee demand, as 52% plan to add virtual behavioral health and 40% plan to add virtual primary care. For these navigators, access to thousands of local providers with same-day appointments across the nation could take years to build and manage with huge resource requirements and monetary burden – hurdles that Solv Final Mile fully eliminates.
For healthcare providers, being a part of the Solv Final Mile Network gives urgent care operators, hospital systems and other care providers the ability to deliver appropriate, in-person care to a wider audience of digital-first patients in today's evolving healthcare landscape.