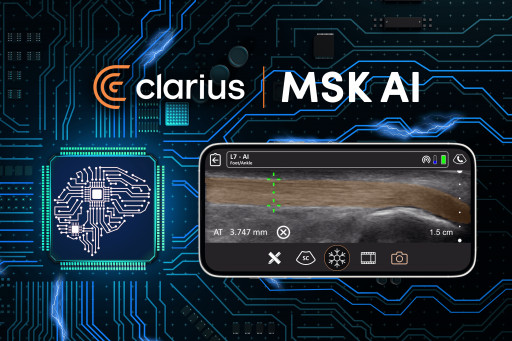 What You Should Know:
– Clarius Mobile Health, a leading provider of high-definition handheld ultrasound systems, receives 510(k) clearance for its new MSK AI model, which automatically identifies and measures tendons in the foot, ankle, and knee using artificial intelligence (AI).
– The new MSK AI model will be available soon with the Clarius L7 HD3 and Clarius L15 HD3 high-frequency, wireless handheld ultrasound scanners.
AI Driven Imaging To Improve Diagnoses
"Ultrasound imaging has long been recognized by the medical community as the best way to see inside the body in real-time but learning to detect and recognize anatomy comes with a learning curve," explains Clarius President and CEO Ohad Arazi. "AI automation is the new frontier and we're excited to be the world's first to receive FDA clearance to use AI for musculoskeletal ultrasound. This application will blow the doors open for physiotherapists and orthopedic clinicians to use ultrasound to deliver faster patient care."
With the Clarius HD3 line of handheld ultrasound scanners introduced last year, high-definition ultrasound imaging has reached unprecedented levels of affordability and usability. Available starting at 3,395 USD with 595 annual membership, Clarius high-definition scanners are now used worldwide as a more affordable and easier-to-use alternative to traditional compact ultrasound systems.
The Clarius MSK AI model is designed to streamline workflows, inform clinical management, and provide training assistance during musculoskeletal scanning for specific anatomical sites, which include: the plantar fascia (foot), Achilles tendon (ankle), and patellar tendon (knee). The AI analyzes ultrasound imaging in real-time and displays a transparent color overlay to identify the tendon in view. Upon pausing the image, the AI labels the tendon and determines the greatest thickness, automatically placing measurement calipers that correspond to the top and bottom of the tendon at its thickest region. The user may alter the measurement calipers to make any necessary adjustments to support clinical decision-making.