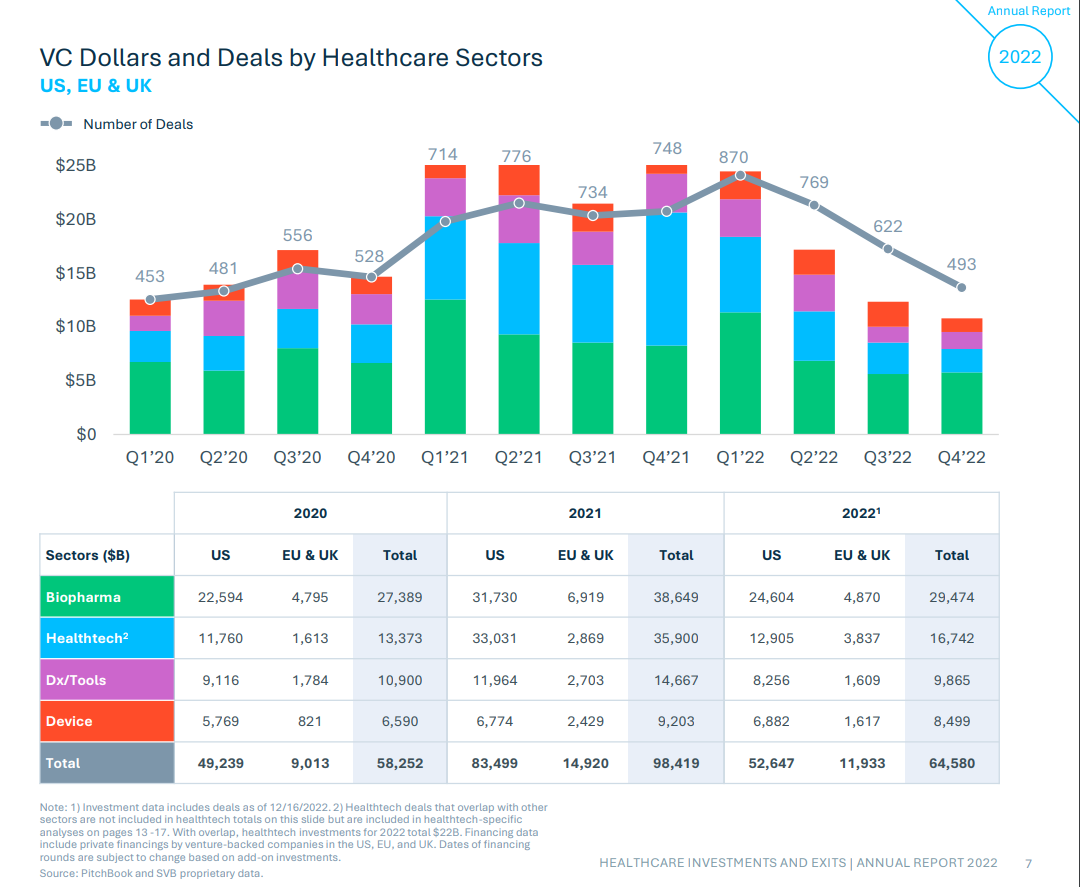 What You Should Know:
– The latest edition of SVB's Healthcare Investments and Exits report provides information on VC fundraising, investments and M&A and IPO trends – along with subsector analysis and video commentary for each.
– Healthcare trends indicate US healthcare VC investment was healthy in 2022 despite an economic downturn. There's plenty of dry powder to deploy; however, investments and exits are slowing due to the volatile market.
Trends and Insights – Healthcare Investments
1. Venture capital (VC) fundraising was unprecedented in H1 2022. Despite a slowdown in H2, funds closed out the year with nearly $22B to invest into healthcare companies, second only to the record $28B raised in 2021. With over $50B fundraised in the past two years, venture healthcare has the largest war chest of investable capital ever.
2. Healthcare Investment declined in both deals and dollars each quarter after setting a record in 2021. Total healthcare investment for the year still exceeded 2020, making 2022 the second-largest year ever, though Q3 and Q4 fell below 2020's quarterly average. This decrease was likely because investors directed new money toward their existing portfolios instead of new investments, raising insider rounds to focus on hitting valuation inflections before the next outside financing. Additionally, the large crossover to initial public offering (IPO) rounds, common in 2020 and 2021, were down significantly in the face of a difficult IPO market.
3. Biopharma early-stage investment activity declined, but valuations appeared unaffected by public market turmoil. At the seed stage, companies raised more syndicated rounds, likely due to the uncertain private financing environment for the upcoming year. In later stages, the number of LIPO (likely to IPO)2 crossover rounds dropped, down to single digits per quarter in H2 2022. Overall, we noted the most significant declines in oncology and neurology investment.
4. Healthtech shifted toward early-stage investment, where valuations were less impacted by public market comps. Investment exceeded the record seed/Series A activity from 2021. In late stages, investors shifted their focus toward companies that were closer to profitability and demonstrated the ability to improve health outcomes, access or affordability. Provider operations (PO) companies received the most investment, with many new financings focused on advancing and digitizing provider workflow and clinical decision support. While alternative care (AC) investment was down overall, mental health and primary care solutions continued to dominate this subsector.
5. Dx/Tools early-stage investment set a new dx/tools record in 2022 as dx tests dollars doubled and dx analytics activity increased. However, the overall sector suffered the largest drop in healthcare investment, specifically in H2, as investors struggled to reconcile frothy valuations with poor IPO performance over the past few years. R&D tools investment suffered the biggest decline while dx analytics excelled, closing financings with three of the top five largest post-money valuations.
6. Device was the only sector in 2022 to nearly match the record investment in 2021, dropping less than 10% overall, despite a sharp decline in Q4 '22. Companies in non-invasive monitoring raised big financings across deal stages. Overall, $100M+ deals increased from 2021, as investors gravitated to the device sector's metric-driven revenue stories. Though valuations stayed steady, investors started to introduce more structured term sheets, including liquidation preferences, in later-stage deals toward the end of the year.
Trends and Insights – Healthcare Exits
1. After a record number of healthcare mergers and acquisitions (M&A) and IPOs in 2021, IPOs2 were down across all sectors as public market-cap erosion and poor performance of the 2020 and 2021 IPO classes largely blocked opportunities for companies to go public. Private M&A also suffered, as acquirers refocused on preserving cash and/or completing internal projects rather than acquiring new companies. The private M&A deals we did see were smaller in value for healthtech, device and dx/tools companies. Though we saw larger deals in biopharma, these companies raised large amounts of private funding, resulting in lower multiples for later-stage investors.
2. Off a record 92 IPOs in 2021, there were just 19 IPOs in 2022, with pre-money valuations falling to 2019 levels and mixed post- IPO performance for the 11 US and EU IPOs. Private M&A was muted, as acquirers focused on recently public companies, trading well off their highs, instead of private companies with static, high valuations. Of the nine M&A in 2022, five were preclinical stage. At the end of the year, Nimbus sold its phase II asset to Takeda for $4B upfront, tied for the second largest upfront ever for a venture-backed biopharma company.
3. IPOs halted as public healthtech stock performance fell throughout 2022. However, M&A volume has remained strong, almost on pace with 2021's record. Deal sizes for M&A were down and will likely remain smaller as public market comps continue to fall. Public (and private) healthcare companies led healthtech M&A in 2022, but big tech companies also made notable acquisitions of public healthtech companies in 2022.
4. M&A and IPO activity rose to record levels from 2019 through H1 2021 and propelled dx tools exits to record activity. However, since H2 2021, large public companies in the dx/tools sector suffered from declining market caps, and recent IPOs have experienced even worse performance. In 2022, there were no US venture-backed IPOs and only five M&A deals, with a significantly lower median upfront value than the last two years. However, we did see two cross-sector acquisitions of dx/tools companies, with a healthtech company acquiring a dx test company to expand its platform and a biopharma company acquiring an R&D tools company to scale manufacturing.
5. 2021 set a record for the number of IPOs and M&A, with small- and mid-cap public companies joining big players to buy venture-backed device companies. However, poor performance in the public market forced many acquirers to revisit their cash spend and push acquisitions to the back burner. As a result, the US IPO market was effectively shut in 2022. Device M&A was also down, but orthopedics and vascular indications had three exits each.