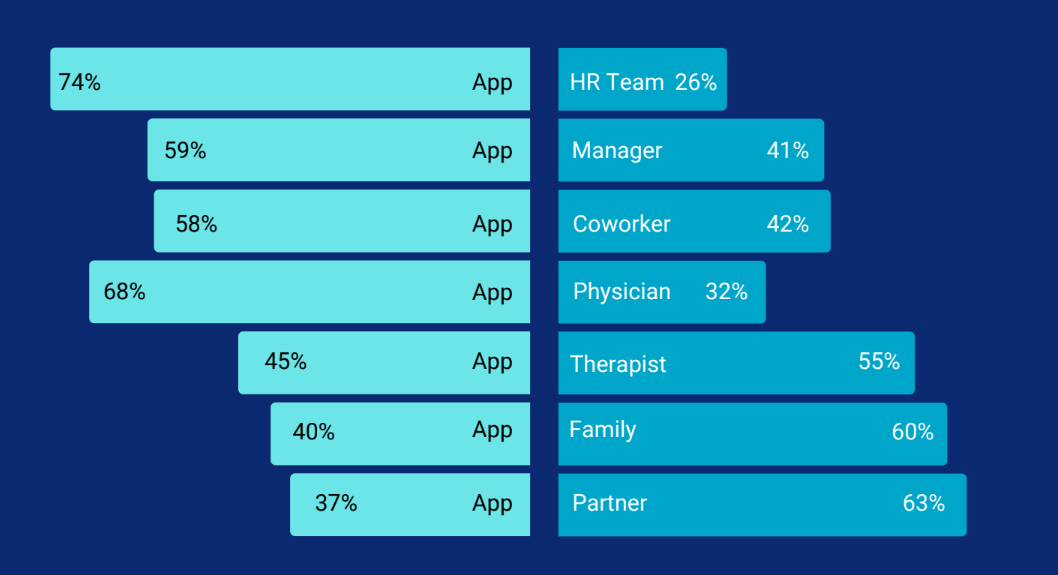 What You Should Know:
– In October 2022, Wysa commissioned an independent survey of over 1000 American employees to get an in-depth look at the urgent state of mental health post-COVID. The results are staggering.
– There are serious debilitating mental health concerns that our workforces are silently struggling with, leading to impacted individual self-confidence and self-perception about their abilities and identity at work, which further leads to perceived low self-efficacy, leading to poor performance and low productivity at work.
– Wysa's latest survey took respondents through two standard mental health assessment tools used by clinicians as an initial screening for depression and anxiety symptoms, and then asked those whose scores indicated clinically significant levels of depression and anxiety if they had sought professional support, and if not, why not? The report also wanted to ascertain whether employees would rather talk to a bot than their boss.
---
Trends and Insights from the All Worked Up Report 2022
1. Workplace Depression and Anxiety Much Higher Than General Population Figures Suggest
Sampling reveals a grim reality. The scale of anxiety and depression sweeping America's workforce is substantially higher than the general population's national averages. While stressors related to health and social relationships affected everyone due to COVID, employed people additionally face unique financial and workplace challenges which are exacerbated by a workplace culture that is increasingly transactional, isolated and stigmatized. Why do these numbers differ from the national population estimates?
There is evidence on how work stress, the work environment, the nature of work, and relationships at work can lead to increases in the incidence of mood disorders in the working population. These studies paint a very different picture of the environment for non-working people, including partners of employed people, those wealthy enough to not have to work for an income, and retirees who are enjoying a more relaxed pace of life. Without further research, we can only assume that, on average, these groups benefit from lower incidences of severe depression and anxiety.
2. 4 in 10 Employees Suffer Moderate to Severe Mental Health Symptoms
The Wysa employee mental health survey included the Generalized Anxiety Disorder Questionnaire (GAD-2) screening for anxiety and the Patient Health Questionnaire screening for depression. Anyone scoring 3 or more on the tests is considered likely to be suffering clinically significant symptoms, at moderate to severe levels. The 40% moderate to severe anxiety prevalence amongst employees is a stark variation from the 11.4% national population figure reported in a December 2020 survey in the Journal of Affective Disorders, indicating that workers are at heightened risk of psychological stress.
Major depression in the general population is 8.4%, according to the National Institute of Mental Health, a notable difference for working adults where scores of 5 and 6 on the pHQ-2 screening reached a total of 14%.
– Young Workers Need More Support: Younger employees are the biggest worriers, with twice as many working 25-34 year-olds than 45-54 year-olds suffering from moderate to severe anxiety symptoms, with a score of over 3 on the GAD-2. Similar levels prevail in Gen Z, with almost half of 16-24-year-olds suffering symptoms of clinically significant anxiety. Especially alarming is that 15% of this age group indicated the highest levels of anxiety, stating they feel nervous, anxious, or on edge, nearly every day and are unable to stop worrying.
– Moderate to severe depression in working people diminishes with age, with 1 in 2 16-24-year-olds suffering moderate to severe depression, declining to 1 in 3 in those closer to retirement age. This could also be because younger generations are more informed about mental health and able to recognize the signs and symptoms more readily. We have seen a growth in the media about mental health, many of which targets Gen Z and Millenials. Or that older people are more settled at work and in life, and experienced in dealing with life challenges head-on. Respondents under the age of 44 were much more likely to admit they experienced work-related stress than those 45 and above.
"Existing literature supports these findings. Studies on the workplace and mental health of young employees reflect that young individuals experience perceived low control, higher demands from the workplace, low security, many forms of discrimination at work and having a temporary work status were found to increase vulnerability for developing anxiety and depression symptoms. These discoveries have serious implications for a workplace looking to nurture and retain young talent, and contributions to overall productivity. Not only is the need for support more acute among young people, traditional ways of helping them may not cut it, with Gen Z needing employers to meet their personal needs, at times that suit them and through appealing methods of support."
3. Men Suffer More Severe Symptoms Than Women
32% more working men than women experience symptoms of clinically significant depression. Traditional gender stereotypes explain some of this difference, with men tending to internalize problems more than women, who are more comfortable finding safe and judgment-free audiences for emoting and building social bonds. While mental health issues are gender-neutral, employers will need to reimagine what gender-inclusive support looks like.
4. Too Busy To Get Help
Alarmingly, 1 in 3 employees who screened as suffering mental health symptoms at moderate to severe levels have not yet spoken to a relevant healthcare professional about it, such as a doctor, nurse, wellbeing practitioner, coach, counselor, therapist or psychologist. Women are particularly reluctant to seek help; almost half of women who are suffering from moderate to severe symptoms have not spoken to a relevant professional, more than double that of men where just 19% have not sought support. These findings point to the problems with accessibility, anonymity and the gap in care that exists in the current mental health system. Clinically proven digital mental health solutions like Wysa have massive potential to provide support in all of these areas where individuals are currently going untreated, and the impacts on worker and workplace health are significant.
"Not receiving a diagnosis or access to support, along with continued exposure to a large variety of stressors, can quickly escalate into more serious, long-term mental health concerns. Ultimately, it can cause people to lose hope and experience suicidal ideation. This has significant implications for the organization through increased turnover, reduced productivity and an unhealthy work culture."
5. Boss or Bot?
When asked who they'd rather go to about their mental health, American employees were more likely to select a mental health app with clinically proven self-help resources tailored to their needs than anyone in the workplace, and even their general physician. And it is not just the younger 'tech savvy' employees who are more willing to share their mental problems with an app rather than people at work either. 82% of 55 to 64-year-olds would prefer to turn to the bot than their HR team, and 72% would prefer the tech solution to talking to their boss, the highest proportion of all age groups.
"Even at mild levels of depression and anxiety, digital self-help tools like Wysa are hugely beneficial to help prevent people's mental health from deteriorating. Most people suffer at this level. It's here that almost everyone can benefit from building mental resilience and learning how to cope when daily life becomes overwhelming. We know from our work with global employers, that HR leaders recognise their people as the most valuable asset they have – and are putting in huge efforts to support wellbeing. Meeting people where they are – online, on their phones, and open to technology – could be the best opportunity we have to address this crisis." – Jo Agwarral, Co-Founder and CEO Wysa.