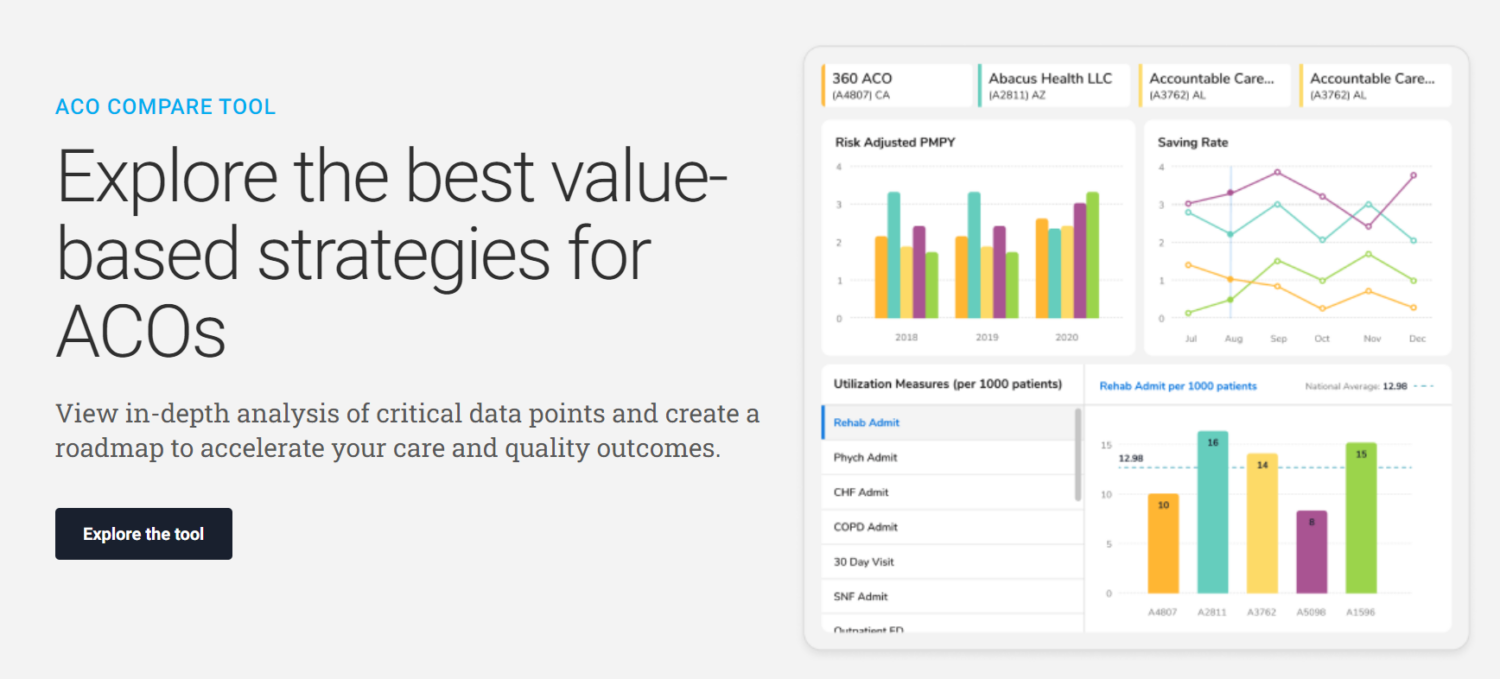 What You Should Know:
– Innovaccer, the Health Cloud company, introduced ACO Compare 4.0, the latest version of the company's popular free tool that enables ACOs to analyze and compare their performance against national and regional benchmarks to help them enhance cost savings and increase the quality of care.
– The updated tool is available for ACOs to use at no charge and includes several new features that help providers identify cost drivers that can impact their risk-adjusted per capita income.
– ACO Compare 4.0 is the latest addition to Innovaccer's industry-leading suite of population health management solutions that help ACOs and providers excel at value-based care delivery.
ACO Compare 4.0 Overview
ACO Compare 4.0 lets providers track their individual performance and annual trends to identify opportunities to improve measures for savings and expenditures, care quality, and utilization, using the latest data from the Medicare Shared Savings Program (MSSP) ACOs for performance years 2013 through 2021. Providers can now:
– Analyze data for up to five ACOs to see how their organization compares against national benchmarks, competitors, and other ACOs nationally.
– Easily check the performance of ACOs based on savings and expenditures, quality measures, utilization measures, and cost drivers.
– Assess performance trends over several years.
– Monitor risk-adjusted expenditures, identify the drivers that lead to high utilization measures, and flag underperforming key performance indicators (KPIs).
– Drill down through the performance view to understand where a specific ACO stands in the state or the entire country.
– Gain insight into low-performing quality measures.
"It's essential for ACOs to optimize their performance against established MSSP benchmarks for savings and quality," said Kanav Hasija, chief product officer and cofounder of Innovaccer. "But one of the challenges they face is that it's difficult for them to monitor comparative performance and identify opportunities for improvement. Now they have a tool they can use to measure, analyze, and benchmark their performance against real-world data and gain crucial insights into how they measure up on cost and quality measures, and what improvements they need to focus on."