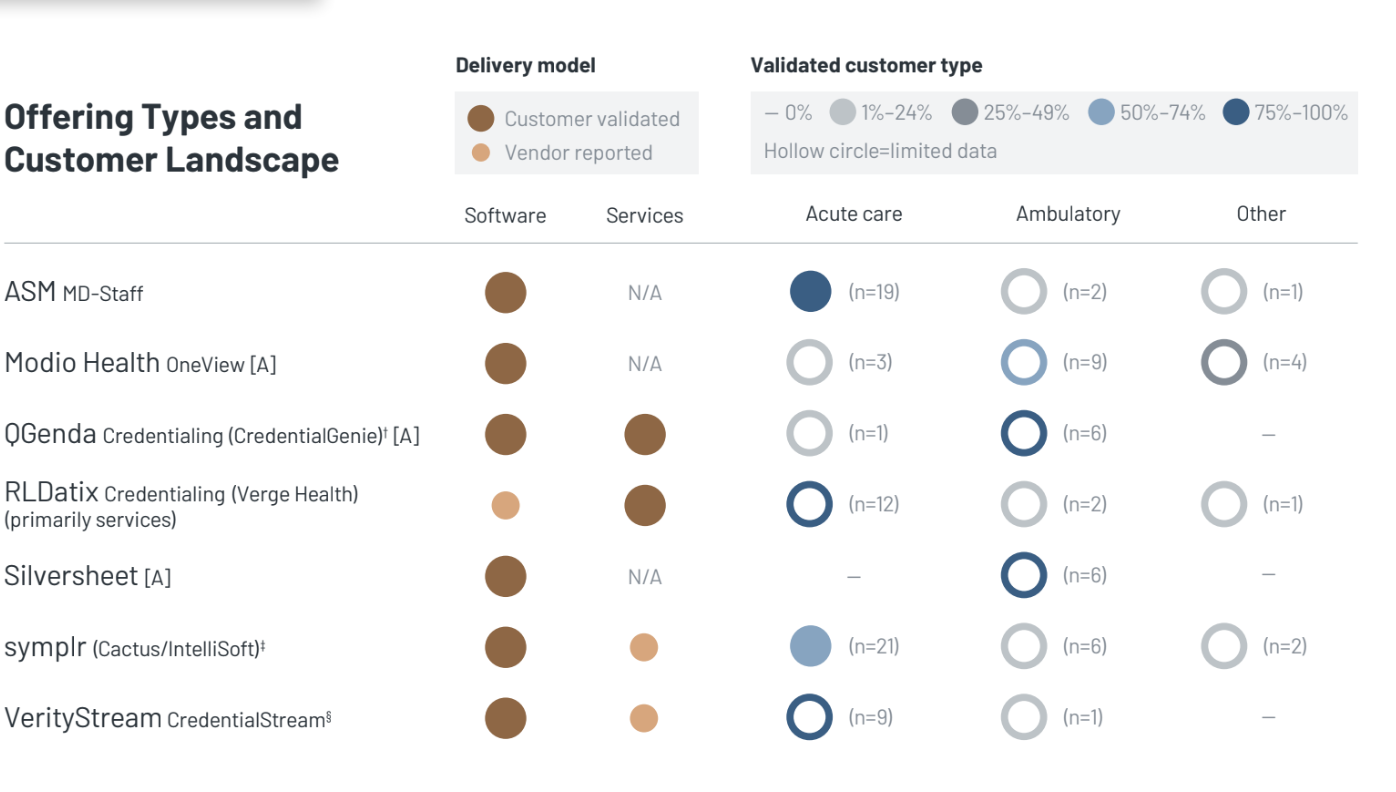 What You Should Know:
– Credentialing management has historically required dozens of spreadsheets, manual data entry, and painstaking monitoring of multiple payer, state, and national databases—causing significant inefficiencies and expenses. Vendors providing credentialing software and/or services promise major efficiency gains for healthcare organizations, but not all offerings are equally effective.
– A new report by KLAS examines three strong predictors of efficiency—the use of automation, strong credentialing workflows, and vendor partnership/guidance—to determine how well vendors are living up to their promises.
Analysing Credentialing Solutions on the Basis of Efficiency
Each year, KLAS interviews thousands of healthcare professionals about the IT solutions and services their organizations use. KLAS ' standard quantitative evaluations for healthcare software and services are composed of numeric rating questions and yes/no questions, all weighted equally. Combined, the ratings for these questions make up the overall performance score, which is measured on a 100-point scale. The questions are organized into six customer experience pillars for software (culture, loyalty, operations, product, relationship, and value) and five pillars for services (loyalty, operations, relationship, services, and value).
For this study, KLAS created a supplemental evaluation to understand how vendors perform in several areas that are key to the credentialing market. KLAS asked interviewed participants about several areas highly connected to increasing efficiency (the main outcome expected), including solution features aimed at efficiency improvement, their vendor's ability to provide guidance and best practices, and the strengths and weaknesses in their solution's various automation. The data was collected over the last 12 months.
Sample sizes displayed throughout this report (e.g., n=16) represent the total number of unique customer organizations interviewed for a given vendor or solution. However, it should be noted that to allow for the representation of different perspectives within any one customer organization, samples may include surveys from different individuals at the same organization.
The key insights and trends from the report are listed and explained as follows:
1. ASM & Modio Health Reduce Turnaround Times, Consolidate Tracking; RLDatix's Strong Automation & Services Drive Satisfaction: ASM customers frequently report being fully paperless thanks to MD-Staff 's electronic application tools, virtual committee capabilities, and robust connections with outside databases. Strong functionality and automation have helped organizations decrease FTEs and significantly reduce turnaround times. Modio Health primarily serves ambulatory groups, though KLAS has validated use of OneView in several small hospitals (<200 beds). The system helps customers eliminate the need for paper and spreadsheet tracking, and having a single source of truth saves staff time and reduces turnaround times. Respondents feel the vendor could provide better road-map communication and more prescriptive guidance. RLDatix (who acquired Verge Health in 2020) provides a combined model of software and services to help healthcare organizations manage credentialing tasks. While customers aren't responsible for the entire credentialing process, they still heavily use and benefit from RLDatix 's front-end automation for credentialing panels and renewal notifications.
2. Industry-Wide, Workflows Need Improvement; Customers of symplr & VerityStream Struggle Most Due to Poor Training: All measured vendors are rated somewhat low for their ability to configure workflows that drive efficiency. symplr and VerityStream customers most frequently report workflow struggles. Dissatisfied symplr customers using the vendor's legacy solution feel they didn't get the training needed to be successful; they also feel manuals and other resource materials aren't as helpful as they could be. VerityStream CredentialStream is the go-forward solution intended to replace Echo Solutions and MSOW, and many new CredentialStream customers are still in the process of reconfiguring their workflows. While this process is difficult, customers appreciate the solution's customizability in comparison to that of older VerityStream solutions.
3. Silversheet Struggles to Eliminate Manual Work for Customers; New VerityStream Platform Requires Significant Work to Build Useful Automations:  Due to experiences with errors in the software, Silversheet customers have limited trust in their system. Credentialing offices that use Silversheet must spend time manually verifying information, and when issues are raised, the vendor's communication and problem resolution are slow. Early feedback from VerityStream customers who have moved to the new CredentialStream solution indicates that it is significantly more user-friendly and functional than the vendor's older solutions.
4. Document Autofill, Virtual Committee & License Verification Automations Drive Most Satisfaction: Regardless of vendor, customer respondents who report using automation for document filling, virtual committees, and license verification are significantly more likely to report positive outcomes and say their vendor has improved their efficiency. Automations with room for improvement are also generally consistent across vendors; state-license verification, entity cloning, and status tracking are common pain points.
5. Modio Health & RLDatix Stand Out with Strong Guidance; QGenda Also Shows Promise: Modio Health customers highlight their vendor's ongoing education program, Modio University, which enables users to share best practices with each other and stay knowledgeable about the product as it evolves. RLDatix customers have opportunities to receive guidance through their regular meetings with account representatives, who are noted for their deep understanding of organizations' processes, goals, and policies. However, turnover among the vendor's staff has affected the consistency of the support experience. In 2021, QGenda acquired CredentialGenie, a solution primarily focused on the ambulatory market; post-acquisition, the customer experience has remained the same or, in some cases, improved. Customers of this solution report positive experiences thanks to strong implementations that set them up for long-term success, and they also benefit from proactively shared best practices from the vendor.