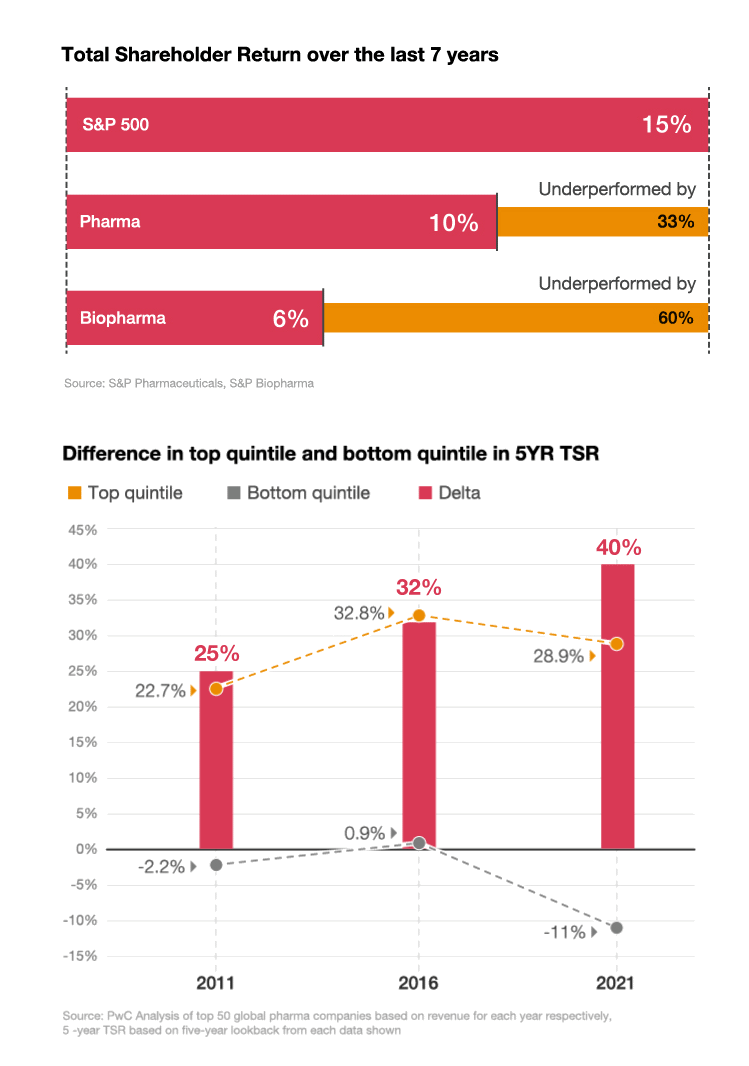 What You Should Know:
– A new PwC report offers insights into how pharma companies can translate game-changing science into greater returns.
– Despite many major therapeutic advancements within the last decade, returns from pharma companies lagged the S&P 500 by about one-third and biotech underperformed by 60 percent. The stock performance divide between the front and back of the pack has been widening. PwC's analysis showed that in 2021, the five-year total shareholder return for drugmakers in the top quintile was up by 29%, compared with a decline of 11% in the bottom quintile.
Key Actions for Pharma Leaders to Drive Value Growth
According to the report, leaders can gain a competitive advantage in the pursuit of higher shareholder returns by focusing on five key actions to drive value growth:
– Build differentiated capabilities (i.e. decentralized trials, machine learning at scale, digital innovation, etc.) to outperform the competition.
– Drive more returns from large IT and cloud investments – Capitalize on investments in AI, automation, and cloud to improve patient/customer satisfaction and efficiency.
– Retain talent and prioritize culture – In the age of 'The Great Resignation' and the 'war for talent,' having a differentiated culture is critical. Own ESG responsibilities, nurture a sense of belonging and trust, and create a culture rooted in innovation.
– Think broadly about portfolio and transactions –Given the competitive landscape and abundance of capital in the sector lately, revamp the business development process to drive more outcomes from your transactions.
– Protect the enterprise — Minimize any downside risk around cybersecurity, regulatory challenges, and legal matters to preserve value.