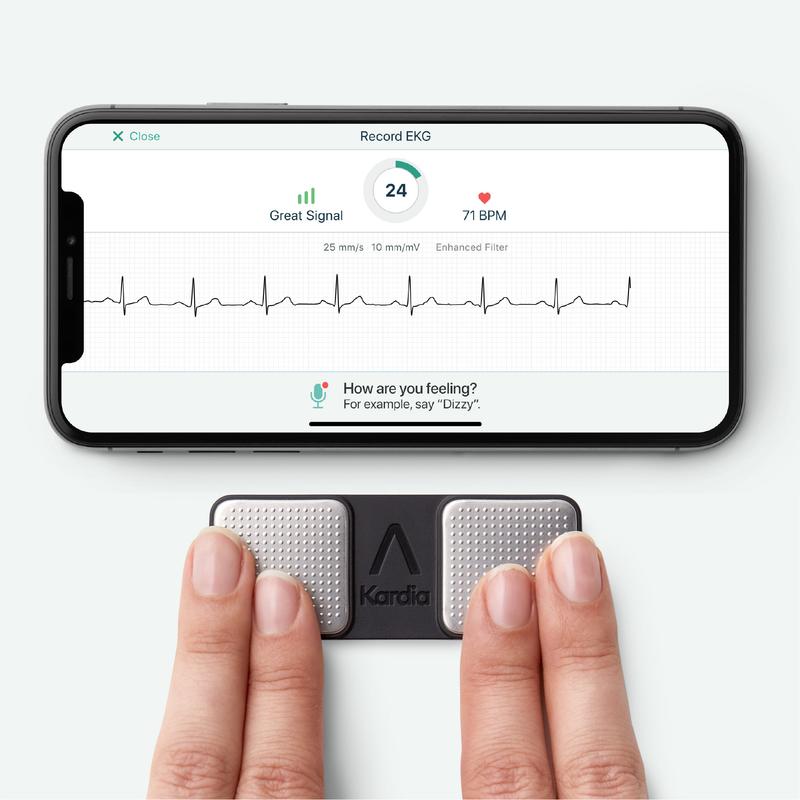 What You Should Know:
– AliveCor and GE Healthcare announced they are partnering to integrate data from AliveCor's KardiaMobile 6L electrocardiogram (ECG) device directly into GE Healthcare's MUSE Cardiac Management System (MUSE).
– Today, cardiologists often rely on real-time data from personal electrocardiogram (ECG) devices to help manage patients with cardiac conditions like atrial fibrillation (AFib). AliveCor's KardiaMobile 6L ECG offers the only clinically validated six-lead detection of AFib and other common arrhythmias. That's why AliveCor and GE Healthcare are partnering to integrate KardiaMobile 6L ECG data directly into hospital workflows to streamline and improve patient care.
---
Reducing Hospitalizations Linked to Cardiac Conditions
Atrial fibrillation, the most common type of treated heart arrhythmia, is associated with a highly elevated risk of stroke. In the U.S. alone, more than 454,000 patients are hospitalized and 158,000 deaths are attributed to atrial fibrillation each year.​4 AliveCor's FDA-cleared, AI-enabled KardiaMobile 6L ECG device aids in the efficient detection of atrial fibrillation,5 as well as the detection of other heart rhythm conditions. GE Healthcare's MUSE, used by 87 percent of the top cardiac hospitals in the U.S.,6 is a vendor-agnostic solution that connects with a hospital's EMR to manage and streamline the flow of cardiac information, enabling faster data delivery, distribution, and analysis for more informed decisions and improved patient care.
Improving the Quality and Integration of Patient Data
With this partnership, not only are the ECGs analyzed by GE Healthcare's algorithms, they become part of the patient record in MUSE and the EMR so that any physician in the network involved in the patient's care can interact with them.
Currently, if the patient chooses to share the remote ECG, a physician sees AliveCor six-lead ECGs on a patient's phone in an office visit or a PDF emailed by the patient. However, because the data is not integrated into the clinical workflow of the EMR or MUSE, the physician cannot easily compare the results to prior ECGs or relevant results from other diagnostic tools and tests. With the integration of data into MUSE, the physician can compare the patient's most recent KardiaMobile 6L ECG to prior ECGs or other relevant results, expanding diagnostic capabilities through continuity of care.
By building a workflow in MUSE that integrates the ECG data from KardiaMobile 6L into the EMR, GE Healthcare's advanced 510(k)-cleared ECG interpretation "EK12" algorithms and AliveCor's 510(k)-cleared artificial intelligence are solving this challenge. Static becomes dynamic, with a seamless flow of information – and now physicians will have the data at their fingertips to bring care to the next level from hospital to home.7
A physician will prescribe or enroll KardiaMobile 6L for patients with certain cardiac diagnoses who can benefit from monitoring their condition and tracking their own ECG recordings at home or on the go. The hospital will then issue a subscription that links the patient to the hospital's clinical desktop allowing them to perform ECGs using the KardiaMobile 6L device. After an ECG is recorded, the data automatically transfers from AliveCor's cloud server directly into MUSE. This allows providers to quickly evaluate six-lead ECGs that indicate a heart rhythm condition and require attention, such as those that show signs of an arrhythmia, which may result in a confirmatory ECG in the hospital.
"Delivering medically validated ECG readings taken with KardiaMobile 6L directly into MUSE can help facilitate closer connection and better communication about treatment and care between physicians and their patients, even when they are not physically together," said Priya Abani, CEO of AliveCor. "This integration directly supports our mission of transforming cardiology with intelligent, highly personalized heart data and connected cardiac care services by offering providers information that can be integrated seamlessly into their clinical practices, and patients the convenience, privacy, and reliability of ECG readings they can perform at home or on the go."