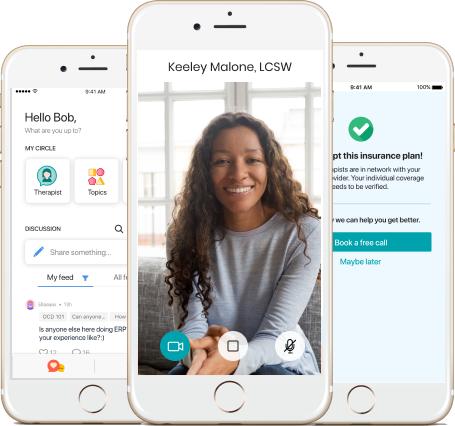 What You Should Know:
–NOCD, a Chicago-based provider of obsessive compulsive-disorder (OCD) treatment raises $33M in Series B funding led by F-Prime Capital, with Eight Roads Ventures, and Kaiser Permanente Ventures participating along with existing investors including 7wireVentures, Health Enterprise Partners (HEP), and Chicago Ventures.
– The funds will be used to expand NOCD's community, reach people earlier in their treatment journey, and offer additional services to assist with their long-term health.
Effective, affordable & convenient OCD therapy
Community-Driven Therapy leverages condition-specific peer communities to identify consumers in need of help, encourage them to begin treatment, and serve them in a highly personalized way. In the case of NOCD, many people are motivated to start treatment after hearing from others in the NOCD community who have overcome similar, difficult challenges. Additionally, the compelling community data drives NOCD's clinical leadership team to deliver evidence-based treatment services to community members in highly personalized ways. Data show that the Community-Driven Therapy market is poised to successfully address many severe and costly needs within behavioral health, starting with OCD.
Milestones/Traction to Date
With over 18 consecutive months of rapid growth and demonstrated, measurable, and sustainable improved outcomes, NOCD has solidified its position as the global leader in OCD treatment and in Community-Driven Therapy. The company has not only built the world's largest OCD patient online community – bringing to light a massive, underserved behavioral health population – it has also scaled a widely used online therapy service for its community. Inside the NOCD platform, members can receive ongoing, face-to-face telehealth sessions from licensed NOCD therapists that specifically specialize in OCD treatment. Additionally, members have access to always-on support when their therapist is unavailable, including personalized peer groups and self-help tools. NOCD's use of sophisticated technology allows it to deliver a high touch personalized treatment, which turns out to be a perfect fit for a chronic yet manageable condition like OCD. NOCD's comprehensive treatment model has proven to be a more effective, affordable and convenient treatment than the current standard of care.
To date, NOCD is now delivering more than 12,000 live telehealth visits per month through the only nationwide network of exposure and response prevention (ERP) specialty-trained providers, with outcomes showing 40% improvement in a patient's health within as few as 90 days. To make ERP, a once historically unaffordable treatment, more accessible, NOCD has partnered with the nation's leading health insurance companies, offering more than a third of Americans access to NOCD therapy as a covered benefit.