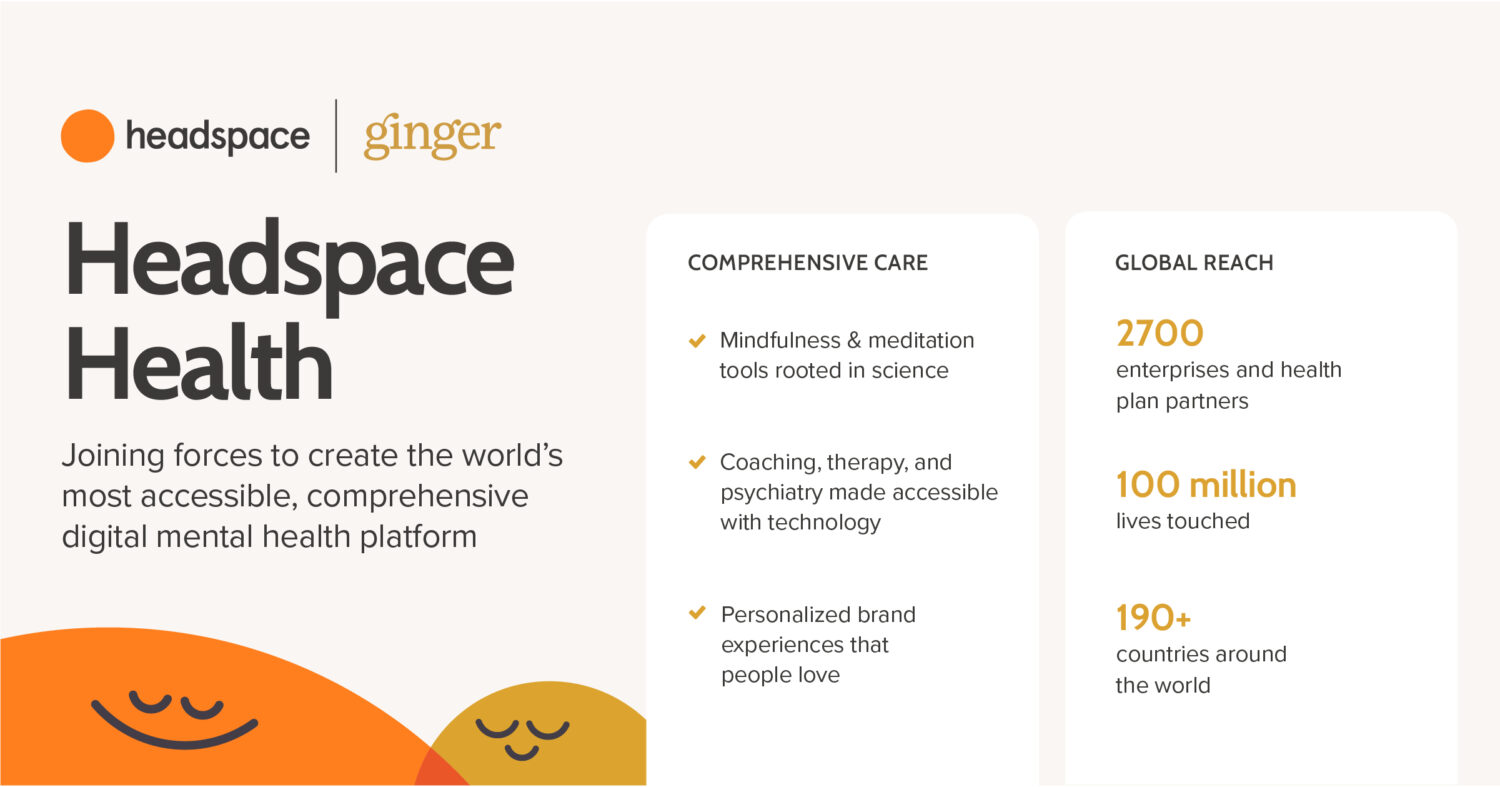 What You Should Know:
–Headspace, a global leader in mindfulness and meditation, and Ginger, a leader in on-demand mental healthcare, today announced they have entered into a definitive agreement to merge.
– The combined entity, Headspace Health, will provide the full spectrum of proven, effective virtual support – from mindfulness and meditation to text-based behavioral health coaching, to video-based therapy and psychiatry – for all types of patient populations (consumers, employees, commercial and Medicaid plan members). Upon merging, the combined company will use technology to scale affordable, accessible care to people around the world, reaching nearly 100 million lives across all 50 U.S. states and in 190+ countries worldwide.
– As part of the merger, Russell Glass, CEO of Ginger, will take on the role of CEO of Headspace Health. CeCe Morken will remain CEO of Headspace and take on the additional role of President for the combined entity. The financial terms of the deal were not disclosed.
---
Headspace/Ginger Background
Headspace, founded in 2010 by Andy Puddicombe and Richard Pierson, is known for being one of the first meditation apps in the world and remains a leader in mindfulness and mental training. Founded in 2010 at the Massachusetts Institute of Technology (MIT) by Karan Singh, co-founder and chief operating officer, Ginger offers its members convenient, high-quality mental healthcare – including behavioral health coaching, therapy, and psychiatry – right from a smartphone. Together as Headspace Health, the two companies will serve consumers, employers, and health plans. Their combined expertise in the consumer brand, evidence-based interventions, and technology will help improve resilience, reduce stress, and provide treatment to the millions of people experiencing mental health symptoms, from anxiety to depression to more complex diagnoses.
Growing Demand for Mental Health Support
According to the World Health Organization, close to 1 billion people worldwide live with a mental disorder, and more than 75% of people worldwide with mental, neurological, and substance use disorders receive no treatment for their condition at all. In a recent study, nearly half of adults in the U.S. reported symptoms of depression or anxiety during the pandemic. In the workplace, both employees and their employers pay the price: Research from the American Psychiatric Association shows that employees with unresolved depression experience a 35% reduction in productivity, resulting in a $210 billion annual economic loss in the U.S. due to absenteeism, reduced productivity, and medical costs.
"Headspace and Ginger have a shared recognition that the mental health crisis can't be solved by simply hiring more therapists or moving care online," said Russell Glass, CEO of Ginger. "Through this merger, we can uniquely tackle the full spectrum of mental health needs – from prevention to clinical care – all from one integrated platform."
---