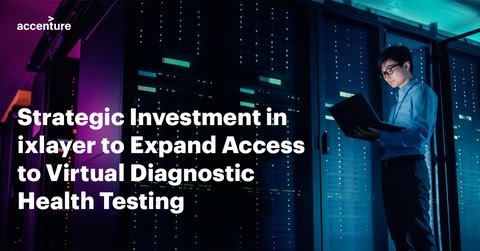 What You Should Know:
– Accenture Ventures announced a strategic investment in ixlayer, a leader in healthcare IT-focused on providing technology-based solutions for diagnostic testing. Terms of the investment were not disclosed.
– Aimed at making lab testing more efficient, the company's platform lies at the nexus of doctors, researchers, patients and medical facilities, providing healthcare providers, payors and governments with the cloud-based IT infrastructure to scale products and solutions that deliver patient care from the comfort of their home. Unlike many enterprise-grade solutions, which can take months to implement, ixlayer can be deployed within weeks.
–  ixlayer as a company grew 500% over the last year as their technology was used by major organizations/institutions such as Stanford University, CIC Health, and The U.S. Coast Guard to facilitate COVID-19 testing. The demand for virtual healthcare services is only just starting, and they are rapidly expanding into the PoC, virtual diagnostic testing space for a number of health concerns.
ixlayer is part of Accenture Ventures' Project Spotlight, an engagement and investment program that connects emerging technology software startups with the Global 2000 to fill strategic innovation gaps. Project Spotlight offers extensive access to Accenture's domain expertise and its enterprise clients, helping startups harness human creativity and deliver on the promise of their technology.