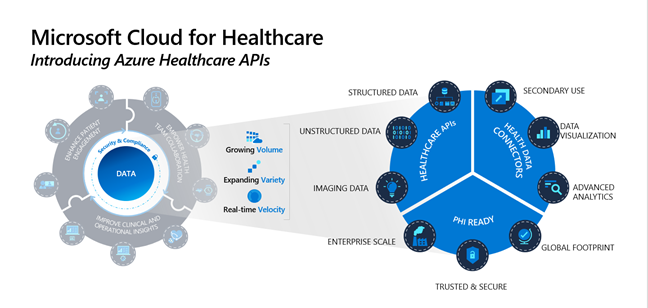 What You Should Know:
– Microsoft Cloud for Healthcare announced it is expanding its portfolio of interoperability data services for the health and life sciences industry with Azure Healthcare APIs.
– Built for the requirements of Protected Health Information (PHI), Azure Healthcare APIs enable customers with a platform as a service (PaaS) to ingest, manage, and persist data in the Microsoft Cloud for Healthcare. Anyone working with health data can use Azure Healthcare APIs to bring disparate sets of PHI together and connect it with tools for machine learning, analytics, and AI. 
Other key features of Azure Healthcare APIs include:
– Structured inputs like clinical records in HL7 or C-CDA, data from medical devices, services such as HealthKit and Google Fit, or genomics databases, can be ingested, transformed, and mapped to FHIR.
– Unstructured data can be mapped to natural language processing algorithms like Text Analytics for Health to annotate data from clinical notes or text documents and structure it in FHIR so it can be viewed alongside structured clinical data.
– Imaging data in DICOM formats can be ingested through an API gateway, and DICOMCast technology will extract relevant metadata from images and map it to patient records in FHIR.
– Biometric data from devices can be ingested through our Azure IoT Connector for FHIR and can provide important information on health trends to care teams to allow for timely interventions and remote care.