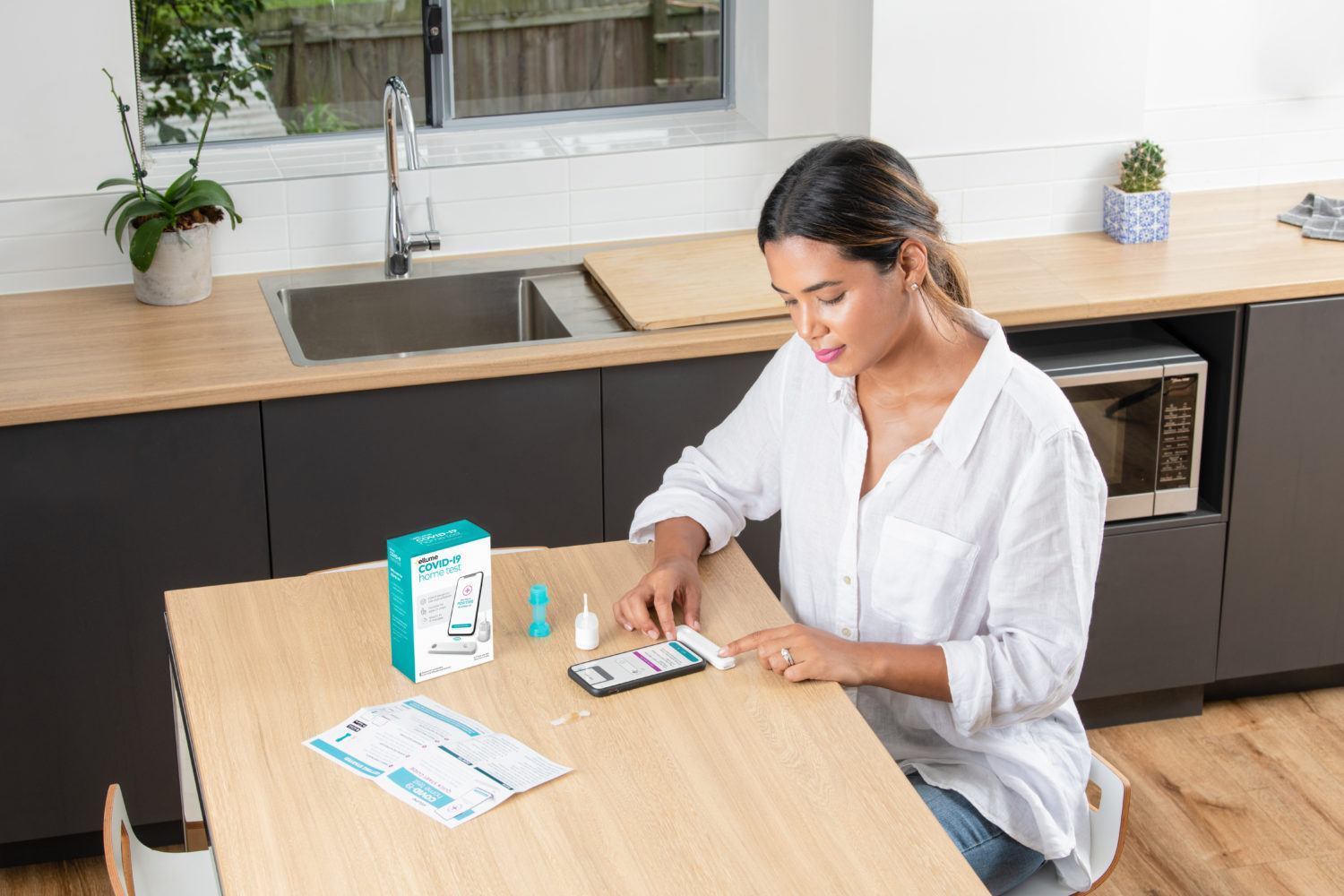 What You Should Know:
– FDA grants Emergency Use Authorization for Ellume COVID-19 Home Test for non-prescription home use in symptomatic and asymptomatic individuals
– The first fully over-the-counter COVID-19 Home Test demonstrated 96% accuracy in a multi-site US clinical study of both adults and children 2 years and above
– Ellume is ramping up manufacture, with production on track for over 100,000 tests per day in January 2021
Ellume, a digital diagnostics announced its rapid, at-home COVID-19 antigen test has been granted Emergency Use Authorization (EUA) from the U.S. Food and Drug Administration (FDA). The test will be available for non-prescription home use for the detection of active COVID-19 in individuals with or without symptoms, and in adults and children aged 2 years and above. The Ellume COVID-19 Home Test is the first of its kind to be granted an EUA and provides an essential new tool to help combat the COVID-19 pandemic.
How It Works
The test includes a sterile Nasal Swab, a Dropper, Processing Fluid, and a Bluetooth® connected Analyzer for use with an app on the user's smartphone. Utilizing the dedicated app, the user follows step-by-step video instructions to perform the test including a self-collected mid-turbinate nasal swab. The sample is analyzed, and results are automatically transmitted to the user's smartphone via Bluetooth® in 15 minutes or less. Results can be shared with healthcare professionals to enable optimal therapy.
Through a secure cloud connection, Ellume's COVID-19 Home Test can provide real-time reporting of test results to health authorities, employers, and educators, for efficient COVID-19 mapping.
Safe & Accurate
In data submitted to the FDA from an independently run, simulated home-setting clinical study of 198 subjects ranging in age from 2 years to 82 years, the Ellume COVID-19 Home Test demonstrated 96% accuracy, with an overall sensitivity of 95% (positive percent agreement) and specificity of 97% (negative percent agreement) when compared to an emergency use-authorized RT-PCR laboratory test.
In individuals presenting with COVID-19 symptoms, the Ellume COVID-19 Home Test demonstrated a sensitivity of 96% and specificity of 100%, and in asymptomatic individuals, the test demonstrated a sensitivity of 91% and specificity of 96%.
Manufacturing Scale-Up
Ellume has been able to fast-track the development of its range of COVID-19 diagnostic tests with the support of a $30 million WP-2 grant from the U.S. National Institutes of Health (NIH)'s Rapid Acceleration of Diagnostics (RADx) initiative.
In order to meet anticipated demand, Ellume has expanded its manufacturing facility in Brisbane, Australia, the largest of its kind in the Southern Hemisphere, and is rapidly expanding its manufacturing efforts and supply chain within the U.S. Production has already commenced and Ellume will be shipping over 100,000 tests per day from next month. Ellume plans to manufacture and deliver 20 million Ellume COVID-19 Home Tests to the U.S. within the first half of 2021.
"As COVID-19 case numbers hit record highs, the world needs access to fast, affordable, easy-to-use home testing," said Ellume founder and CEO, Dr. Sean Parsons. "Ellume's COVID-19 Home Test delivers this important first line of defense – it can be widely available without the need for a prescription, enabling the U.S. to respond to the pandemic in its most urgent stage."