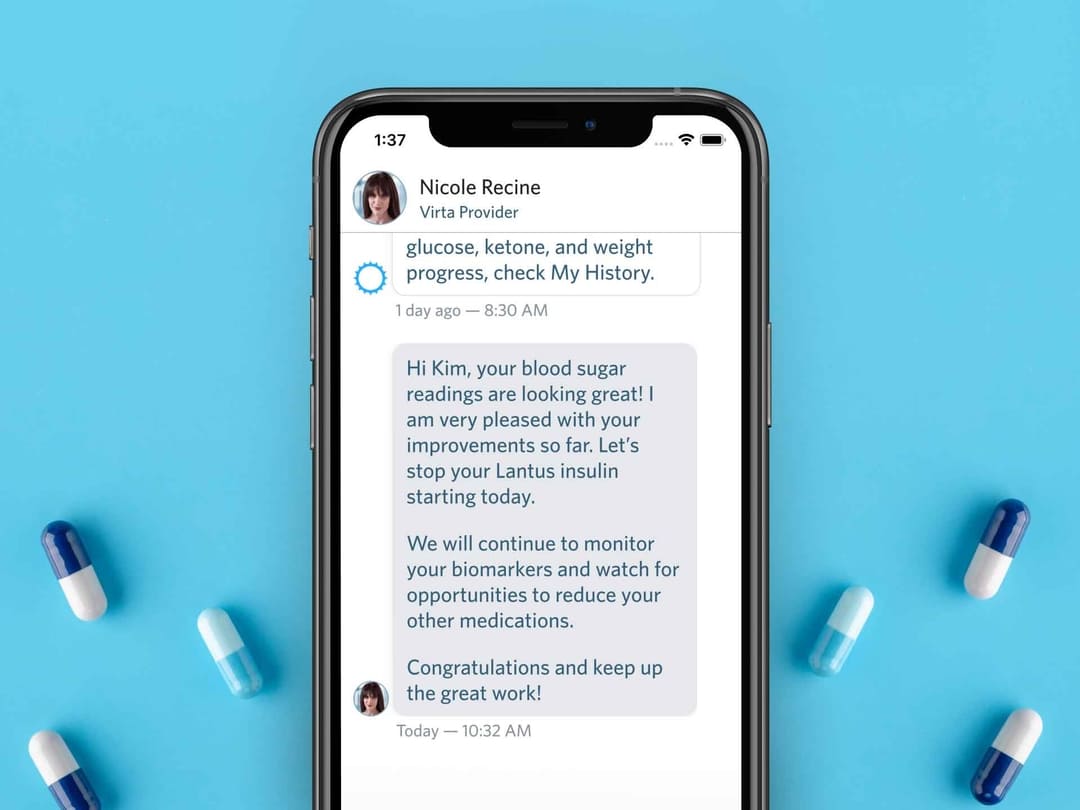 What You Should Know:
–  Virta just closed a $65 Series D round, to scale its virtual clinic and approach to reversing chronic metabolic conditions (T2D, prediabetes, and obesity) to the masses.
– The financing, led by Sequoia Capital Global Equities, also hurdles Virta well into unicorn territory ($1.1B+ valuation), recognizing pre-pandemic growth that has accelerated during the COVID era.
---
Virta Health, a San Francisco, CA-based company delivering the first clinically-proven treatment to safely and sustainably reverse type 2 diabetes (T2D)  today announced that it has raised $65 million in Series D funding. Led by Sequoia Capital Global Equities, the financing will support the growing demand for Virta's reversal treatments for type 2 diabetes and other chronic metabolic conditions. Alongside Sequoia Capital Global Equities, Caffeinated Capital participated in the round, which brings total funding to more than $230M and makes Virta Health the latest digital health startup to reach unicorn status at $1.1 billion valuation.
Impact of Diabetes
Type 2 diabetes is one of the most expensive chronic illnesses in America. Nearly half of U.S. adults have either diabetes or pre-diabetes, and the epidemic is still growing. This also comes at a time when diabetes reversal is super critical, as T2D + uncontrolled blood sugar prove the biggest risk factors for negative outcomes & death from COVID-19. Enterprises, health plans, and consumers all understand the urgent need to mitigate this risk, & demand for Virta's 100% virtual treatment–that helps patients restore blood sugar levels w/o medications–has been booming. 
Founded in 2014 with the goal of reversing diabetes in 100 million people by 2025, Virta is the first clinically-proven treatment to safely and sustainably reverse type 2 diabetes. The clinically-proven Virta Treatment reverses type 2 diabetes and significantly improves several chronic comorbidities, taking direct aim at these skyrocketing healthcare costs and nearly one-third of the more than $3 trillion in annual U.S. healthcare spend.
Outcomes/Results
Virta patients experience sustained blood sugar improvement in conjunction with medication de-prescription, including 94% of patients reducing or fully eliminating insulin use. Virta's weight loss results exceed the goals of the National Diabetes Prevention Program and the FDA benchmark for weight loss drugs by nearly 150%. Patients like Rhonda, who lost 50 pounds and reversed her diabetes, and Jim, who eliminated all insulin prescriptions after just four months, demonstrate the life-changing results experienced by Virta patients daily.
Expansion Plans
Virta's approach—to restore metabolic health and eliminate the need for costly medications like insulin—has led to over 150% year-over-year growth while attracting more than 100 large payers from all parts of industry and government. The funding will be used to accelerate the company's investments in growth and scale its provider-led virtual care delivery platform, Continuous Remote Care, which is the backbone for Virta's transformative reversal therapies. Additionally, Virta will expand research and development of evidence-based, non-pharmaceutical therapies for other complex and costly metabolic conditions.
"The option for disease reversal should be available to every person living with a chronic metabolic condition," said Sami Inkinen, Virta Health co-founder and CEO. "This funding round is an important step forward in making this a reality and giving people the opportunity to regain their health, wherever they are on their metabolic journey."