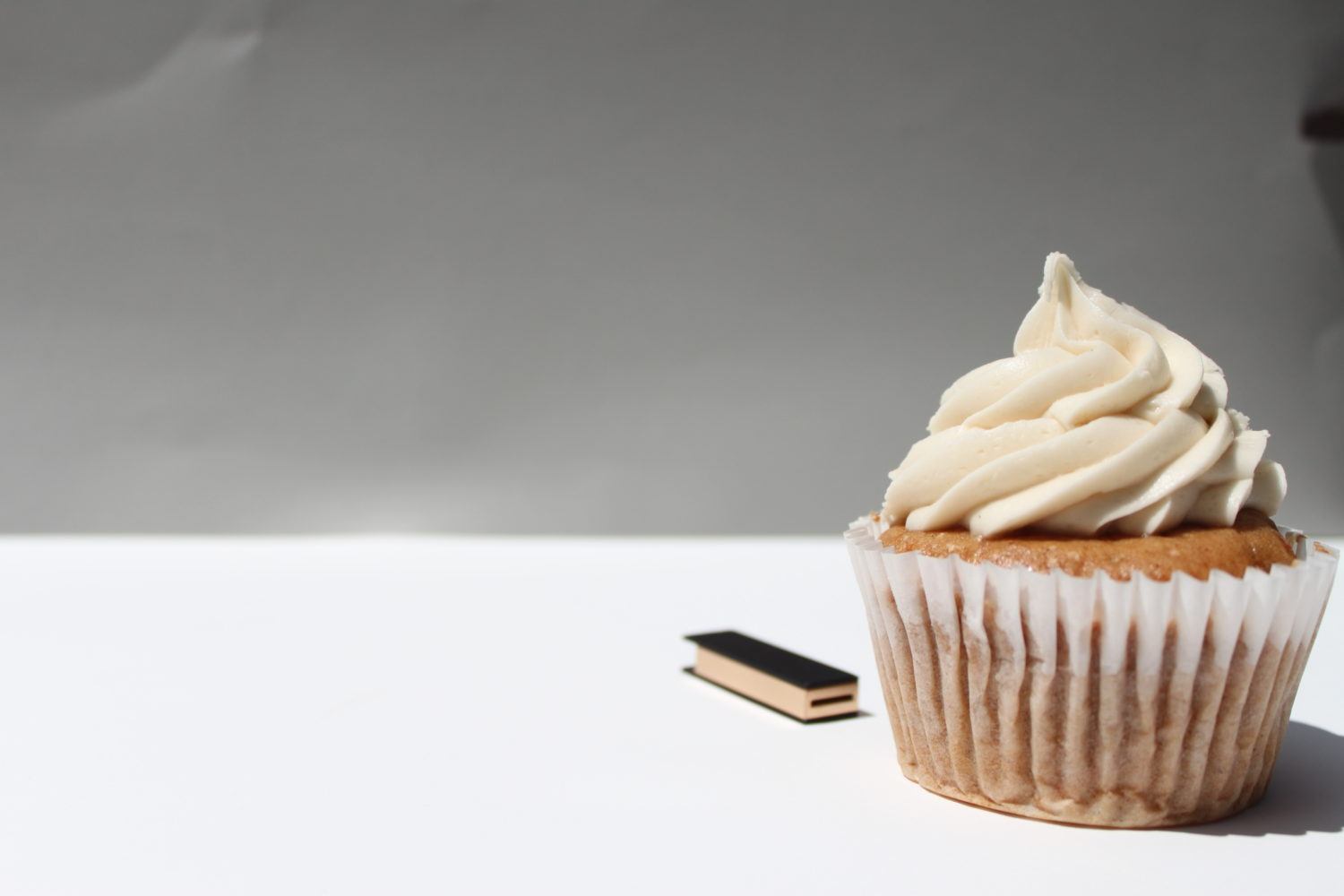 What You Should Know:
– Today, Allergy Amulet announces $3.3M in seed funding to launch the world's smallest and fastest consumer food allergen sensor and empower the allergy community by alleviating fears about what's in their food.
– Allergy Amulet's novel technology can improve the quality of life for the millions of people living with food allergies or intolerances by testing for common allergenic ingredients in seconds. The portable device is made to fit every lifestyle — it's small enough to fit on a keychain, a necklace, or in a pocket.
– Every 3 minutes, a food allergy sends someone to the ER. For the 32 million Americans and between 220-520 million people globally who live with food allergies, the potentially fatal disease is a constant threat.
---
Allergy Amulet, a Madison, WI-based company empowering the food allergy community by alleviating fears about what's in their food, today announces $3.3 million in seed funding led by TitletownTech, a joint venture between Microsoft and the Green Bay Packers.
Every 3 Minutes, a Food Allergy Sends Someone to the ER
Food allergies affect 32 million Americans and between 220 to 520 million people globally—that's one in 13 children and one in 10 adults. They can be fatal, even after ingesting only trace amounts of a known allergen. The company has developed the world's smallest and fastest consumer food allergen sensor, which is capable of testing foods for common allergenic ingredients in seconds. The patented technology fits on a keychain, a necklace, a wristband, or in a pocket, and doubles as a medical alert system, making it easier and safer to manage food allergies and intolerances.
Simple + Fast Detection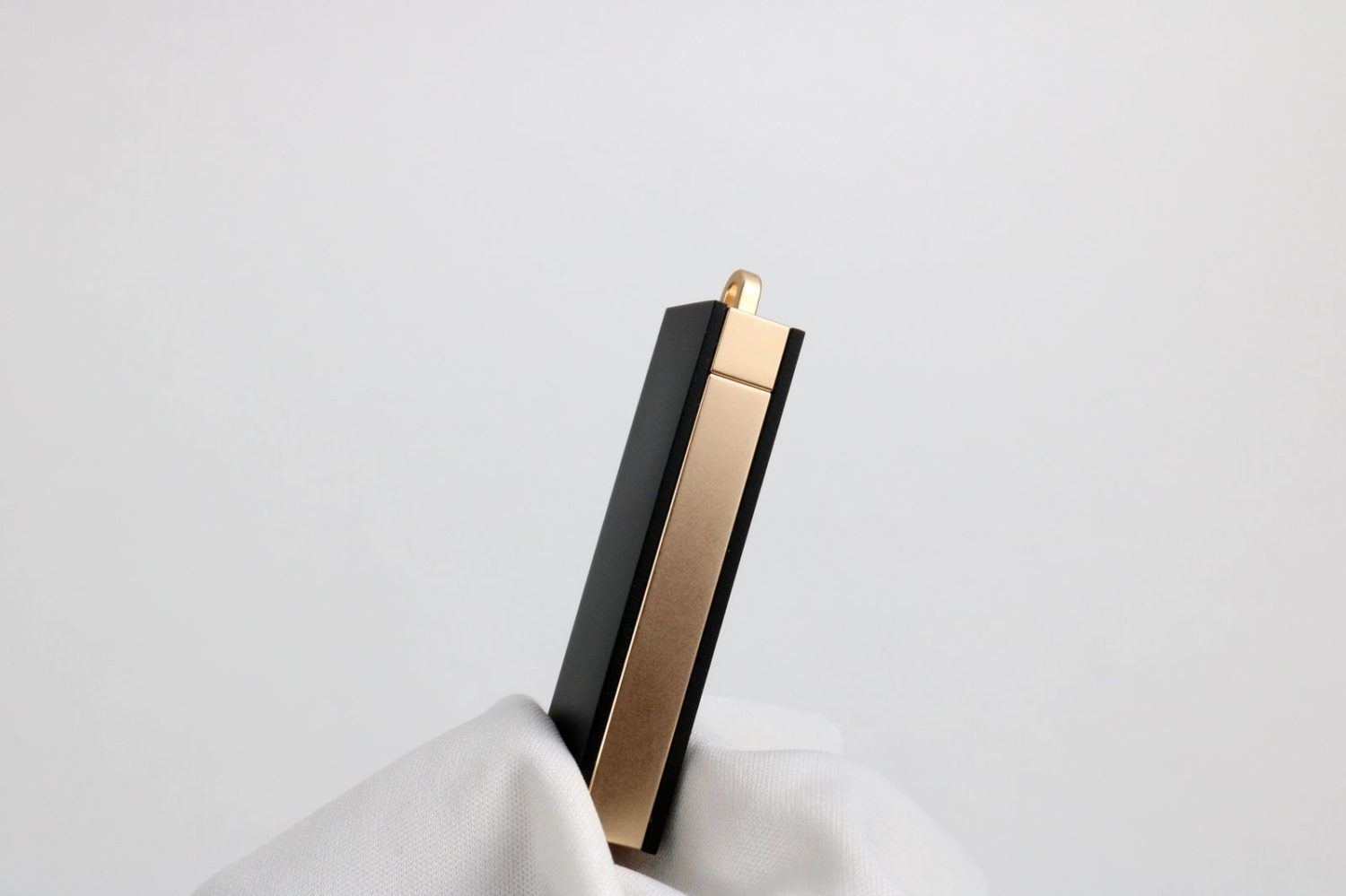 Allergy Amulet helps:
Individuals with food allergies: It makes testing for food allergens easy, giving people additional assurances that their food is safe.
Parents with children who have food allergies: It gives parents another tool to manage their children's allergies, and helps children live a normal childhood, maintain independence, and safely attend sleepovers and birthday parties (or just school) with friends.
Businesses: It gives restaurant owners, schools, childcare providers, summer camps, and hotels the power of extra precaution to save them time, money, and worry.
How It Works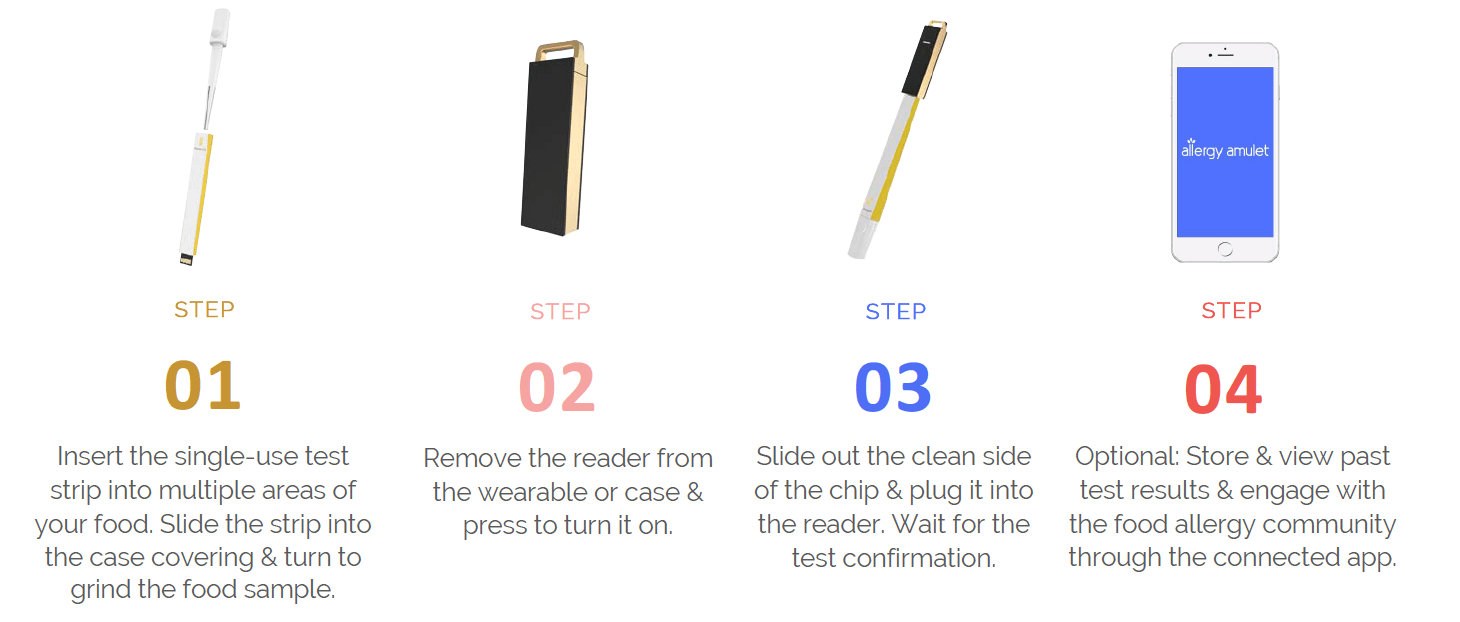 The Allergy Amulet is a fast and portable food allergen and ingredient sensor, designed to fit every lifestyle. Its first-of-its-kind detection platform pairs molecularly imprinted polymer (MIP) technology with a conductive electrochemical platform to detect target allergenic ingredients. The Amulet consists of two parts: a USB-sized reader (the "Amulet") and a test strip that houses the proprietary sensor chips. The case also accommodates epinephrine and antihistamines, giving users a complete allergy care management platform.
For consumers, testing for food allergens is made possible in four simple steps:
Step 1: Users collect a sample of the food with the test strip, and turn the top of the tester to grind the sample.
Step 2: A chip slides out from the test strip and is inserted into the reader.
Step 3: Test results appear on the reader within seconds, indicating the presence or absence of the target allergen.
Step 4: Optional: store test results in the mobile app, connect and share results with the food allergy community, or hold down a button on the reader to alert your emergency contacts.
The Team
The Allergy Amulet team has deep connections to the communities they serve — Barnes has managed life-threatening food allergies since childhood, and experienced a near-fatal anaphylactic event as a teenager. After meeting her Co-founder and Scientific Advisor, Dr. Joseph BelBruno, a Dartmouth chemistry professor emeritus with life-threatening food allergies, the two worked to make Allergy Amulet a reality.
The company holds one issued U.S. patent with multiple applications, and its waitlist has thousands of individuals signed up to participate in an early beta release, scheduled to kickoff later this year.
Expansion Plans
This infusion of new capital will be used to manufacture beta units, help to launch pre-orders, expand product offerings to cover more allergens, grow the company's world-class team, add additional restaurant and company partners to its roster, and educate consumers on the benefits of additional food allergen management tools. In addition to Titletown, its seed financing includes participation from Great North Labs, Colle Capital, Great Oaks VC, DeepWork Capital, Dipalo Ventures, and Bulldog Innovation Group.
"The current standard of care — avoiding certain foods, injecting epinephrine to treat reactions, and visiting the emergency room — can take a serious emotional, financial, and physical toll on individuals, caregivers, and families," said Abigail Barnes, Co-founder and CEO of Allergy Amulet. "Our hope is to help individuals more safely engage in the activities that bring them joy, whether that means going to a restaurant with friends and family or eating a cupcake at a party."
Availability
Allergy Amulet is slated for pre-sales Fall of 2020 and launch Fall of 2021.