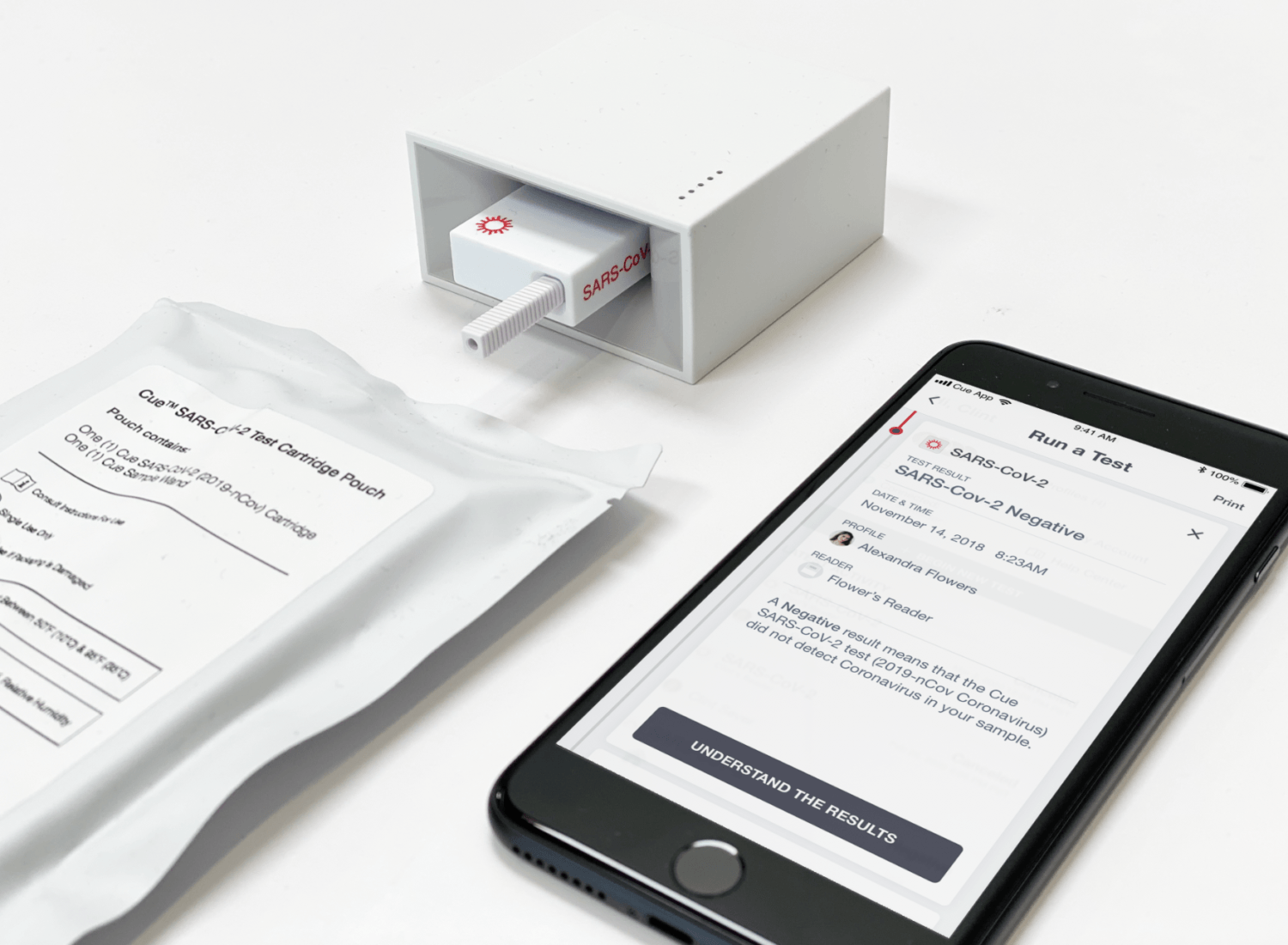 What You Should Know:
– The Food and Drug Administration (FDA) has awarded Cue Health Emergency Use Authorization (EUA) for its rapid, portable, molecular point of care COVID-19 test.
– The company recently raised $100M in Series C funding from Menlo Park-based Decheng Capital, Foresite Capital, Madrone Capital Partners, Johnson & Johnson Innovation – JJDC, Inc., ACME Capital, and other investment firms.
---
Cue Health Inc. ("Cue"), a healthcare technology company, announced today that it has received Emergency Use Authorization ("EUA") from the U.S. Food and Drug Administration ("FDA") for the company's rapid, portable, point-of-care COVID-19 test. The Cue COVID-19 Test is a molecular test that detects the RNA of SARS-CoV-2, the virus that causes COVID-19, in 25 minutes using a nasal swab sample taken from the lower part of the nose.
How It Works
Cue's COVID-19 test runs on the compact and portable Cue Health Monitoring System. A single-use COVID-19 test kit includes a Sample Wand and COVID-19 Test Cartridge. The system performs rapid molecular analysis at the point-of-care and transmits test results to the Cue Health App on a connected mobile device. The current FDA EUA allows the Cue COVID-19 test to be used anywhere under the supervision of qualified medical personnel. The company is intending to seek additional FDA authorizations for use of the COVID-19 test in settings such as the workplace, schools, and at home.
Emergency Use Authorization Status
The Cue COVID-19 Test has not been FDA cleared or approved. The test has been authorized by the FDA under an EUA for use by clinics and laboratories certified under the Clinical Laboratory Improvement Amendments of 1988 ("CLIA"), 42 U.S.C. § 263a, to perform diagnostic tests. The test has been authorized only for the detection of RNA from SARS-CoV-2 virus and diagnosis of SARS-CoV-2 virus (COVID-19) infection, not for any other viruses or pathogens.
The test is only authorized for the duration of the declaration that circumstances exist justifying the authorization of the emergency use of in vitro diagnostics for detection of SARS-CoV-2 virus under section 564(b)(1) of the Federal Food, Drug and Cosmetic Act, 21 U.S.C. § 360bbb-3(b)(1), unless the authorization is extended, terminated or revoked sooner.
This project has been funded in whole or in part with federal funds from the U.S. Department of Health and Human Services; Office of the Assistant Secretary for Preparedness and Response; Biomedical Advanced Research and Development Authority, under Contract No. HHSO100201800016C.
Future Plans
Cue plans to initially launch its COVID-19 test with select leading healthcare institutions and their satellite centers, followed by nationwide deployment across a variety of healthcare settings. In addition to its COVID-19 test, Cue is developing additional test cartridges for use with the Cue Health Monitoring System, including tests for Influenza A/B. Cue envisions that in the coming years it will be able to leverage its advanced diagnostic testing platform to enable testing for a variety of infectious diseases in settings such as homes, schools, and businesses, in addition to clinical settings.