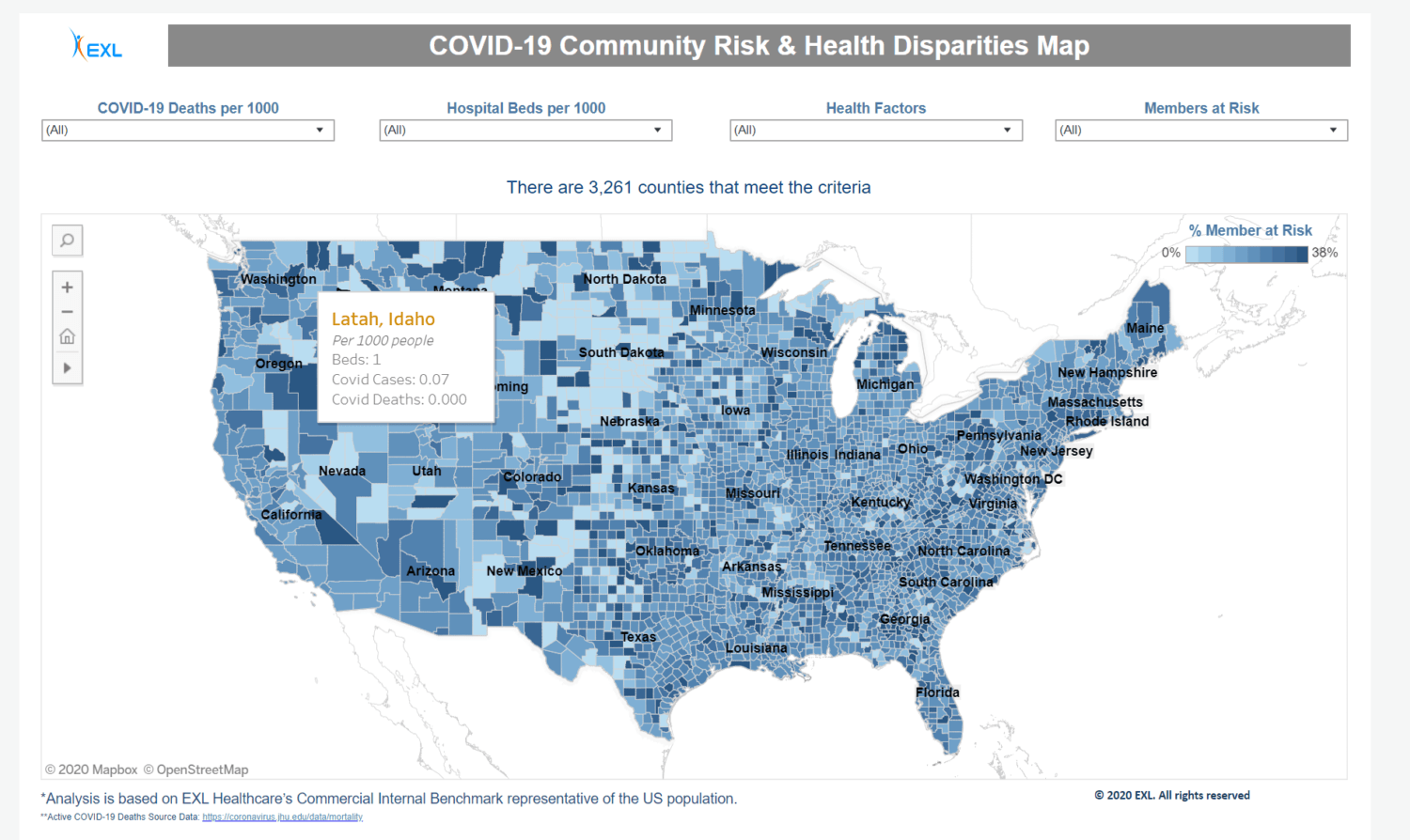 What You Should Know:
– COVID-19 Community Risk & Health Disparities Map reveals proactive identification of emerging hot spots of vulnerable populations at risk for severe outcomes from COVID-19.
– The publicly available tool provided by EXL Healthcare pinpoints where to focus and scale resources, inform proactive scenario planning, and develop community COVID-19 initiatives.
---
Governors across the U.S. are considering whether to extend stay-at-home orders or allow businesses, parks, beaches, recreational facilities, and other locations to reopen. Before they make a decision they may want to consult this new interactive COVID-19 heat map from EXL Health that allows users to determine the risk of contracting the virus on a county-by-county basis in the near future.
COVID-19 Heat Map Overview
The heat map takes multiple, selectable factors in each county (on a per thousand basis) into account, including:
– Current, confirmed cases of COVID-19
– Number of hospital beds available
– The level of health factors present (such as social determinants of health and chronic condition like diabetes, heart disease, and lung disease), based on EXL's proprietary, aggregated data from health payers
– The percentage of the population who have various general risk levels from low to high
It then uses EXL's analytics to project the percentage of citizens who are at risk, creating a situation that could overwhelm the local health system. Armed with this information, governors, as well as healthcare leaders, can make better decisions on what their state policies should be as well as how much they should invest in preparing for a local outbreak.
For example, while Suwanee County, Florida has had little exposure so far which makes it appear to not require social distancing measures, its overall poor health due to other conditions and low number of beds per thousand residents means roughly 40% of its population is at risk of contracting COVID–19. Which means it wouldn't take long to overwhelm the health system.