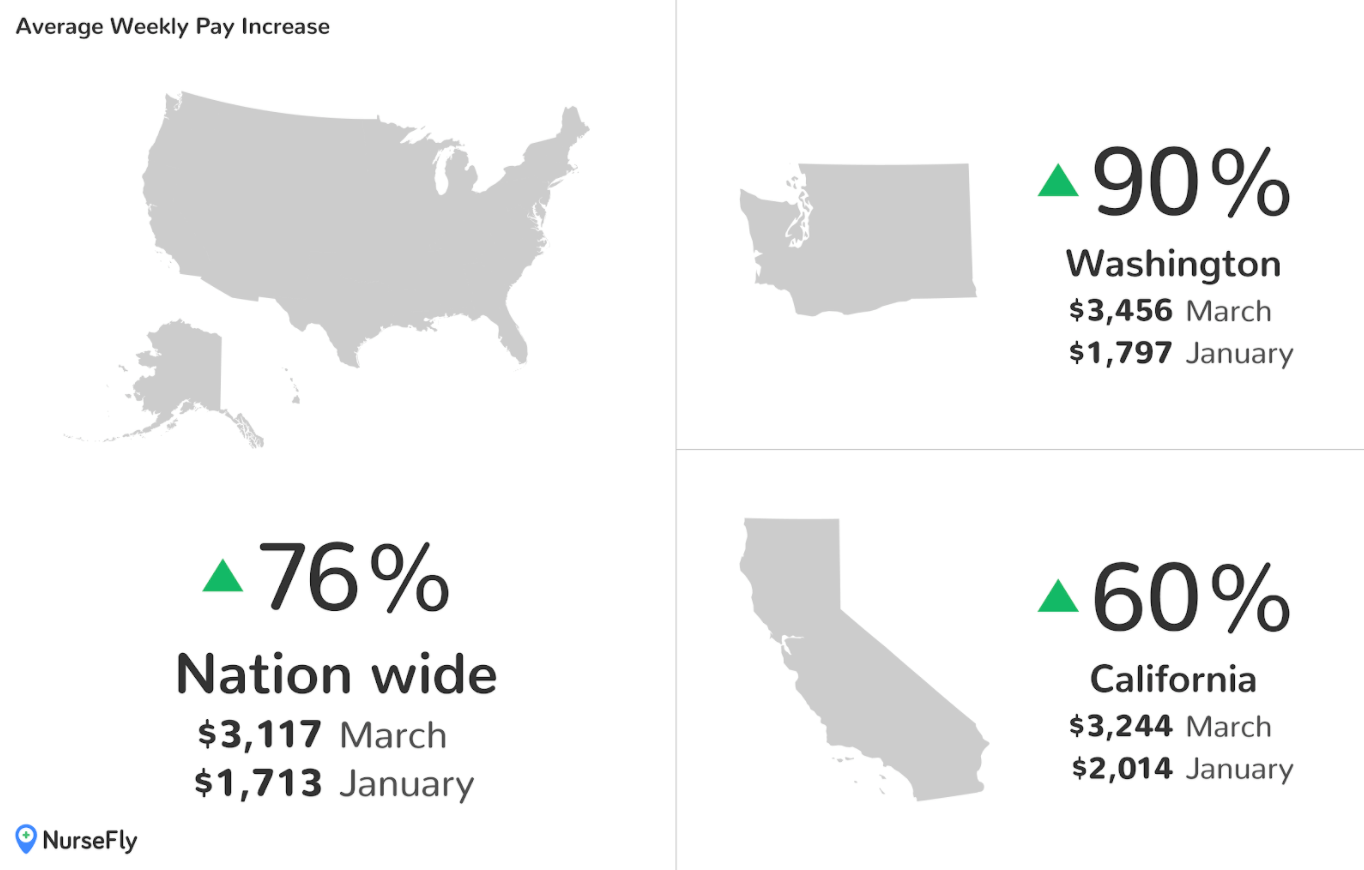 What You Should Know:
– As demand for nurses across the country increases to treat the coronavirus outbreak, the average weekly pay for travel nurses has nearly doubled, according to recent findings from healthcare staffing platform NurseFly.
– There was a 76% increase in average nurse pay nationwide since March, with increases of up to 90% over the average pay in Washington.
– Hospitals are paying Crisis/Pandemic rates up to $4,400 weekly to quickly staff up for the caring of COVID-19 patients.
– The data speaks to unprecedented demand for travel nurses directly linked to treating COVID-19, including compensation, U.S. market hotspots where nurses are needed most, and positions that are high in demand.
---
NurseFly, a temporary healthcare staffing platform with the largest number of open travel nursing positions nationwide, revealed new data on the state of temporary nurse staffing in the wake of the coronavirus outbreak. In March, NurseFly's platform saw an unprecedented surge in demand for positions related to coronavirus (COVID-19), the average weekly pay for travel nurses has also increased dramatically. The demand for Emergency Department specialists increased by more than 100 percent with compensation surging to upwards of $4,000 per week – more than double the national average.
Where Nurses Are Urgently Needed?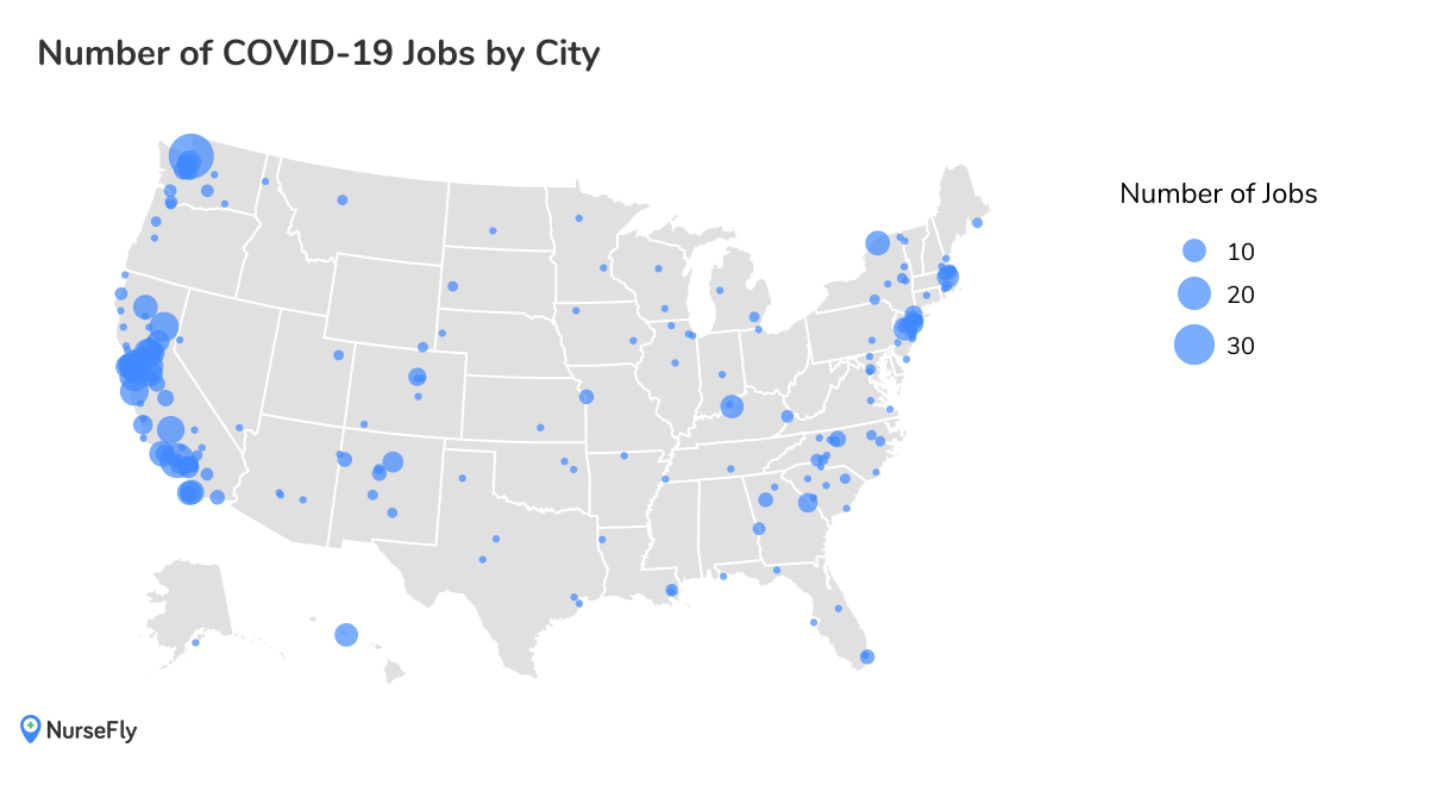 U.S. market hotspots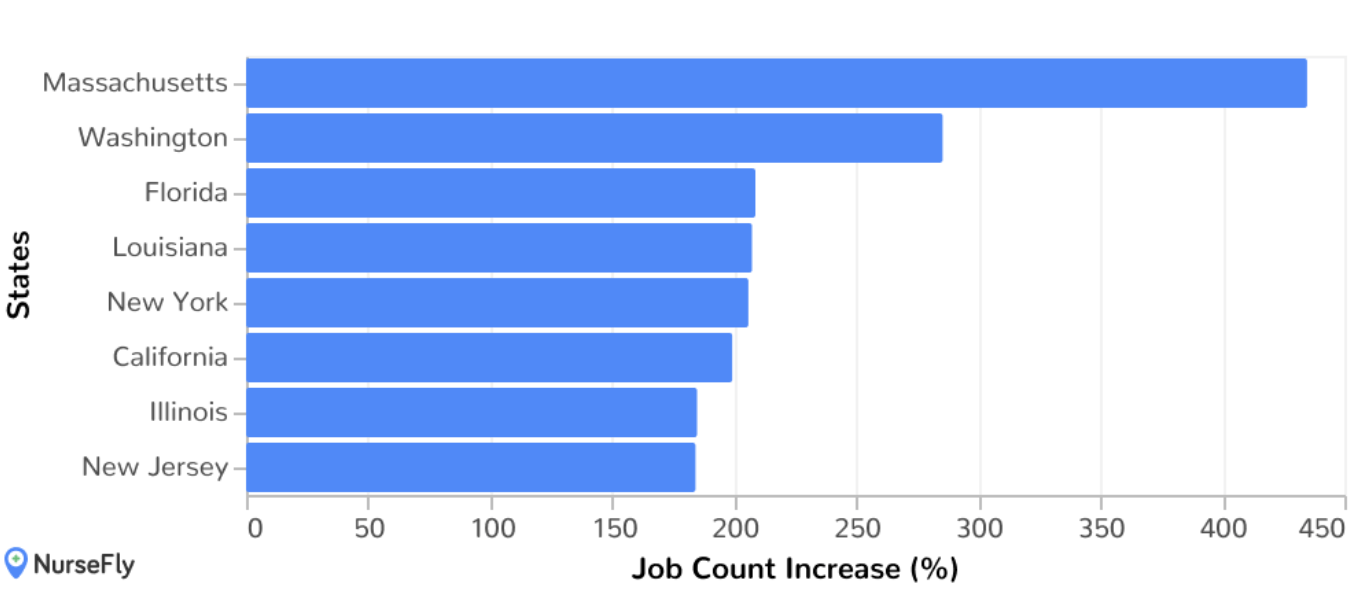 The biggest spikes in demand for registered travel nurse expertise directly linked to COVID-19 in March are broken down below:
Massachusetts: More than 4x increase
Washington: Nearly 3x increase
New York: More than 2x increase
California: Nearly 2x increase
New Jersey: Nearly 2x increase
Preparing markets
New and emerging regions experiencing the biggest spikes in demand for registered travel nurse specialties directly linked to COVID-19 in March include:
Hawaii: More than 4x increase
Mississippi: Nearly 4x increase
Rhode Island: More than 3x increase
Delaware: More than 3x increase
Increased compensation

The average pay for Registered Nurse (RN) jobs was $1,700 nationwide in January 2020. As of March 2020, the average pay for COVID-19 related RN jobs jumped to over $3,000 – with certain locations and specialties seeing increases even higher than 100 percent.
In California, there was more than a 60 percent increase in average weekly pay, while the state of Washington saw more than a 90 percent increase in the same timeframe for RN jobs.
ICU & ED Nurses are in highest demand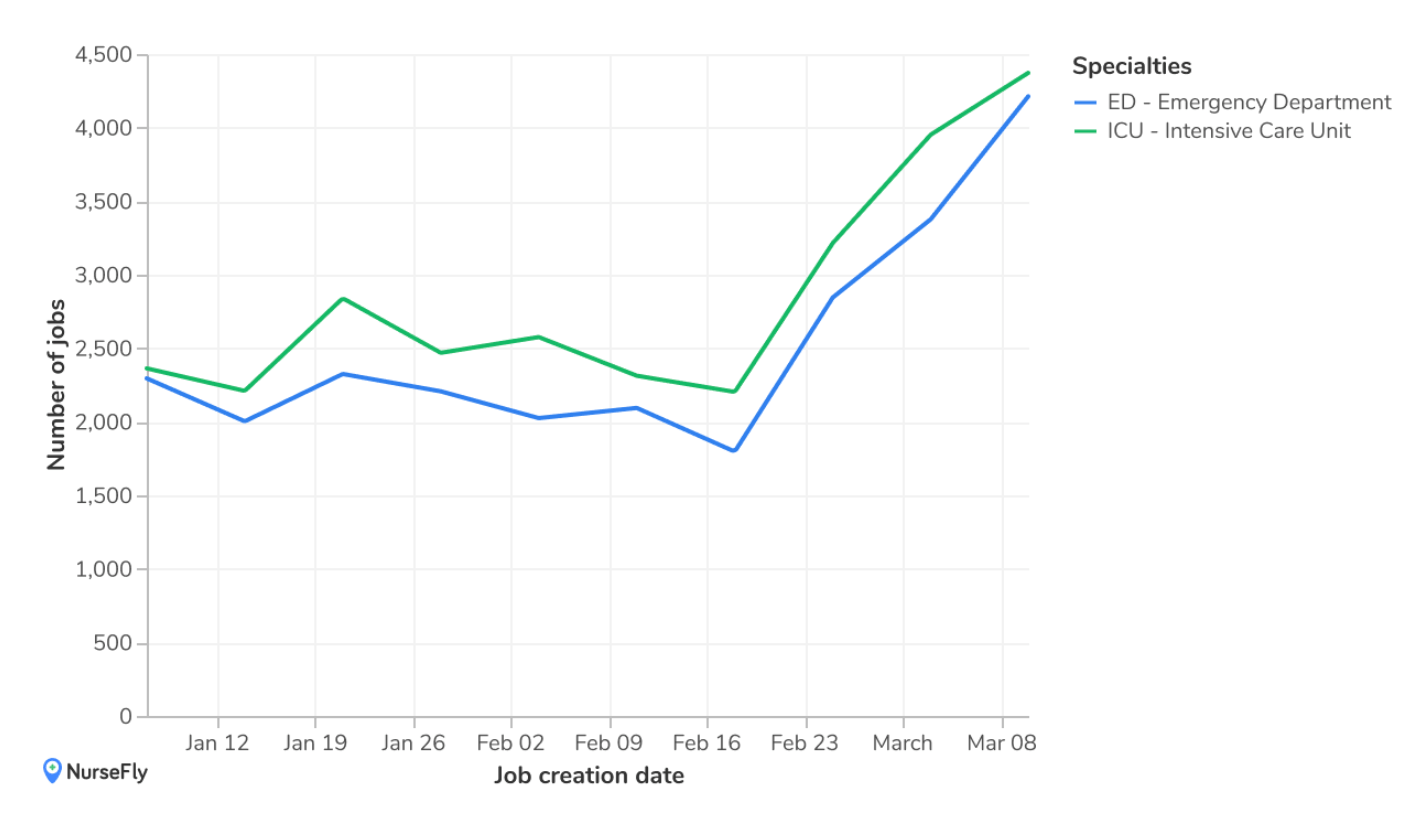 Roles in high demand: Staffing at Intensive Care Units (ICUs), emergency departments (EDs) and nurses who specialize in Infection Control are seeing the highest demand:
Demand for nurses in infection control and emergency departments have both increased by over 100 percent.
Pay for infection control positions is now double the national average, while pay for emergency department nurses has nearly quadrupled.
Pay for positions in California and New York have seen the sharpest increase, while the highest-paid positions remain in Washington.
Nursing demand at Washington area ICUs has surged with an average of 350 jobs being added every week.
COVID-19 Nurse Job Portal
NurseFly also announced the launch of its dedicated COVID-19 jobs portal at nursefly.com/COVID19 to help more healthcare professionals connect with critical COVID-19 jobs across the country, along with its offer of a free one-month subscription for government and public health agencies looking to access NurseFly's technology and network to fill urgent positions. The 65,000+ healthcare professionals currently on the NurseFly platform are able to browse and compare 80,000+ travel jobs nationwide, gain transparency into pay rates, and research different U.S. cities – all for free from NurseFly's website or mobile app.
"This is an unprecedented time and NurseFly is in a unique position to help. This is what we were built for," said Parth Bhakta, NurseFly Co-Founder and CEO. "We created NurseFly to transform and modernize how travel healthcare professionals connect with work – and with the rise of COVID-19, our mission is more critical than ever. We want to get the word out to any medical professional who is ready, willing and able to assist to join our platform and help healthcare facilities overcome urgent staffing shortages during this public health crisis."