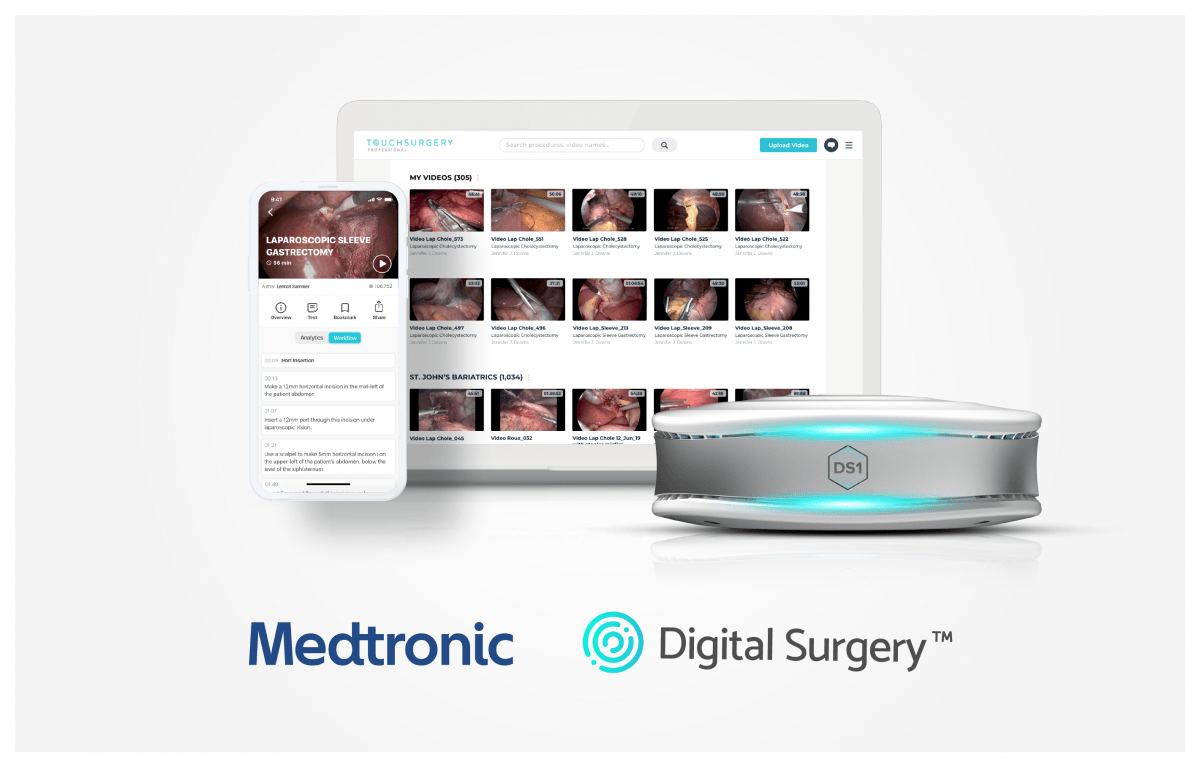 – Medtronic acquires Digital Surgery, a London-based provider of artificial intelligence (AI) driven surgical data and analytics company Digital Surgery for an undisclosed sum.
– The acquisition will accelerate Medtronic's strategy to provide AI and data within laparoscopic and robotic-assisted surgery.
---
Medtronic, a global provider of medical technology solutions and services, announced the acquisition of Digital Surgery, a London-based privately-held pioneer in surgical artificial intelligence (AI), data and analytics, and digital education and training. The acquisition of Digital Surgery will strengthen the Medtronic robotic-assisted surgery platform and has applicability for the Medtronic broader portfolio.
Augmenting Surgical Performance
Today there are 5 billion people without access to safe surgical services. Surgical diseases cause more death worldwide than HIV/AIDS, TB and Malaria combined. Using digital technology will enable surgeons to deliver safe surgical care for everyone. Founded in 2013 by surgeons for surgeons and healthcare professionals, Digital Surgery believes safe surgical care should be accessible for all. Digital Surgery's flagship platform, Touch Surgery platform is an interactive surgical simulator for healthcare professionals; providing a realistic and detailed guide to every step of a procedure. Users can quickly learn surgery, instantly test their knowledge, and rehearse for surgery. In addition to surgical simulations, Digital Surgery offers an AI-powered surgical video management platform and in-OR digital solutions for hospitals.
"We built Digital Surgery on the fundamental belief that computing power and data will underpin the next frontier of surgical care. Surgeons and surgical teams will be supported with data, inside and outside of the OR; and computing power will aid decision-making in real-time," said Jean Nehme, co-founder at Digital Surgery.
"Now our expertise in data, AI and digital education and training will combine with Medtronic's expertise and legacy in designing breakthrough medical technologies. It's a truly complementary partnership conceived on the premise of a shared vision, with patient benefit and global scale in mind. The products we build together will allow us to continue the tradition of meaningful innovation in surgery, but more importantly, to continue to serve patients and the surgical teams delivering their care," added Nehme.
Growing Importance of Data & Analytics on Advancing Minimally Invasive Surgery
"Capabilities and solutions in the data and analytics space play a critical role in our continued focus on advancing minimally invasive surgery – from education and training, to clinical decision support, to reducing cost and unwarranted variability," said Megan Rosengarten, vice president and general manager of the Surgical Robotics business, which is part of the Minimally Invasive Therapies Group at Medtronic. "We are thrilled to bring the Digital Surgery team and their expertise into Medtronic, not only due to the strategic fit from a technology perspective, but due to the shared belief that patients around the world deserve access to quality surgical care. By pairing digital solutions with robotic platforms and instrumentation, we can have a big impact on expanding patient access."
Post-Acquisition Plans for Digital Surgery
Digital Surgery will remain headquartered in London where there are plans for continued investment and workforce expansion. The company's executive team, including the two surgeon co-founders, Dr. Andre Chow and Dr. Jean Nehme, will remain in place and continue to provide leadership. Digital Surgery will join the Surgical Robotics business as part of the Minimally Invasive Therapies Group. Digital Surgery and Medtronic's co-developed digital solutions are expected to be offered on future Medtronic soft tissue robotic-assisted surgery systems.
Financial Details
Financial terms of the acquisition were not disclosed. The acquisition is expected to be immaterial to Medtronic's fiscal 2020 adjusted earnings per share and is expected to meet Medtronic's long-term financial metrics for acquisitions.