Women's health technology, known as Femtech, is one of the fastest-growing and well-funded categories of digital health. Femtech generally encompasses a range of digital health software and tech-enabled service providers that cater to the specific biological needs of women. These needs span from general health and wellness to reproductive health, including fertility, pregnancy, and nursing care.
Today, reproductive health is the focal point of femtech, thanks in part to the exploding spend on fertility management. Going forward, femtech solutions will likely expand beyond reproductive health into a personalized and female-oriented approach to general health and disease management, with a likely focus on indications such as heart health, pain management, and diabetes and weight management.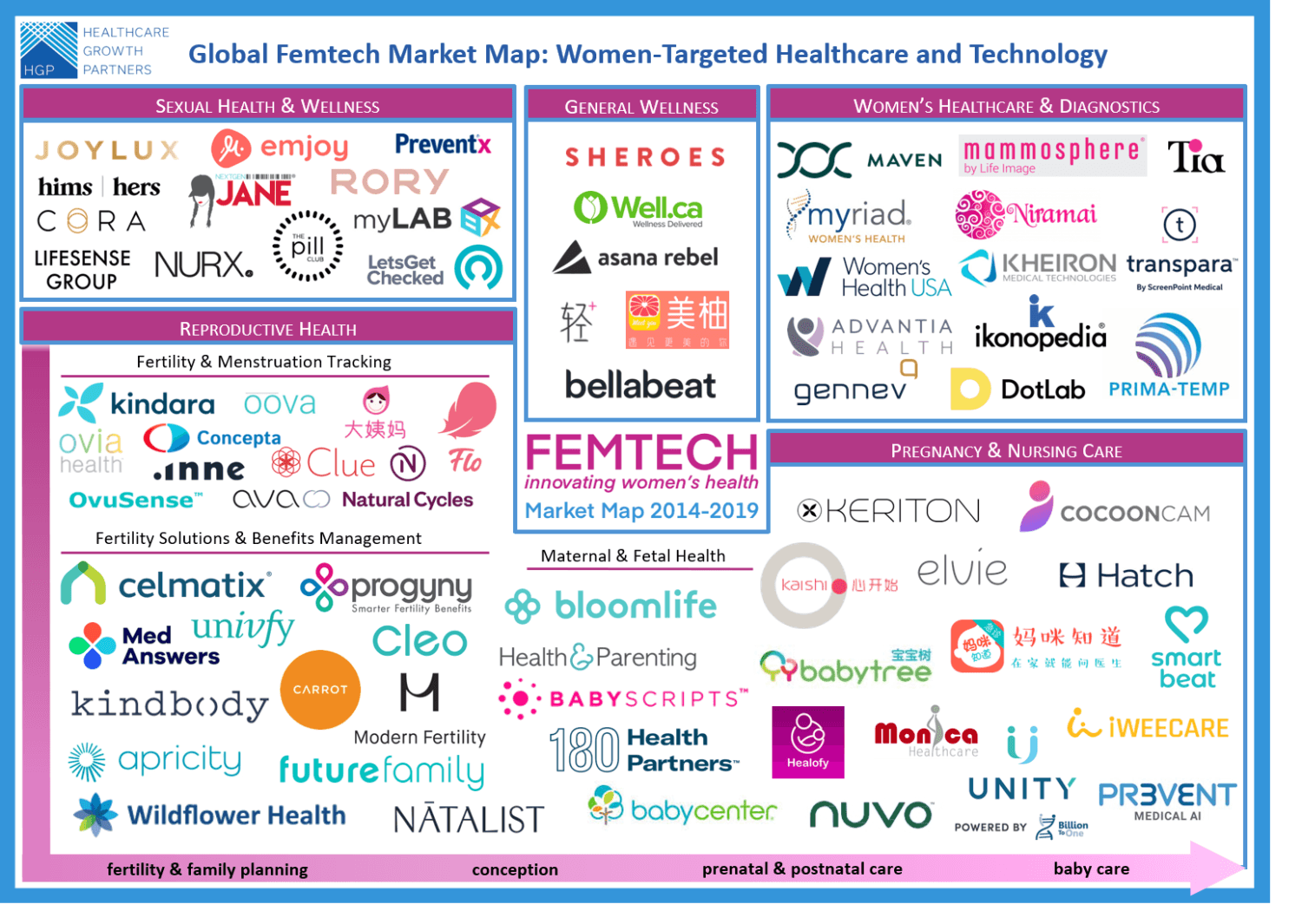 Why the strong appetite for women's health? In addition to the complexity and cost of the reproductive cycle, according to Frost & Sullivan, women are statistically better users and consumers of digital health solutions than their male counterparts:
– 80% of household healthcare spending is done by women.
– Working-age females spend 29% more per capita on health care compared to males.
– While the market is evolving, women still represent the majority of primary caregivers for the elderly and children.
– Women are 75% more likely to use digital tools for healthcare than men.
– While 80% of healthcare professionals are women and most are nurses, less than 40% are in executive or managerial positions and only 4% of CEOs and 21% of board members at Fortune 500 healthcare companies are women.
From 2014 to 2019, HGP evaluated 114 global Femtech companies that underwent M&A, buyout, or institutional funding transactions (defined as in excess of $1mm). In total, these companies raised just shy of $2 billion in the period across 100 funding events.
Some of the largest funding events include China-based Meet You (fertility tracking, $150mm), China-based BabyTree (pregnancy and parenting platform, $450mm including a 2018 IPO), Elvie (women's health technology and products, $48mm), Nuvo Group (pregnancy management platform, $30mm), Ava (fertility tracking, $40mm), Flo (menstrual tracking, $20mm), Cleo (family support, $38mm), Kindbody (fertility services, $47mm), NaturalCycles (fertility tracking, $36mm), Progyny (fertility benefits management, $150mm including a 2019 IPO), Nurx (telemedicine, $93mm), LetsGetChecked (STD diagnostics, $42mm), The Pill Club (telemedicine, $57mm), Hims/Hers (wellness products – initially Mentech, $140mm), Rory/Roman (wellness products – initially Mentech, $176mm), and Maven Clinic (telemedicine, $40mm).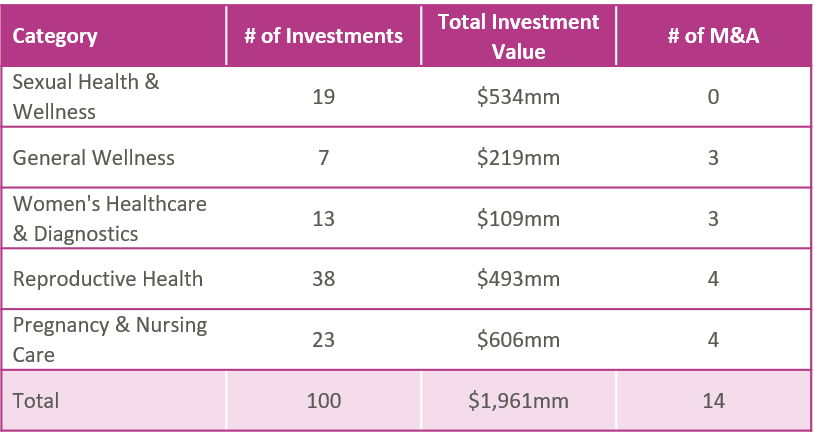 ---
About Healthcare Growth Partners (HGP)
Healthcare Growth Partners (HGP) is a Houston, TX-based Investment Banking & Strategic Advisory firm exclusively focused on the transformational Health IT market. The firm provides Sell-Side Advisory, Buy-Side Advisory, Capital Advisory, and Pre-Transaction Growth Strategy services, functioning as the exclusive investment banking advisor to over 100 health IT transactions representing over $2 billion in value since 2007.