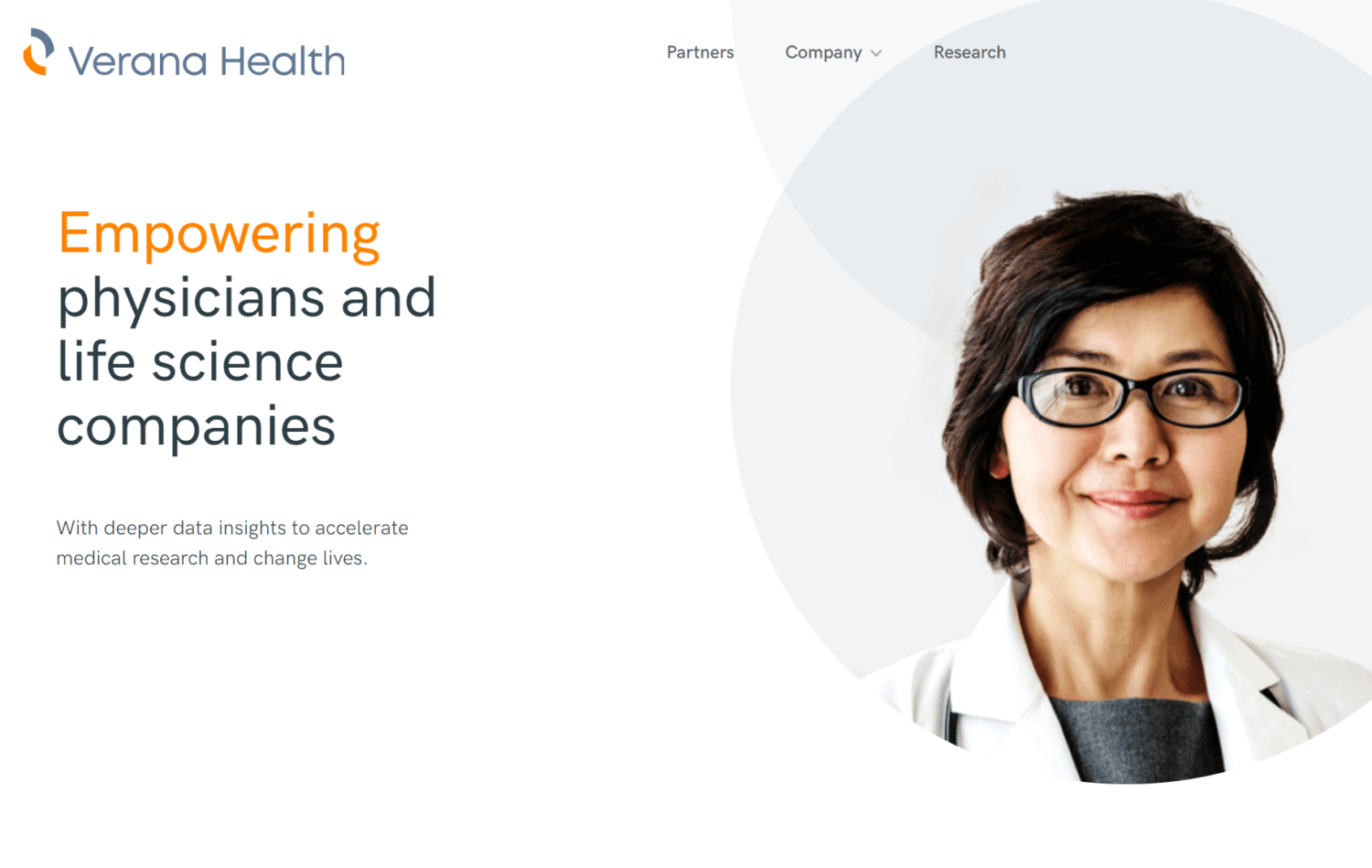 – Verana Health, a health tech company (in the real-world evidence and clinical trials space) is announcing a $100M funding round today — led by GV (with participation by Bain, Define, Brook Byers and others).
– Additionally, they acquired Knoxville-based PYAA analytics, a company spun out of Oak Ridge National Laboratory to leverage the PYAA team's capabilities to integrate imaging, genomic, and claims data sources into the existing data platform and link these data with the EHR data currently in the registries.
---
Verana Health, a technology company that is curating and analyzing real-world clinical data to advance patient care, today announced the close of a $100 million investment led by GV. New investors Bain Capital Ventures, Casdin Capital, and Define Ventures also participated in the round along with the company's existing slate of investors. Renowned life sciences investor Brook Byers continues to serve as Chairman of Verana's Board.
Deeper Data Insights to Accelerate Medical Research
Founded in 2008, Verana Health utilizes this real-world data to derive clinical and business insights for physicians and life science companies through its regulatory-grade data platform. By activating this vast amount of data, Verana Health can learn from the collective experience of millions of individual patients to empower physicians and accelerate research for patients.
Verana's platform aggregates regulatory-grade datasets through its partnership with two of the largest clinical databases in medicine, the American Academy of Ophthalmology (AAO) IRIS® Registry, and the American Academy of Neurology (AAN) Axon Registry®. The company curates and analyzes this de-identified EHR-derived data to advance medical research and patient care in the areas of ophthalmic and neurologic diseases. Verana plans to expand into additional therapeutic categories over the next year as well as integrate imaging, genomic, and claims data sources.
Verana Acquires PYAA Analytics to Build Most Comprehensive Datasets in Medicine
 In addition, to the $100M round of financing, Verana has acquired the technology assets and team behind PYA Analytics (PYAA), a Knoxville, TN-based firm specializes in large-scale data architecture solutions. PYAA was founded in 2013 by scientists and engineers from nearby Oak Ridge National Laboratory, the largest multi-program science, and technology laboratory in the United States. The company plans to leverage the PYAA team's capabilities to integrate imaging, genomic, and claims data sources into the existing data platform and link these data with the EHR data currently in the registries.
Members of PYAA have led projects that include the linking of clinical records with images to improve early detection, the utilization of satellite images with other data sources to inform geospatial analysis, and early members of the Human Genome Project. The data scientists, engineers, and data architects joining through the acquisition will greatly diversify and expand the scope of Verana's capabilities.
As part of the acquisition, the PYAA team will remain in Knoxville, and Verana plans to hire and grow the office in the coming months. The company also intends to further scale its San Francisco headquarters and New York office in the coming year.
"Verana is assembling the most comprehensive datasets in medicine across multiple disease types with the goal of accelerating medical research for patients with ophthalmic and neurologic conditions," said Miki Kapoor, CEO of the Verana Health. "The financing and the addition of PYAA enable us to enrich these large clinical databases, creating a longitudinal view of the complete patient journey to inform research and patient care."
Leveraging Real-World Data to Accelerate Medical Innovation
"I believe that to truly accelerate the pace of medical innovation, we must drill down into real-world data by breaking down traditionally siloed information and reassembling it in a way that provides a complete view of human health. The first era of digital health, leading up to the HITECH Act in 2009, created siloed systems primarily to expedite healthcare financial reimbursement rather than to facilitate scientific discoveries and improvements in patient care. Inadvertently, a system was developed where electronic health record data, administrative claims data, genomic data, imaging data, and patient-derived data were locked in different electronic data repositories and not connected at the individual patient level or at the medical practice level," said Miki Kapoor, President and CEO of Verana Health.
"Now, we finally have the opportunity to put these pieces back together to uncover new understandings of disease and treatment patterns. With the high-quality real-world data generated from the partnership between Verana Health and its medical society partners, we can accelerate innovation in medicine and empower physicians to provide patients with better treatments and medical care solutions. We are de-siloing healthcare data to assemble a more complete, more robust, and more in-depth picture of human health," Kapoor added.